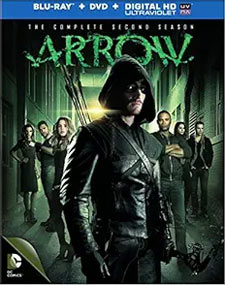 Arrow: The Complete Second Season

Starring:
Stephen Amell, Katie Cassidy, David Ramsey, Willa Holland, Paul Blackthorne, Emily Bett Rickards, Colton Haynes, Susanna Thompson, Manu Bennett, Caity Lotz, Summer Glau, Kevin Alejandro
Running Time:
Blu-Ray & DVD - 9 discs: 1014 minutes
Blu-Ray/DVD Release Date:
September 16, 2014 (
Amazon.com
)
Plot Summary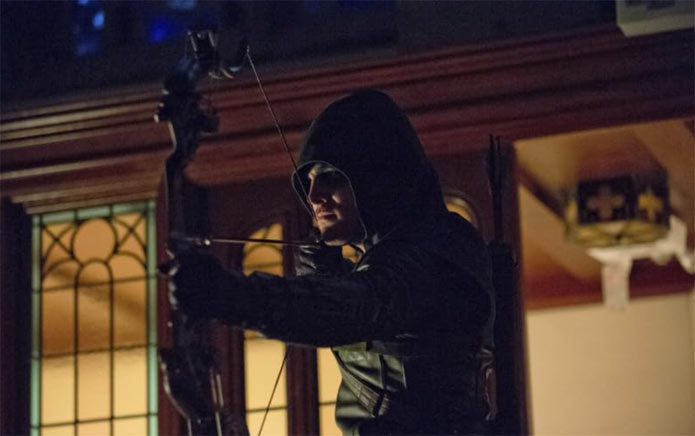 Starling City has been torn apart by the Undertaking, so the need for the hooded vigilante– now known as The Arrow – is more urgent than ever in the explosive second season of the hit action series based on DC Comics' Green Arrow. After retreating to the island on which he was once stranded, Oliver Queen returns to protect his mother, sister and besieged company – , but comes to realize that allies and enemies have switched sides, and the stranglehold of evil on family, friends and city is diabolically linked to his fateful shipwreck. A once-tight comrade-at-arms and a strength-enhancing, yet mind-warping serum may prove to be the mightiest adversaries The Arrow has ever encountered. Can justice find its target in this breathlessly exciting, 23-episode Season Two? Or will all fall before the fury of Deathstroke? (from Warner Bros.)
Season Review
These days, you just don't really need a cable TV subscription to enjoy TV programs. Between online streaming, digital vendors like NetFlix and Amazon Prime and DVD/Blu-Ray releases, you just don't need to deal with the hassle of commercial-loaded TV episodes and time-wasting channel-surfing anymore. And, let's face it; binge-watching/having show marathons is a lot of fun. I recently checked out the superhero TV show Arrow--which is based on the DC comic book series The Green Arrow--at the suggestion of someone and was mostly pleasantly surprised with what I saw.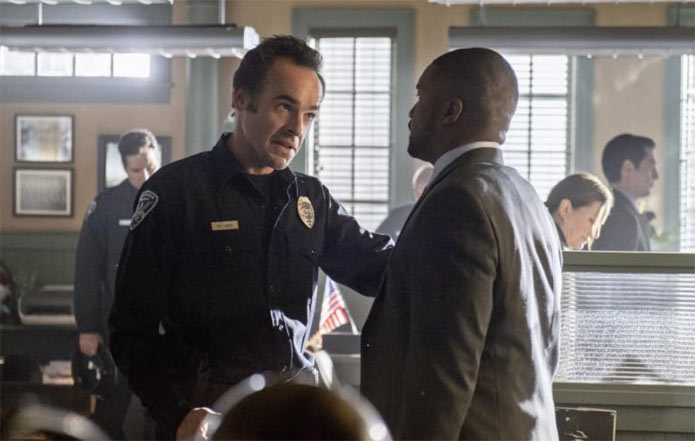 Unless it's a show like LOST, many first seasons for TV series can be rather lackluster or hit-and-miss. For Arrow, Season One was a slow build of the tale of Oliver Queen - a spoiled son of a billionaire who was lost at sea 5 years ago and mysteriously returns to his home of Starling City after being rescued. What the viewer starts to experience as the show progresses are regular flashbacks (just like LOST, actually) to the island where we see the horrors Oliver experienced since his father's yacht sank and he was stranded there. We find out exactly how his father died and Oliver's motivation to right the wrongs of Starling City, and we start to see how he transformed from a lazy loser into a quiver-wielding hero of the night. He sets out, with his newfound archery and fighting skills, to kill the worst of the worst, being pursued by police and being dubbed things like The Hood and The Vigilante. All along the way is a lot of romantic drama and the like that has the show flirting with being more of a teen drama than something serious, but as it progresses, the action ramps up and it's no longer just about the relationships and who's dating who when Oliver isn't seeking vengeance.
Season One ends with a major character dying--who, upon learning Oliver is "The Hood" is horrified that he kills people--and it sends Oliver spiraling on a mission for redemption. When Season Two opens, Oliver now wants to be a hero, not a criminal, and vows not to kill anyone anymore, even if it's in the name of justice. This immediately gives his character a far more heroic flare and it makes Oliver more admirable as a character. However, there's still some drama in his family and things border on being a wee bit convoluted as people who were assumed dead before are suddenly alive and the presence of other superheroes and supervillains starts to increase. At the same time, this is also kind of the charm of Arrow. Like Person of Interest--where the vigilante hero also tries not to kill his victims--the action is impressive and is a big part of each episode. For Season Two, the action is more intense on Arrow, and just when a viewer might be tiring of another character whining about romantic or parental woes, all craziness breaks loose and the action is on. It can go from "meh" to awesome pretty quickly (and they introduce Barry Allen in a small story arc who will become The Flash for the new TV series debuting this fall).
But Season Two really focuses on Oliver's journey to becoming a hero. A lot more characters discover his identity, which alleviates some of that frustration (and our thinking of "Just how can they not recognize his face?!"), and we become privvy to more mysteries being revealed about Oliver's 5 years away from home. We get a few more LOST-style flashbacks to even before Oliver left on the yachy that give us some more context to characters like Laurel Lance, Moira Queen, and the whole Lance family. What's kind of interesting, too, is Oliver's life back in Starling City continues to parallel his time on the island. So as it's now one year after his return in Season Two, it's now a year later in the backstory of his time on the island. Season Two ends with a tease of what to expect in the Season Three flashbacks, but, to be honest, I seldom really care about his backstory. I can't speak for every viewer, but it just has not been as interesting as his ventures as The Arrow, and I find myself losing interest in the flashback stories. The Season Two finale flashback tease is a bit more of a "Huh?!" than anything else, and I can't help but fear that not everything's going to really make sense as a whole. It might make for good TV, but when the show is all said and done, I'm concerned it'll be a little too all over the place when you piece together his past and future. The real cliffhanger at the end of Season Two teases the potential for a good person to turn bad and a "Did they die?!" moment where a person collapses wounded, a la the finale for Season Two of 24.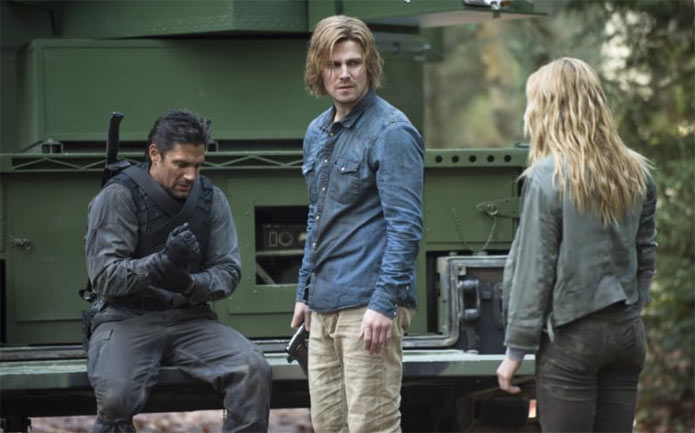 The content of Arrow is not frequently really rough, but that's what makes it so surprising when it is. Unfortunately, Oliver has a past history as a bit of a playboy, and it's alluded to that he slept with plenty of girls during his partying youth (one episode even flashes back to him finding out he got a girl pregnant). Present-day Oliver ends up having a fling with a character this season (we see them passionately kissing and then in bed after the fact) and then entering into a serious relationship (and regularly sharing a bed with) another character. It's disappointing. The language mostly consists of occasional uses of "h*ll" and "d*mn," with seldom uses of "Oh my G-d," the "a" word and "b*tch." This season is also more violent, and graphically so, than last season. The gross stuff is infrequent, but some moments include: Oliver is forced to pull a bullet out of his own abdomen in a flashback (not shown, just some blood on his hands and him screaming), while the worst might be a character slicing the hand off of another in a flashback (and we briefly see the bloody stump of their wrist -- episode "The Promise"). We see a digital effect of a man's eye-less eye socket years after having had an arrow put into his eye, and before the season's end, we see a character jab an arrow (by hand) into that person's eye (off screen) but the camera then shows it sticking out of their face (with bloody results). Other violence includes a character who is shot through the hand (pretty bloody), a character who gets an arrow through his calf (which Oliver later pulls out of them), a character spitting blood as they collapse, a character beaten bloody, scarring on both Oliver and another character's bodies, and several scenes of Oliver in the past having a bloodied eye that's swollen shut.
Arrow is by no means a perfect show, but it blends enough drama and superhero action to be entertaining and give you a hero to cheer for. If Season One was basically a season's-worth of a Batman Begins kind of story, Arrow's season two is akin to The Dark Knight (with plenty of comparisons to make to the finale from Batman Begins. Heck, the character of Ra's al Ghul is mentioned many times too!). It's too mature for younger audiences, but older superhero fans should find plenty to like about Arrow.
-
John DiBiase
(reviewed: 9/15/14)
Blu-Ray Special Features Review
Arrow: The Complete Second Season
is available in a beautiful 9-disc Blu-Ray/DVD/Ultraviolet combo set, and you can also get the episodes from your usual digital video providers. You can also get it in a 5-disc DVD set, but I highly recommend the Blu-Ray if you can get it. The high-def Blu-Ray transfer is fantastic. It's crisp, clear, and colorful. Along with deleted scenes for select episodes (the most interesting of which features a brief cameo of Harley Quinn from behind in a jail cell), are the following extras:
From Vigilante to Hero (24:12) focuses on the evolution of Oliver Queen as The Arrow and the ethics of killing for the "right" reasons. One of the show's crew makes reference to Moses (and how he was abandoned at youth) and Batman and how they both are driven by experiences from their youth, and later to how Oliver takes the sins of the city upon himself as a Christ-like figure. It's interesting to hear such comparisons, even if the show isn't spiritual in that sense.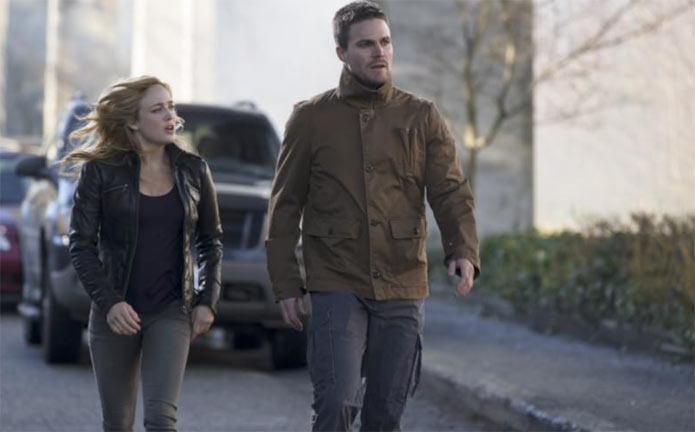 How Did They Do That? The Visual Effects of Arrow (11:17) is about how they digitally created the plane flying in the Season 2 premiere and worked in the image of Felicity and Diggle parachuting out. They also show the island and those effects of how the characters parachute down. However, given plenty of other more interesting shots in the entire season, it's strange that they focused on something as simple as the plane jump scene.
Wirework: The Impossible Moves of Arrow (9:43) - Stephen Amell, who plays Oliver/Arrow, comments that he aimed to never use wirework if he didn't have to in Season One, and would figure out ways to do everything without it, but with the introduction of the super serum Mirakuru, the show started using it to pull and throw characters around. We also see some behind-the-scenes footage of the gang zip-lining out of the clock tower and Arrow's fight with Cyprus Gold.
Gag Reel (4:44) - The gag reel is relatively standard, consisting mostly of laughing and messed up lines, with some bleeped-out profanity.
Arrow 2013 Comic-Con Panel (26:10) - Stephen Amell, Katie Cassidy, David Ramsey, Emily Bett Rickards and Colton Haynes are joined by the showrunners to discuss Season One at Comic-Con 2013, and what's to come. A surprise actor makes an appearance about mid-way through, too.
Disclaimer: All reviews are based solely on the opinions of the reviewer. Most reviews are rated on how the reviewer enjoyed the film overall, not exclusively on content. However, if the content really affects the reviewer's opinion and experience of the film, it will definitely affect the reviewer's overall rating.
To find out why we don't typically review R-rated movies,
click here