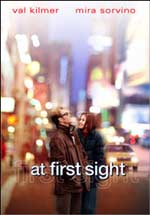 At First Sight


- for scenes involving sexuality and nudity, and for brief strong language.
Directors:
Irwin Winkler
Starring:
Val Kilmer, Mira Sorvino, Nathan Lane
Running Time:
2 hours, 8 minutes
Plot Summary
Virgil Adamson (Val Kilmer) had been blind all his life. He lives with his sister & works at a local vacation spot, giving "moving" massages to people in need of stress relief. When Amy Benic, a New York city architect meets Virgil on vacation, her life is changed forever. They fall in love and Amy convinces Virgil to undergo a new type of surgery that may restore his sight. After regaining it, the 2 find themselves facing hard times as Virgil tries to adapt to his new life of seeing.
Film Review
At First Sight is serious, yet warm, with tiny doses of humor. It'll make you laugh, cry, and maybe even surprise you. This drama offers mild language, decent acting, and, surprisingly, a fair helping of sex and nudity for a PG-13 film. There's a scene where Virgil (Kilmer) talks to his visual therapist while in a strip bar (why does he need to meet him in a strip bar?!), and the reflection of numerous topless dancers are seen behind them in a mirror. Although the images are not completely clear, the glimpses are not short and there are plenty of them. Also, in a love scene where Amy takes off her clothes for Virgil after he can see, a detailed silhouette of Amy's nude body can be seen through a room divider/wall. But if this wasn't bad enough, the day they realize they're in love with each other and first kiss, they wind up in bed together that night. It's stories and films like these that present a twisted view of what a real expression of love is... and hopping into the sack the night you first realize you love someone is NOT the way to do show it (After all, that's what the wedding night is still for).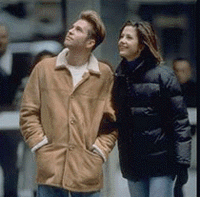 After reading several mixed reviews for At First Sight, I went into seeing it not really knowing what to expect. However, when I left the theater, I was certain that I totally disagreed with the critics. They came down hard on the acting, especially Kilmer's part, but I thought everyone did a really good job portraying the characters they were given. They also knocked the story and the movie in general, which I have to again disagree with because, although it wasn't outstanding, I found the movie entertaining and over well-done (despite the aforementioned beef).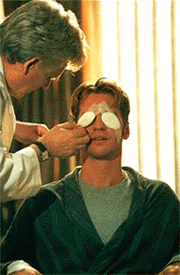 As far as the rest of the film's material, the language is rather your standard PG-13 assortment. There are several uses of blasphemy and 6 uses of the "s" word. But the most objectionable material in the film definitely comes in the form of sex and nudity.
Overall, At First Sight is a pretty decent romantic drama. Due to the hefty amount of objectionable material, however, I couldn't give it 3 stars. It's definitely of the bargain bin family, so if you miss this one, you won't be missing much.
-
John DiBiase
,
(reviewed: 1/18/99)
Parental Guide: Content Summary

Sex/Nudity
: In the massage scenes, we see quite a bit of Amy's body, including the side of her chest as she takes off her clothes. Virgil also gives her a rather sensual massage where he goes up her legs to her hips, but no explicit nudity is seen; When the 2 first kiss, Virgil runs his hands over her butt & the scene changes to them in bed as he does the same thing, no explicit nudity is seen, although they are having sex; When Virgil gains sight, he asks to "see it all" & Amy, reluctantly at first, takes off her clothes & we see her in her undergarments; then Virgil removes her bra & we see a quite detailed silhouette of her chest before she gets on top of him; in another scene, we see the two together in the shower kissing although no explicit nudity is shown. While Virgil is in a bar with his therapist, we can see some topless dancers in the reflection of the mirror behind them.

Vulgarity/Language
: 6 "s" words (one written as "pigsh*t"), 6 "g*dd*mn," 1 d*mn, 4 h*lls, 3 "J-sus," 1 "J-sus Chr-st," 11 "Oh my G-d," 9 "Oh G-d," 3 "G-d"

Alcohol/Drugs
: There is a lot of wine and beer throughout the film.

Blood/Gore
: Virgil has two slightly bloody cuts over his eye after walking into a glass window. During his eye surgery, non-graphic glimpses of the operation can be seen on a monitor.

Violence
: Virgil walks into a glass window; Virgil accidentally walks into a chair; Virgil accidentally knocks a few things over in Amy's apartment
Disclaimer: All reviews are based solely on the opinions of the reviewer. Most reviews are rated on how the reviewer enjoyed the film overall, not exclusively on content. However, if the content really affects the reviewer's opinion and experience of the film, it will definitely affect the reviewer's overall rating.
To find out why we don't typically review R-rated movies,
click here