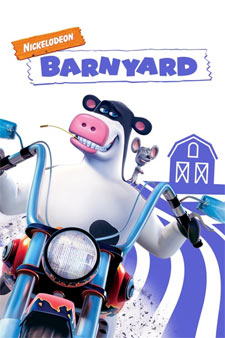 Barnyard: The Original Party Animals


- for some mild peril and rude humor.
Director:
Steve Oedekerk
Starring:
voices of Kevin James, Courtney Cox, Sam Elliot
Running Time:
1 hour, 30 minutes
Theatrical Release Date:
August 4, 2006
Official Site
Plot Summary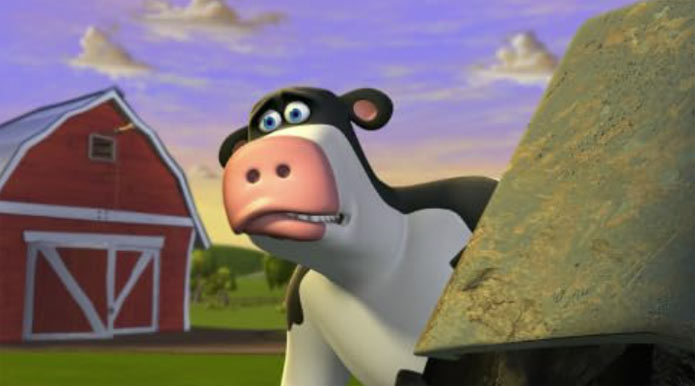 From Steve Oedekerk and Nickelodeon Movies, creators of "Jimmy Neutron: Boy Genius," and filmed entirely in CGI comes this hilarious look at what really happens in a barnyard when the farmer's back is turned. "The Barnyard" is a lighthearted tale centering around Otis (voiced by Kevin James), a carefree party cow, who enjoys singing, dancing and playing tricks on humans. Unlike his father Ben (voiced by Sam Elliott), the respected patriarch of the farm, and Miles, the wise old mule (voiced by Danny Glover), Otis is unconcerned about keeping the animals' humanlike talents a secret. But when suddenly put in the position of responsibility, the irresponsible cow finds the courage to be a leader...
(from MovieWeb.com)
Film Review
From the warped mind that brought viewers comedies like Kung Pow, and even helped write Bruce Almighty and its upcoming sequel Evan Almighty, comes the CGI-animated feature film Barnyard. With the success of computer animated films in recent years, it's no wonder there's been a literal flood of new feature films using the same format hitting theaters nearly every month now. Barnyard follows the story of an immature party-minded cow who is forced into the role of leadership against his will. Writer/director Steve Oedekerk uses his brand of silly and off-the-wall humor to take what is a relatively common story to quite amusing lengths.
King Of Queens star Kevin James voices Otis the cow who is the film's central character. Otis is an irresponsible fun-loving cow who was raised on the farm by Ben, the barnyard's leader - a wise, no-nonsense cow who had adopted Otis as a baby some years before. The humor of Barnyard is goofy and tongue-in-cheek, offering quite a few laughs while leaving plenty of room for some heart as well. At times the more tender moments can feel a little forced, but it adds a little more depth to a story that otherwise would be udderly ridiculous (sorry... I just had to).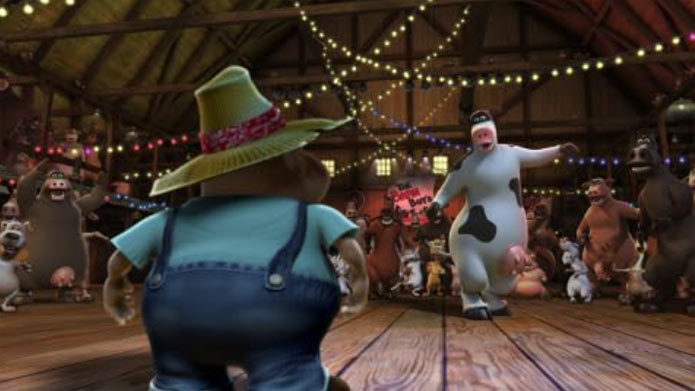 The entire voice cast turned in great performances. While some fared better than others (Courtney Cox and Sam Elliot's efforts were somewhat dry at times), several voice actors who've made a living providing well-known voices for popular cartoon shows lend their talents to Barnyard as well. I enjoyed picking out Rob Paulsen's (Animaniacs's Yakko, Pinky & The Brain's Pinky) signature voice as Peck the rooster and trying to place other familiar voices. Character actor David Koechner (Anchorman) provided the voice of the head coyote Dag who did well to make the villain quite sinister and intimidating. With that said, the coyotes as the film's source of trouble with the barnyard team made for some pretty intense scenes. Specifically, there's a sequence where the coyotes terrorize the chicken coop and attack a cow that will most likely be too much for the younger viewers. The finale also involves a showdown that has the vicious looking predators threatening the story's heroes.
Because some of the movie's more tenderhearted moments felt a bit unnatural in a few scenes, the film's charm seemed to come when the animals were just plain goofing off. From a bit of revenge played out from a group of cows on a cow-tipping snotty kid to all-out barn raves held after dark (the fat, rapping rat named Big Cheese is brilliance), the mischief is where the fun lies in Barnyard. But the mix of mediocre serious moments with complete silliness is what leaves the movie feeling a bit undercooked. While I'm all for more heartfelt moments in an animated film, it has to be done just right, and the resultant approach left this film feeling a bit too schizophrenic and disjointed. Perhaps if it leaned more consistently to the unbridled style of humor, it would have made for a stronger animated movie.
Nitpicks aside, Barnyard: The Original Party Animals is a fun little trip to the Summer cinema. With flops like Monster House disgracing the silver screen, save your money for the more family friendly nature of Barnyard... just be warned that the coyote scenes may be a bit much for younger kids.
-
John DiBiase
,
(reviewed: 8/11/06)
Parental Guide: Content Summary

Sex/Nudity
: None, we just see the top of a boy's butt crack as he waves it in a taunting fashion at a cow he tipped over.

Vulgarity/Language
: None.

Alcohol/Drugs
: Instead of beer, the cows take a "six pack" of milk with them into the car.

Blood/Gore
: None.

Violence
: Coyotes attack a cow who later dies; Coyotes rough up Otis but leave him; several animals fight a pack of coyotes
Disclaimer: All reviews are based solely on the opinions of the reviewer. Most reviews are rated on how the reviewer enjoyed the film overall, not exclusively on content. However, if the content really affects the reviewer's opinion and experience of the film, it will definitely affect the reviewer's overall rating.
To find out why we don't typically review R-rated movies,
click here