Film Review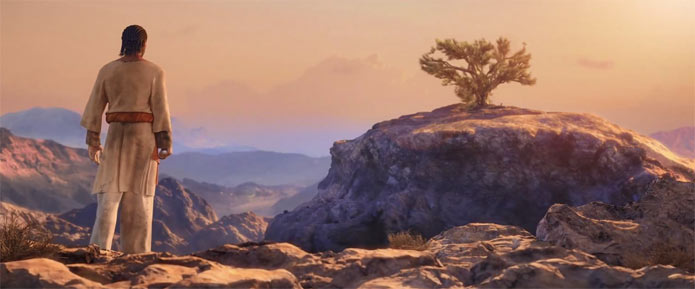 Bilal: A New Breed of Hero is, in all actuality, an entirely new breed of movie. Originally premiering in 2015 throughout the Middle-East and North Africa region, Bilal is just now making its way to Western shores. Boasting stunning visuals, its animation quality is comparable to that of major studio releases from established industry giants. For the less-informed, the fact that Bilal is a foreign production may even go unnoticed. In reality, the film largely relies on its Western audience being uninformed altogether.
Billed as a faith-based film, Bilal tackles the mature themes of slavery, prejudice, persecution, forgiveness, and idol-worship. The average viewer will see the story of a young Abyssinian boy who is taken from his home and enslaved by a cruel master. As Bilal grows into a young man, he yearns for freedom and dignity, developing curious relationships along the way. Ultimately, he discovers that his dignity comes from within (thanks to flashback lessons of wisdom from his mother) and resolves to free himself and topple a system which has wrought so much pain.
Many lessons are learned along the way, from his sister Ghufaira's sacrificial love to a mysterious man named Hamza who fights for the rights of the slaves. One of the prime examples is the friendship Bilal develops with the Lord of Merchants, Abu Bakr, who later buys Bilal and sets him free. He teaches Bilal several life lessons, and informs him that he follows a man who preaches of equality for all. As the film progresses, miniscule pieces are heard about this man, but who is he? Jesus? Many of his teachings and actions seem to be in line with the Christ's motifs. Equality. Mercy. Forgiveness. In fact, during one powerful moment, Bilal is told that the man who forgives his enemy brings glory to… himself? For families thinking this is a Big Idea-style production or who are decently versed in Christian doctrine, this won't sound quite right for a reason; it's not. Upon further examination, many of these "teachings" seem to be in line with Christian principles most of the way through, yet they deviate just enough to get them wrong.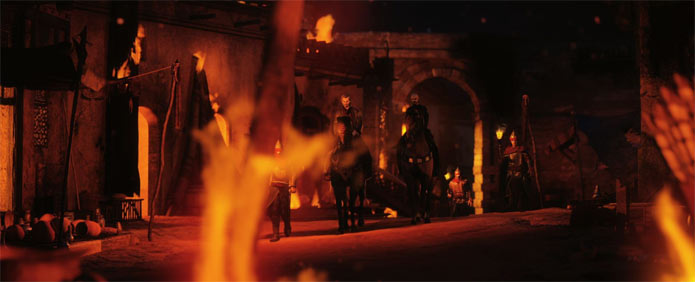 The central character of Bilal: A New Breed of Hero is in fact Bilal ibn Rabah, a sixth-century companion of the Prophet Muhammad, the man who established Islam. Bilal was best known for being a man of African descent whom Muhammad treated as an equal, something virtually unheard of during that time. He was also known for having a deep, melodic voice, and as such was declared the first Muezzin (the man who leads the Muslim call to prayer). Bilal was asked by the Prophet to lead the call to prayer from the rooftop of the first mosque. This is depicted in the film very indirectly. In fact, the film goes so far out of its way to avoid the topic of Muhammad that it creates a few bizarre plot holes. After finding freedom, Bilal helps his friends construct a building, and is then told "he wants you to lead in the prayer." The "he" is never specified. If the viewer has no familiarity with Islam, it is entirely unclear what is happening. This highly symbolic call to prayer isn't shown either, instead cutting off after Bilal climbs to the roof.
In accordance with Islamic tradition, Muhammad is never depicted. In other films, he is occasionally included via first person perspective. In Bilal, however, Muhammad is never even mentioned by name, leading to a confusing series of events. For example, during the film's final climactic battle, the Prophet's warriors are suddenly joined by a white-cloaked army on horseback, though this is never explained to the viewer. Unfortunately, there is a disjointedness in the script which goes beyond the natural oddities of omitting a key character in the story. There are several plot threads which are never explored or fully established in the first place, as well as several characters which seem to appear out of nowhere. Because of these irregularities, younger viewers -especially in the target audience- will likely struggle to follow what is happening.
A quick search of the film's background reveals that the production was full of conflict and rewrites, with many of the minds behind Bilal's origination being left entirely uncredited. This degree of messiness explains some of the film's shortcomings. Some historical liberties also run amok (which go beyond theatrical creativity), which is unfortunate for those who wish to see an accurate portrayal of the film's events.
Bilal doesn't white-wash all of Islam, but the excessive violence met out by the Prophet's followers (especially after conquering cities) is largely disregarded. The film seems to imply that the depicted campaigns resulted in the freeing of the region's slaves (they did not). The goal of Bilal's filmmakers is to paint an unrealistic picture of Islam's relationship with equality and liberation. While there is some truth in these being Islamic ideals, it's nowhere near as clear-cut as Bilal wants it to be. Historically, we know that the Prophet Muhammad owned slaves and allowed his followers to take slaves for themselves. Islamic slavery was often based on the race and religion of its captives, and one only needs to look at modern-day slavery to see just how deeply entrenched it is within Islamic culture.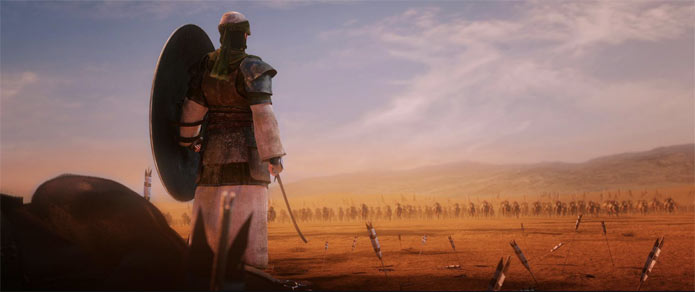 Should discerning parents allow their children to watch Bilal: A New Breed of Hero? Quite possibly, but only after being made aware of the issues surrounding the story and subject matter. Bilal certainly doesn't contain enough religious material to "convert" anyone. It emphasizes that all men are of equal value, that there is one God, that prayer is important, and that kindness, mercy, and forgiveness are tantamount to living a fulfilling life. It could potentially warm some people to Islamic characters and teachings, though. For Christian parents, Bilal may provide an opportunity to introduce Islam to their children and explain how to distinguish truth from lies when it comes to God and religion. There is a decent amount of violence in the film (detailed below), as well as many scary images, some of which could be considered demonic (such as visions of the idols). The film also tacks on an anti-Capitalism message, which it does a decent job of justifying on a surface level. (The Kaaba's priests know they're committing fraud and stealing from the worshippers which they manipulate through fear.)

Ultimately, Bilal: A New Breed of Hero is a solid effort. Not only does it bring a quality offering to the table, but one which possesses a different flavor from its Western counterparts. The script grows choppy and disheveled at times, but eventually wraps around to convey a strong story of hope and forgiveness. The brutality depicted is almost entirely necessary, though hard to watch at times. It weaves together a story not often told in non-Muslim circles, and one of which we should be aware. The story of Bilal contains a powerful narrative; one which speaks to all oppressed peoples. While Islam has adherents throughout every race, many are of African descent. Bilal's story has much to do with this reality. As the gap between the East and the West is slowly bridged, we will begin encountering more material like Bilal: A New Breed of Hero. As such, it has never been more important for us to be strong in our faith, aware of our neighbors, and willing to engage those who do not yet know Christ with the true message of hope, regardless of who they are. (Luke 10:29)

- David Craft (reviewed: 2/1/18)

Parental Guide: Brief Summary of Content

Sex/Nudity: Nothing explicit is seen, but it is indirectly implied that some of the female slaves are sexually abused.


Vulgarity/Language: None.


Alcohol/Drugs: None.


Blood/Gore: During the battle at the end of the film, many soldiers are stabbed and minimal blood is seen, once on the end of a sword after a man has been run through with the blade. A horse's leg is cut off with a sword. A bloody coin is thrown in front of a character to imply that their sibling has been killed.


Violence: There are several frightening scenes at the beginning of the film when Bilal and his sister are taken captive. Their mother is killed, though this is mostly obscured and seen from where the children are hiding. Slavery is a central focus of the film, and at times its intensity may be disturbing to many viewers. A girl is threatened and held down while another character aims a bow and arrow at her. Two boys are in a fist fight. A young boy is violently beaten (offscreen), and we later see him in pain and cleaning his wounds. A man is seen on a deathbed before his arm goes limp. Men and women are indiscriminately beaten with whips in the streets. Horses are used to strike and bludgeon people. Men strike each other, and on one occasion, during a scene of torture where one young man is tied to a post. A man is staked to the ground and has a large boulder placed on his chest. Soldiers stab, cut, and strike each other with swords, fists, and shields.

** Disclaimer: All reviews are based solely on the opinions of the reviewer. Most reviews are rated on how the reviewer enjoyed the film overall, not on content. However, if the content really affects the reviewer's opinion of the film, it will definitely affect the reviewer's rating.