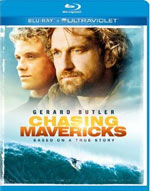 Chasing Mavericks


- for thematic elements and some perilous action.
Director:
Michael Apted, Curtis Hanson
Starring:
Gerard Butler, Jonny Weston, Abigail Spencer, Elisabeth Shue, Leven Rambin
Running Time:
1 hour, 56 minutes
Theatrical Release Date:
October 26, 2012
Blu-Ray Release Date:
February 26, 2013 (
Amazon.com
)
Official Site
Plot Summary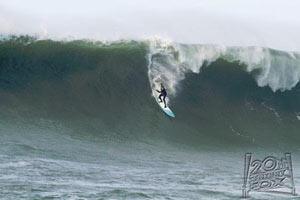 Chasing Mavericks is the inspirational true story of real life surfing phenom Jay Moriarity (played by newcomer Jonny Weston). When 15 year old Jay discovers that the mythic Mavericks surf break, one of the biggest waves on Earth, is not only real, but exists just miles from his Santa Cruz home, he enlists the help of local legend Frosty Hesson (played by Gerard Butler) to train him to survive it. As Jay and Frosty embark on their quest to accomplish the impossible, they form a unique friendship that transforms both their lives, and their quest to tame Mavericks becomes about far more than surfing. Chasing Mavericks was made with the help of some of the biggest names in the surfing world, and features some of the most mind-blowing real wave footage ever captured on film. (from 20th Century Fox)
Film Review
Some movies are so finely targeted to a specific group of viewers that it really can limit who will appreciate it. A film like
Chasing Mavericks
peels back the curtain on a tight-knit community of surfers in Santa Cruz, California in 1994. In the movie, we meet a town of people who literally live and breathe surfing and, in a lot of ways, that passion could be lost in translation for some viewers.
The "Mavericks" being chased in this story are humongous, highly dangerous waves on the westcoast that were, until the mid-90's, considered myths. A fifteen year old boy named Jay seeks the wisdom and guidance of an older, wiser, and experienced surfer named Frosty who has actually seen and ridden many Mavericks in his day. The core of Chasing Mavericks' story is about Frosty helping Jay get his mind, body and soul ready to hit the waves when El Nino rocks the coast in 12 weeks. The other pieces of the story involve Frosty's home life, Jay's life with his struggling single mother, and Jay's romantic interest in longtime friend, Kim. Directors Michael Apted and Curtis Hanson do a pretty good job balancing the different tones, especially since this is all based on true events and the real life story of Jay Moriarity, but there still remain times in the movie that feel formulaic, if not entirely contrived. For instance, when we see Jay as a little boy who's then rescued by Frosty in the ocean, we then see the birth of his interest in surfing, which leads to him meeting two other characters that will prove relatively important to the story. Shortly before Jay meets a kid named Blond, who would later be his best friend, he passes a kid named Sonny who carries a metal baseball bat, smashes a truck's sideview mirror, and calls Jay "little trash." A few minutes later, we're transported seven years--from 1987 to 1994--where Jay is showing up the other kids with his surfing abilities, and Sonny is seen older, still grumpy, and still holding the metal bat. It just seemed silly and unlikely that this same disgruntled kid would have a metal bat to threaten people with all those years in between. It's one of those plot elements that makes the movie feel like a "movie." Another thing that seemed out of place was, later on, it's heavily implied that Blond has gotten into drugs, which ultimately has little to do with the story either. Both Blond and Sonny feel like "characters" in the story, while Jay and Frosty are fleshed out as much more tangible people.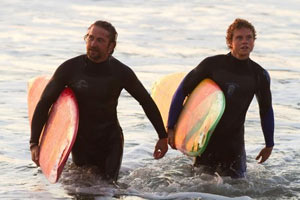 And that's where Chasing Mavericks really succeeds: the relationship between Jay and Frosty. Even Elisabeth Shue seems underused as Jay's troubled (and somewhat irresponsible) mother. But Gerard Butler brings a lot to the character of Frosty, turning in what may be his best role to date, while fairly newcomer Jonny Weston is mostly great as the lead character. For the most part, Weston plays Jay believably and relatably. Jay has to overcome a lot as the man of his household (at just fifteen years of age), working for a local pizza shop, trying to win the respect of fellow surfers and peers, all while providing for himself and his mother while his father is long gone (having left the family). Still, there's something about the passion that these people have for surfing--especially the risk-taking kind--that makes it difficult to totally invest yourself in their lives (It's a little like Ralphie wanting the Red Rider BB gun in A Christmas Story... OK, not really, but you get the idea). Jay has a reckless interest in Mavericks--a brute force that can literally crush a person to death under the weight of it. Jay is fascinated with their size, magnitude, and the risk involved, and it's tough as a viewer to be rooting for a kid to put his life on the line like that. And if you don't know the real life story of Jay Moriarity, you're in for a bit of a surprise.
Alrighty, folks, spoiler alert ahead. If you don't want to know some key plot points, please skip this paragraph. But ultimately, I'm going to address some dramatic surprises in the story that I wasn't really expecting that will jeopardize the enjoyment of some who watch the film. Admittedly, as a boy who has only lived on the east coast his whole life, I'm completely unfamiliar with Jay's story. We're close in age, so we were teenagers around the same time, but life was completely different here in Pennsylvania than for Jay in Santa Cruz. So when, after Jay's success in riding a Maverick, they reveal through Frosty's narration that Jay had died seven years later just before his 23rd birthday while free diving, it leaves the story on a depressing note. We learn that he became one of the best surfers, married the love of his life, and then died while seeing how long he could hold his breath underwater? The story, and all of the people who talk about him in the special feature interviews, spin it as Jay having lived his life to the fullest and with no regrets, but it still seemed unfortunate and sad that he died so young. Also, there's an out-of-left-field moment where Frosty's wife Brenda suffers a stroke suddenly, drops to the floor in their kitchen and the next scene is a funeral. The sequence is pretty intense (and she looks horrific through the stroke scene), and it's sad to think of her leaving Frosty behind with their two young children after the storytellers had built up just how close he and Brenda were. Both plot elements weighed down the story for me some. Granted, it's all part of real life and tragedies that happen to many people, but it did make the story weightier than I expected. (End of spoiler alert)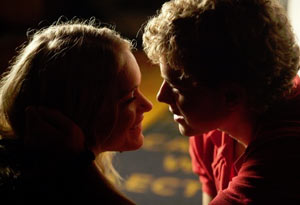 When it comes to content, Chasing Mavericks is nearly squeaky clean. The only language is two uses of "God" as exclamations, one "Oh my God" and one "p*ss." Otherwise, there's no other profanity. There's one scene of just a little bit of blood on Jay's mouth from the first time he attempts to surf, and then there's an intense scene where a character suffers a stroke and their face is discolored while family members are distraught around them. We also briefly see two characters drunk at two different times, and then there's the random implication that Blond is using. But overall, it's a very tame film with only some thematic elements being the main concern. And parents might not want their kids becoming suddenly fascinated with Maverick waves, but otherwise, it's a pretty good film for surfing fans.
Chasing Mavericks is one of the better family dramas to come around in a while. 2011's Soul Surfer was good, but Chasing Mavericks has some incredible surfing footage and a more intimate feel to it (Soul Surfer involved sports competitions while Chasing Mavericks is entirely about personal goals and doing it solely for the love of it). You don't have to be a surfer or fan of the sport to appreciate this movie, but you might get the most out of it if you are. Some may feel like you just have to be from Santa Cruz to really understand what all the fuss is about with surfing, and these mammouth waves in particular, but by the end of Chasing Mavericks, it's the human relationships that rope you in and cause you to root for Frosty and Jay. And that's what makes Chasing Mavericks worth the pursuit.
-
John DiBiase
(reviewed: 3/2/13)
Blu-Ray Special Features Review
Chasing Mavericks
is available on a Blu-Ray or DVD and through the various digital formats. The film looks absolutely fantastic in HD, given its on-location shooting in Santa Cruz. The picture is super crisp and vibrant. It's an excellent high definition film. Along with the feature film is a feature-length audio commentary as well as the following extras...
Deleted Scenes (5:45) - There are five deleted scenes, all of them pretty short. The first is just an exchange between Frosty and Jay while they're paddling on their boards. The second shows Jay laying out his work earnings toward bills that need to be paid. Next, we see Jay and Kim meeting up and deciding to go to the boardwalk for the afternoon. She looks at his drawings in his notebook and finds his essay about her. It gets a little awkward and she leaves. In the fourth scene, we see Jay realize that his Mom swiped the money he'd been saving up. He gets angry and throws the box across the room. Finally, we see just a brief shot of Jay sitting on top of a roller coaster after hours at the boardwalk and it's obvious he's been crying.
Surf City (10:30) is a short featurette dedicated to the location in the film, Santa Cruz, and how they decided to film it in the exact place in which the story originated from. We then hear from cast and crew talking about the city, growing up there, and its history as being known as Surf City.
Shooting Waves (10:38) - Here, the cast and crew reveal the challenge of shooting the surf and waves as real and actual as possible. They also reveal here that a special effects guy was brought in to superimpose the actors' heads on the body of professional surfers for the more difficult moves shown in the film. It's remarkable because I thought they did it seamlessly!
Live Like Jay (10:50) is dedicated to the life of the real Jay Moriarity. Here, we hear from the real-life Frosty and Jay's real-life wife Kim about Jay, their experiences with him, and the legacy he left behind. It's cool to know that in his absence, a foundation was made in his honor which has gone on to support some great causes.
Surfer Zen (10:09) - The final featurette is dedicated to the spirituality of the surf world. It's pretty New-Agey at times, in that some talk about the spiritual experience of surfing very vaguely, while at least one other talks about how they "talk to the universe" while surfing. But overall, it's interesting to hear about their take on the spirituality born from surfing the waves.
-
John DiBiase
,
(reviewed: 3/2/13)
Parental Guide: Content Summary

Sex/Nudity
: Sonny asks Jay if he's compensating for something with his longboard, and Jay replies he was wondering the same thing about the bat Sonny is holding; Jay and Blond strip down to their underwear and jump off a roof into a pool below. We then see Kim take off her shirt and pants and we see her in a two-piece bikini briefly as she joins the guys in the pool; Given the surfing nature of the movie, we see bikinis and bathing suits at the beach, but the film doesn't focus on it (or exploit it) like some others in the genre often do.

Vulgarity/Language
: 2 "G-d," 1 "Oh my G-d," 1 "p*ss" (and one possible incomplete "Son of a...")

Alcohol/Drugs
: Jay finds his mom asleep in bed with a bottle next to the bed that looks like orange juice. He sniffs it like it's alcoholic and poors it down the sink; Jay sees Blond over by a car's driver side window and hands a man some cash. Jay acts really disappointed with him and later tells him he's better than that (implying drug use on Blond's part). We later see a roll of money fall out of Blond's pocket which upsets Jay; Sonny is visibly drunk when he shows up at the pizzeria; Frosty is found floating on his board in the ocean drunk.

Blood/Gore
: A 7-year-old Jay has blood running down his chin after his first (failed) attempt at surfing.

Violence
: 7-year-old Jay climbs down a rock toward wildly crashing waves to get Kim's dog when he runs down there. He's then swept away by the waves but Frosty shows up and saves him; Sonny walks by Jay and smashes a truck's sideview mirror with a metal baseball bat; Jay has blood on his mouth from his attempts to surf the first time; We see Christy being roughed up by their landlord so Jay pushes him against the wall and out the front door onto the lawn where they struggle before it's broken up; Sonny is drunk and jumps Blond while he's working at the pizzeria. Jay goes to punch him and is held back by nearby folks; A person collapses with her face discolored while the family rushes to help them.
Disclaimer: All reviews are based solely on the opinions of the reviewer. Most reviews are rated on how the reviewer enjoyed the film overall, not exclusively on content. However, if the content really affects the reviewer's opinion and experience of the film, it will definitely affect the reviewer's overall rating.
To find out why we don't typically review R-rated movies,
click here