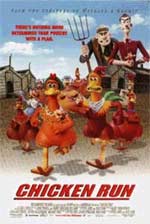 Chicken Run

** (see below notation)

- for not containing material to warrant a higher rating.
Director:
Peter Lord, Nick Park
Starring:
voice of Mel Gibson
Running Time:
1 hour, 24 minutes
Plot Summary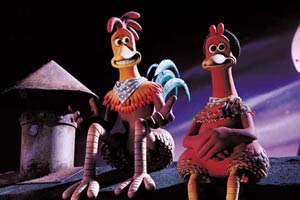 Ginger is a chicken on a chicken farm that produces eggs. The farm's owner is Mrs. Tweedy, and evil, greedy woman out to make a buck. Ginger is always trying to escape and encourages her hen friends to do so as well, but something always goes wrong and the plan fails. After an accident lands Rocky the Flying Rooster into their presence, Ginger has hopes he can teach them to fly. But it isn't long before Mrs. Tweedy decides to turn the farm into producing chicken pies, meaning certain death for our fine-feathered friends.
Film Review
Although "simple" clay animation (or "claymation"), Chicken Run is a lot more involved than that. Taking roughly 5 years to make, this parent-friendly childrens film is a joy to watch. Fun and silly enough for kids, but serious enough for older people as well, the movie will have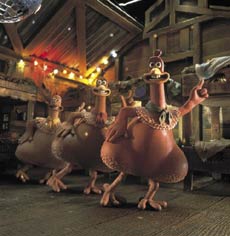 a wide-audience appeal.
The animation is high quality, with great expression in the characters and lots of personality. You grow to care about each chicken. Mel Gibson and his "costars" do a great job voicing this chick flick. There are little, if any problems I found or complaints I can make about this film. The language is clean. No blood or gore. No sex or nudity. Clever dialog, lovable characters, unique storyline, awesome animation. Chicken Run is bound to become a classic! I hope we can see more family entertainment like this in the near future.
Overall, it was really really good. A must-see for your family this summer. And if you're not a youngster, who cares?! Suck it up and go see this one. Take your college buddies! I grant this fun chick flick a feather-flying 4 out of 5. If you have any questions or comments about the film before you see it, feel free to contact me.
-
John DiBiase
(reviewed: 6/26/00)
Parental Guide: Content Summary

Sex/Nudity
: None.

Vulgarity/Language
: None.

Alcohol/Drugs
: None.

Blood/Gore
: None.

Violence
: A chicken is killed (not shown), chickens are thrown, hit, etc
Disclaimer: All reviews are based solely on the opinions of the reviewer. Most reviews are rated on how the reviewer enjoyed the film overall, not exclusively on content. However, if the content really affects the reviewer's opinion and experience of the film, it will definitely affect the reviewer's overall rating.
To find out why we don't typically review R-rated movies,
click here