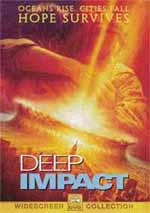 Deep Impact


- for intense disaster related elements and brief language.

Director: Mimi Leder
Starring: Robert Duvall, Morgan Freeman, Téa Leoni, Elijah Wood
Running Time: 2 hours


Plot Summary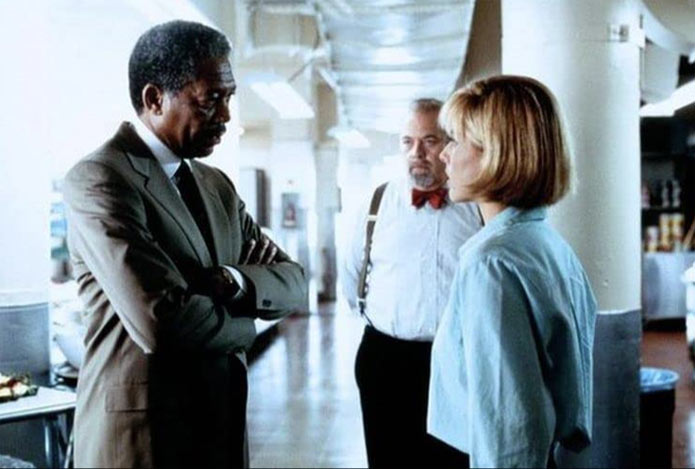 Elijah Wood is a 14-year-old boy named Leo, who discovers a comet one night looking through his telescope. The scientist who discovers it with him later dies & the comet is forgotten... Then a year later, when the media (especially Téa Leoni's character, Jenny Lerner) mistakes a project called E.L.E. to be a woman the president (played by Morgan Freeman) supposedly has an affair with, the comet resurfaces. E.L.E. spells extinction for the human race! The president comes on national TV to release their plan to preserve life on earth when the several-mile-wide comet is expected to strike the earth & wipe-out the surface population. The problem: 800,000 people will be randomly selected to go into an underground cave suitable for living for about 2 years. The rest must stay on the planet & pray that they'll live...
Film Review
This film has received a lot of mixed reviews... and for good reasons, too. The movie has it's good moments, & it's flat-out slow, almost boring moments. Some argue how a ship can land on a comet, & others complain that there is too much background information on the characters. There are a lot of characters in this film to keep track of, as well as a lot of deaths! From pretty intense scenes to completely sad & tear-jerking moments, Deep Impact's biggest "impact" is on the heart! Deep... shows you the family/loved-one loss that Titanic failed to show. Here, husband's and wives who are developed in the film, are torn apart or simply die together, in a completely helpless situation. Now I'm not dissing Titanic now, hold on, but I am bringing forward the point I've heard adults make that Titanic focused a little too much on 2 lovers who just met than the families who had been together for years & years & who must leave each other forever. Deep Impact doesn't focus just on the youth, but focuses on the married as well.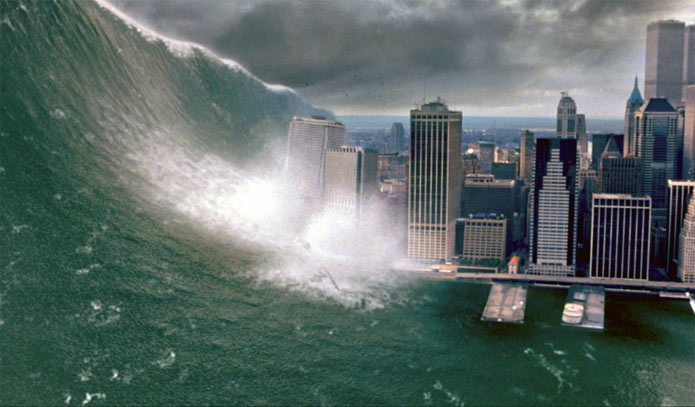 One interesting thing, is that when the president is making his speech, he confesses he believes in God, & basically quotes Numbers 6, blessing the United States! I was pleased with that. And at the end, another pro-Christianity comment is made. But another symbolic trait is the ship that is the hero of the film is ironically named, "The Messiah." All this presents one question in my mind: But with all these references... why the blasphemy?
As far as the content goes... there is no shedding of blood in this movie. Granted, Elijah Wood has a scratch or 2 on his face at the end, but that's pretty much the extent of it. The only mentionable blood/gore factor is that one of the astronaut's face gets burned & it blisters a bit, but isn't anything really disgusting. The language is rather disappointing. There at least one definite "f" word & 2 possible other ones that aren't too clear. There are also about 16 uses of blasphemy, another flaw in every movie nowadays that just really ticks me off... And there is no nudity or sex, just a couple lines of innuendo. The worst case is when Leo becomes famous from the comet that at a school assembly, someone stands up & tells him, "You know, you're going to have sex a lot more than anyone else now." They present it jokingly, but it almost sounds like some kind of commercial for high school sex... sad, I tell you, sad. So, in my book, the best part of the movie is the ending where the comet hits & there's lots of special effects and destruction. I guess I'm just a fan of special effects. I don't highly recommend the film, but it is a decent flick, although I'd go through the content carefully before recommending anyone to go see it.
-
John DiBiase
(reviewed: 5/11/98)
Parental Guide: Content Summary

Sex/Nudity: Nothing major. A few lines of minor sexual material is mentioned. See above content paragraph.


Vulgarity/Language: 1 "f" word, 5 "s" words, 3 "g*dd*mn," 3 S.O.B.'s, 10 h*ll, 3 d*mn, 1 "a" word, 4 "G-d," 2 "Oh my G-d," 1 "G-d," 3 "J-sus," 1 "J-sus Chr-st," 1 "Oh Chr-st," 1 "Chr-st"


Alcohol/Drugs: Quite a bit: beer, wine, champagne, etc. Most of the stars drink.


Blood/Gore: One scene where an astronaut's face is burned by the sun & it gets blistered a bit.


Violence: A several-hundred-foot wave crashes down on the planet, a car crash where someone dies, lots of explosions, lots of assumed deaths (disaster-related peril).

Disclaimer: All reviews are based solely on the opinions of the reviewer. Most reviews are rated on how the reviewer enjoyed the film overall, not exclusively on content. However, if the content really affects the reviewer's opinion and experience of the film, it will definitely affect the reviewer's overall rating.

To find out why we don't typically review R-rated movies, click here