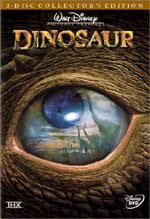 Dinosaur


- for intense images.
Director:
Eric Leighton, Ralph Zondag
Starring:
voices of Julianna Margulies, Della Reese, D.B. Sweeney
Running Time:
1 hour, 22 minutes
Plot Summary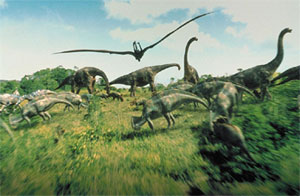 Aladar (voice of D.B. Sweeney) is a baby iguanadon who is raised by Lemurs when his egg is transported to their habitat through a series of mishaps. When older, a comet strikes the island and wipes out most of the Lemurs, with Aladar and a few escaping. They meet up with a herd of various dinosaurs who are travelling to the nesting grounds, but must stay together or they will be picked off by velociraptors, carnotaurs (aka t-rexes), and various other predators. Aladar tries to make sure they all make it to their destination, but the herd's leader, Kron, has little heart and insists on letting the weak perish and the strong survive. The group run into complications and the journey turns into an adventure.
Film Review
The trailer didn't tell much about the movie, and critics came down pretty hard on it, but in actuality, Disney's Dinosaur is an amazing almost-90 minute animation masterpiece. The jaw-dropping animation is so clean, slick, detailed, and down-right amazing it's unreal. The story and script are quite simple, but it doesn't leave out a fast pace with a suprising amount of action and suspense.
The violence is rather high. They show dinosaurs fighting, carnotaurs eating other dinosaurs, and some wounded dinosaurs, but nothing really graphic. The wounded dinosaurs are strategically shown when it's dark so as not to be noticeable. There are several shots of carcasses or skeletons, or dead dinosaurs, but nothing overtly graphic. Although it's geared towards kids, the film may be too violent and intense for the younger ones. There's plenty of humor and just the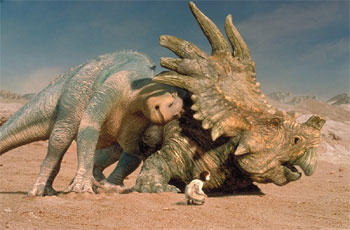 visuals alone are enough for it to be enjoyable for parents as well.
The other content in the film is rather mild. Although there isn't any sex in it, however, there is a lot about "courtship" and one Lemur refers to himself as "The Love Monkey." Also, the movie pleasantly stayed away from any real mention of the theory of evolution; as it could have easily preached it, there was no mention of it whatsoever. At the same time, there is no mention of Creationism either. The topic seemed to remain untouched, which helped keep the film's sole purpose as being entertainment.
I thought Dinosaur was very well done and a joy to watch. As an artist myself, I couldn't (and still can't) get over the animation. Another 2000 movie season winner to add to the list.
In summary, Dinosaur was an excellent experience. The animation was remarkable and story was good, although it's most likely not one you'll find especially memorable. The violent content makes it not for all-ages, but it's definitely still safe for some kids.
-
John DiBiase
,
(reviewed: 5/22/00)
Parental Guide: Content Summary

Sex/Nudity
: Minor mentions of courtship and a Lemur referring himself as "The Love Monkey" and wanting to play "monkey in the middle" with some ladies.

Vulgarity/Language
: None.

Alcohol/Drugs
: None.

Blood/Gore
: As the herd moves along, they come across some dead dinosaurs in their way, but they're not bloody or gory. We see some velociraptors eating a carcass, but all that's left is just bones. Two carnotaurs meet up with Bruton and a scout and end up eating the scout (nothing is really shown except them picking on it from a distance). Bruton has some wounds on him after being attacked by a carnotaur. A carnotaur is shown briefly eating some of an already dead dinosaur. Towards the end of the film, Aladar has some blood on him.

Violence
: Explosions when the meteor hits, dinosaurs fighting and hitting each other, dinosaurs eating others.
Disclaimer: All reviews are based solely on the opinions of the reviewer. Most reviews are rated on how the reviewer enjoyed the film overall, not exclusively on content. However, if the content really affects the reviewer's opinion and experience of the film, it will definitely affect the reviewer's overall rating.
To find out why we don't typically review R-rated movies,
click here