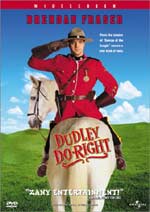 Dudley Do-Right


- for mild comic action violence, and for brief language and innuendo
(but there was no innuendo?!)
Directors:
Hugh Wilson
Starring:
Brendan Fraser, Sarah Jessica Parker, Eric Idle
Running Time:
1 hour, 17 minutes
Plot Summary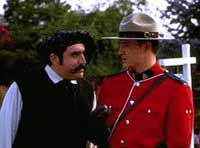 Dudley Do-Right (Brendan Fraser) is a simple-minded, gullible, naive Mountie for the Royal Canadian Mounted Police who's arch nemesis is Snidely Whiplash (Alfred Molina), a villain who shares the same common interest as Dudley-- Nell Fenwick (Sarah Jessica Parker). When Snidely runs a town out of their homes, he takes it over and uses a fake gold rush to attract consumers to his new town to make money. It's then up to Dudley to stop Snidely, while a local poor drunk (Eric Idle) trains Dudley to be able to defeat Snidely.
Film Review
Another live-action 'originally-was-a-cartoon' cornball flick. However, the best one this year. While Inspector Gadget was done wrong in too many ways, Dudley Do-Right was entertaining, corny, silly, fun, and enjoyable. But far from perfect.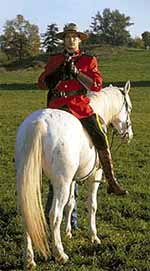 While the lack of innuendo (thank God), and profanity is much appreciated, the film includes unnecessary overt violence, mainly towards the close of the film, that shouldn't be in a kids movie. However, not as bad as it may seem, Snidely's men at the end use machine guns in a cartoon-like fashion that still seemed out-of-place, despite the fact, in this fun "kids movie."
Sometimes the jokes fall flat on their faces or are painfully silly (um... the moose head?), while others are hilariously silly (Eric Idle's character teaching Dudley). But the movie still remains entertaining and fun.
Not a film for everyone, but certainly not a bad one. Dudley tends to have its moments. But as far as objectionable material: it pretty much only exists in the form of violence and the presence of alcoholic beverages.
Overall it wasn't a great movie, but not bad. It was cute, fun, and entertaining. Don't expect anything more than a silly, fun "family" movie. On all these notes, I give Dudley Do-Right a decent 2 and a half stars. If you have any questions about the movie if you decide to see it, don't hesitate to contact me.
-
John DiBiase
,
(reviewed: 9/3/99)
Parental Guide: Content Summary

Sex/Nudity
: At the end of the film, Dudley starts kissing Nell, but she stops to pull a shade down to keep the audience from watching (meant to be cute/funny).

Vulgarity/Language
: 1 "cr*p," 1 "Oh my G-d"

Alcohol/Drugs
: The poor man gets drunk and has a hangover the next day. Other instances include beer, wine, champagne, etc.

Blood/Gore
: None.

Violence
: Too much for a kid's movie. Some explosions, shooting, slapstick humor, and various other violent acts.
Disclaimer: All reviews are based solely on the opinions of the reviewer. Most reviews are rated on how the reviewer enjoyed the film overall, not exclusively on content. However, if the content really affects the reviewer's opinion and experience of the film, it will definitely affect the reviewer's overall rating.
To find out why we don't typically review R-rated movies,
click here