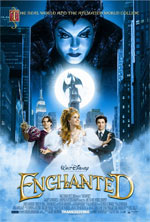 Enchanted


- for some scary images and mild innuendo.
Director:
Kevin Lima
Starring:
Amy Adams, Patrick Dempsey, James Marsden, Susan Sarandon
Running Time:
1 hour, 47 minutes
Theatrical Release Date:
November 21, 2007
Official Site
Plot Summary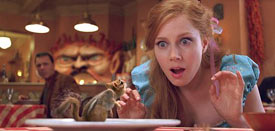 A classic Disney fairytale collides with modern-day New York City in a story about a fairytale princess (AMY ADAMS) from the past who is thrust into present-day by an evil queen (SUSAN SARANDON). Soon after her arrival, Princess Giselle begins to change her views on life and love after meeting a handsome lawyer (PATRICK DEMPSEY). Can a storybook view of romance survive in the real world? (from MovieWeb.com)
Film Review
In 2001, DreamWorks won the hearts of moviegoers abroad when they told the story of a lovable ogre name Shrek in a way that poked fun at the fairytale genre and its stereotypes. In a sense, it was the DreamWorks animation team's way to attack Disney and the end result was nothing short of clever and hilarious. Now, three Shrek films later, Disney is taking pot shots at itself with Enchanted, a fun goof on the fairytale genre that takes its naive, fantastical nature into our real world for a wonderful fish-out-of-water telling that oftentimes borders on genius.
The ingredients that make Enchanted work so well are due mostly to a solid script and convincing acting. Amy Adams, as Giselle, channels the naivety of your usual storybook princess into live action human form with such passion and devotion to the character that it helps make the format work so well. James Marsden, as Prince Edward, is nearly unrecognizable from the laser-eyed Cyclops in the X-Men trilogy, and fills his character with an almost nauseatingly prideful charm that is altogther likeable and over-the-top, and just plain perfect for the role. To round out the inspired central cast, Patrick Dempsey plays Robert, a lawyer who's a single parent living in New York and discovers Giselle after she arrives in our world. Dempsey is a wonderful compliment to the fantasy life Giselle leads and his reactions as the straight man to her unnatural approach to life is seemingly just what you'd expect if placed in such a bizarre situation. Every great fairytale story must have a source of evil to contrast our heroes and Susan Sarandon embodies the real-life evil stepmother witch of a Queen wonderfully. She brings to life your usual Disney villainess to complete the storybook formula and make Enchanted work as amazingly well as it does.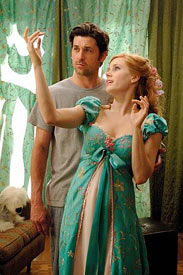 From the opening scenes as a gushy animated fairytale, Enchanted pokes fun at itself, playing on every fairytale in the book as the story goes on, from Cinderella to Beauty And The Beast to Snow White. And allowing the fairytale characters to carry their "enchanted" fictional powers from their world in Andalasia into New York City and affect everyone and everything around them allows for some great setups. An example of the true genius in the storytelling can easily be shown when Giselle recruits the help of local New York wildlife to clean up Robert's apartment. Of course, this is the city and not a forest or meadow, so the only creatures that are available are pigeons, rats, flies, and of course, cockroaches. A beautifully ridiculous musical number ensues and the interactions between the vermin themselves and with Giselle is creatively done. Also, Giselle's small chipmunk sidekick, Pip, who talks in Andalasia, of course cannot speak like humans while in NYC, and must resort to charades to attempt to communicate with others. A particular instance of this, when Pip tries to tell Prince Edward of one of Queen Narissa's ploys as they sit in a restaurant, is one of the funniest moments in the film. Enchanted has enough cleverness and imagination sprinkled throughout its duration that it offers more laughs than most purely comedic films. It's also further proof that a movie doesn't need to be crass, crude, or shockingly vulgar and offensive to be very, very funny.
The content of Enchanted is certainly worthy of the PG branding. Although the film offers no profanities, there are some sensual moments or minor innuendos as well as creepy or intense scenes. The biggest surprise, however, is when Robert looks around his apartment to find out where Giselle had run off to and accidentally walks in on her in the shower. When we see Robert's perspective of Giselle, two pigeons fly down carrying a towel which Giselle wraps around her immediately, covering any possible nudity we'd see. Afterwards, Robert's girlfriend finds Giselle in this state and assumes they've slept together. It's some adult humor like this that pulls Enchanted into more mature territory than your usual family outings. And while it never gets overtly crude at any point, it definitely dances around the line of what can be allowed in a Disney film. Still, Enchanted may be one of the better movies you can take your whole family to this holiday season.
Enchanted is one of the most pleasant surprises of 2007. It's a musical, a fairytale, and a unique lesson in love and never giving up on it. A romantic comedy with a healthy dose of both romance and comedy, Enchanted is an example of Disney at its very best and almost the ideal poster film for the modern family movie. You won't have to worry about your kids hearing foul language that they might be likely to repeat or ask you about later, and any innuendo is likely to pass right over their heads. Enchanted is a wonderful little holiday distraction, and one truly fun trip to the movies!
-
John DiBiase
,
(reviewed: 3/14/07)
Parental Guide: Content Summary

Sex/Nudity
: Giselle is seen standing in the shower, and before we see any nudity, two birds fly down and place a towel around her chest. Robert is stunned and tries to convince her she can't stay and falls out of the bathroom with her landing on top of her. Just then, Robert's girlfriend sees them and assumes Robert was fooling around with her. She then complains that he never let her spend the night because of his daughter but now thinks maybe he just had women there all the time; Morgan mentions to Giselle that she's always told that guys always have "only one thing" on her mind but no one ever tells her what that is; Queen Narissa entices Nathaniel a bit as he hopes to win her heart, and he acts rather passionate about her; As Prince Edward runs from apartment to apartment in search of Giselle, he runs into a husky biker man who romantically smiles at Edward. Edward is taken by surprise and turns around and leaves; Giselle and Robert argue in his apartment while he's in a bath robe and she's in pajamas and she gets excited about discovering the feeling of anger for the first time. She then puts her hand on his chest (which is slightly exposed through the middle of his robe), and they sort of stare at each other. As they begin to lean in slightly for a kiss, Robert just turns and walks away; Robert and Giselle later passionately kiss; Giselle shows some cleavage in a few of the outfits she wears

Vulgarity/Language
: None

Alcohol/Drugs
: Nathaniel is seen drinking a dry martini; Nathaniel tries to give a poisioned apple martini to Giselle

Blood/Gore
: We see a homeless man smile and missing teeth; We see a creepy old hag in grotesque makeup who is missing teeth; A poisoned apple lands on a biker's helmet and it begins to sizzle. We then see him fall over and the helmet come off as it began eating into it, and we very briefly see that some of his hair began to burn away on his head (played for laughs)

Violence
: In the cartoon world... an ogre attacks Giselle's home and tries to get her as she runs away; An old woman pushes Giselle down a well; In the real world... Prince Edward stabs a bus with his sword, thinking it was a monster, and we see the sword pierce an old woman's bag of bird seed; Nathaniel frequently manhandles Pip, trying to silence him from telling Edward or Giselle things; Nathaniel tries to grab Pip in a restaurant and the chipmunk hides in a pizza. Nathaniel throws the pizza into an oven and it explodes, sending Pip into a glass vase; Nathaniel hangs Pip in a closet, pinned by clips on a hanger; A series of bike riders accidentally collide with Prince Edward, with all of them falling over; An old woman gives a person a poisoned apple and they bite it and collapse; A large monster grabs a person and takes them to the top of a building. We later see the monster fall to its death
Disclaimer: All reviews are based solely on the opinions of the reviewer. Most reviews are rated on how the reviewer enjoyed the film overall, not exclusively on content. However, if the content really affects the reviewer's opinion and experience of the film, it will definitely affect the reviewer's overall rating.
To find out why we don't typically review R-rated movies,
click here