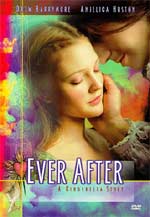 Ever After


- for momentary strong language.
Director:
Andy Tennant
Starring:
Drew Barrymore, Angelica Houston, Dougray Scott
Running Time:
2 hours, 1 minute
Plot Summary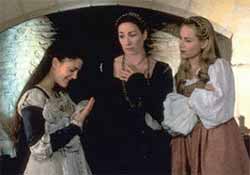 Ever After is not your typical fairy tale story. Sure it's about the famous Cinderella story, but it's [thankfully] leaves out the magical "fairy godmother" aspects of it. In this romantic tale, Danielle is a young country girl growing up in 16th-century France who moves in with her father and evil stepmother, Rodmilla (Angelica Houston). Her father dies suddenly of a stroke, & she is left with her 2 stepsisters to be raised by Rodmilla. Many years later, Danielle (Drew Barrymore) is working as a servant for her stepmother & also waits on her stepsister Marguerite, who is much like her mother, & Jacqueline, who is nice to Danielle and befriends her at times. Enter in the prince of France, Prince Henry (Dougray Scott). Henry needs to find a wife to marry in 10 days or he will be forced to have an arranged marriage with someone from Spain. Enter in the classic Cinderella tale with multiple twists... and you have a pretty good story. (I refuse to reveal the rest of the plot)
Film Review
To be honest, when i went to see this with my girlfriend, I wasn't expecting much. I was expecting a decent romantic mush-mush flick, but i went with a "how bad could it be?!" mentality. Sure! The previews looked good & Drew Barrymore was good in another flick i saw... Well, people, readers of the JfH movie reviews, this movie rocked! i was entertained completely! There's NO sex! There's VERY LITTLE bad language! & The violence is oh so TOLERABLE! I could see this movie being black & white from eons ago! Of course that may turn some of you die-hard nineties "leave your brain at the door" flick-lovers away... but this was, no lie, a great movie! It had enough light-hearted humor spread throughout the whole thing to keep even the romance-hating guys crackin' a smile & chuckling!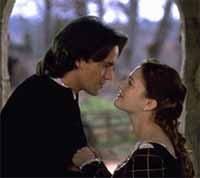 Being an artist and all, I thoroughly enjoyed the character of Leonardo da Vinci. He added enough humor and "history" to enhance the picture further. And the evil stepmother & stepsister really make you hate them & pity Danielle completely. The prince, although I'd never heard of him before, did a really good job & was a really likable character. The step sister, Jacqueline, actually turns out to be good, and you can't help but like her because she tends to side with Danielle, although she doesn't take a stand against her evil mother.
The film, overall, I think is really well done! it has no nudity or sex (with the exception of 2 lines of innuendo from the villain)! There's rather clean language with only 1 "s" word & a possible "d*mn." And finally the blood/gore is reduced to nothing but a few bloody scratches on Danielle's back & a cut on the villain's face from a dagger! The rating of PG-13 was probably earned by the ruthlessness of the stepmother & stepsister & their harsh words & taunting. Other than that, I can't think what else it could really be. Most PG movies are just as "bad" or worse! This is one movie that I can recommend with a clear conscience! Ever After is a winner!
-
John DiBiase
(reviewed: 8/2/98)
Parental Guide: Content Summary

Sex/Nudity
: None. There are only 2 instances where the scummy villain makes a lustful comment toward Danielle.

Vulgarity/Language
: 1 "s" word, 1 "d*mn," 1 "h*ll," 1 "Good Lord," 2 "My G-d," 1 "Oh G-d"

Alcohol/Drugs
: People drink wine from goblets.

Blood/Gore
: Danielle has bloody scratches on her back from being whipped -- however, we don't see the actual act. Also, Danielle makes a slightly bloody cut on a man's face with a knife.

Violence
: Some swordplay, some fighting, a few punches, many arguments, many instances of demeaning name-calling.
Disclaimer: All reviews are based solely on the opinions of the reviewer. Most reviews are rated on how the reviewer enjoyed the film overall, not exclusively on content. However, if the content really affects the reviewer's opinion and experience of the film, it will definitely affect the reviewer's overall rating.
To find out why we don't typically review R-rated movies,
click here