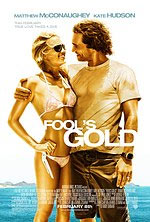 Fool's Gold


- for action violence, some sexual material, brief nudity and language.
Director:
Andy Tennant
Starring:
Matthew McConaughey, Kate Hudson
Running Time:
1 hour, 53 minutes
Theatrical Release Date:
February 8, 2008
Official Site
Plot Summary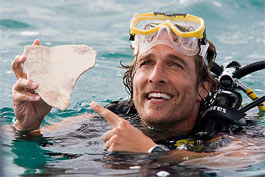 McConaughey and Hudson play married treasure hunters whose eight-year search for booty leaves them broke and out of gas. Just as they divorce, they stumble upon a missing clue that might lead them to a fortune. (from MovieWeb.com)
Film Review
2003 marked the first cinematic pairing of actress Kate Hudson and actor Matthew McConaughey in How To Lose A Guy In 10 Days. This established the two with great chemistry and so it's not too surprising they would team up once again in 2008 for another romantic comedy, entitled Fool's Gold. Now, you can expect with a such a title that critics will be making all kinds of related quips, but the truth of the matter is - this time, the end result of this pairing is anything but gold.
The problems within Fool's Gold really have little to do with McConaughey or Hudson themselves. The two are fun to watch again - even if McConaughey may seem to be going a bit through the motions at times, but many times the film is really only interesting when it's just one or both of them on screen. It's rather seldom when any of the other characters in the entire film leave any kind of good impression. This sadly includes the usually reliable Donald Sutherland who sort of sleepwalks through Fool's Gold, faking a British accent to seem like a richer, more sophisticated multi-millionaire named Nigel who happens to be hanging around in the Keys just waiting for his irritating daughter to arrive. And when Hudson's character Tess refers to Nigel's daughter Gemma as a "bimbo," she couldn't have nailed the character any better. It's every bit as enjoyable as Chinese water torture to endure Alexis Dziena's over-the-top performance as the ditsy spoiled brat without a hint of intelligence, and, well... I guess that last description could also pretty much apply to this film...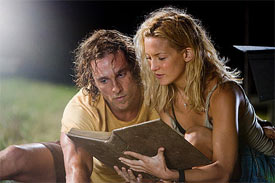 It's been said that Fool's Gold is a bit indecisive when it comes to following a genre, ending up not being a strong comedy, romantic comedy, action film or adventure film as it tries to be a bit of everything for everyone. McConaughey first played a treasure hunter type in the 2005 film Sahara and it seems he thought a more nonsensical vehicle for meeting those fantastical desires was a worthy follow-up instead of just a sequel to that film (which I'd have greatly welcomed a lot more openly than this). But even just a great set of villains may have helped the film a bit. Instead, we have a stereotypical rich rapper named Bigg Bunny (horrible, horrible name), played by Kevin Hart, with a set of hired guns which includes Ray "Beowulf" Winstone, and Malcolm-Jamal Warner from The Cosby Show. None of them are especially likable, and by the umpteen time Hart shows up on screen, you're either hoping his character gets dismissed somehow or the movie would just plain end already (it does feel long at just minutes under 2 hours). This isn't to say that Fool's Gold was completely a waste. It's just that most everything from the execution to the goofy acting is just so sloppily done. This movie may fall more appropriately under the description as a screwball comedy, but to call it such would merely do injustice to the classics that defined the term. And this just isn't screwball enough nor serious enough. It's frustrating to see a film shot in such beautiful locations and cast with some dependable actors (McConaughey, Hudson, Sutherland) to end up being such a wreck.
It should scare you while watching any movie if titles like The Big Bounce and Six Days, Seven Nights pop into your head. What's an even sadder revelation is knowing that Fool's Gold director Andy Tennant brought us the far more superior (and virtually sex-free) romantic comedy Hitch and the sweet, charming, 1998 period romantic comedy, Ever After. While the former especially had its share of problems, particularly in the language department, Ever After was nearly family friendly - and Fool's Gold, released a decade later, is anything but. It's still a bit surprising to find in this PG-13 film, even a very brief shot of a girl pulling her bikini top down, albeit from a distance, to flash her breasts at McConaughey's "Finn." In another scene, we also get a brief, partial view of McConaughey's bare butt when he falls over naked on the back of the boat. And to accompany those moments is a slew of colorful language and some sexual references (including a brief scene where Tess and Finn make out and fall behind a piece of furniture before the scene cuts away and Tess references later that they had sex), and a few surprisingly violent moments. Add in some bloody cuts and a large splash of blood and water mixed bursting from the ground, and you've got yourself yet another PG-13 pushing the edge of R real well.
The more I think about Fool's Gold, the more I think about that, while I'd wanted to like the film for the sake of the leads and their chemistry, and to join in on the fun search for buried treasure long lost, this is just one, plain poorly made film. While it's still entertaining for the most part (and not quite as bad as similar beach-bum adventures like Big Bounce or Six Days, Seven Nights), this won't be the movie Hudson and McCounaghey will be remembered for together. And on top of it all, the content is murky as can be, stripping any kind of recommendation from this reviewer's typing fingers. Save yourself the ticket money, the matinee price, and even the dollar rental from a vending machine, and spend your hard-earned cash elsewhere (besides, too many good CD's are coming out this month to be wasting money at the movies)! Still, if somehow you have any questions or comments about the film before you see it (if you, for some reason, decide to), feel free to contact me.
-
John DiBiase
,
(reviewed: 2/8/08)
Parental Guide: Content Summary

Sex/Nudity
: Tess mentions several times that Finn excels at sex; Finn is stranded in the water when a boat of college kids come by - seemingly drunk - and we see at least one of the two girls very brief flash her bare breasts at Finn (we see everything); While talking about the treasure and their honeymoon, we see a very brief, random flashback where a book is in the foreground and we hear sexual sounds of Finn and Tess in the background (with the occasional limb or hair visible in the background); Finn comments that he thought that upon hearing someone died from "consumption," it meant they died while consummating having sex; When Finn gets out of the water, he drops his swimming trunks, not knowing Tess is sitting right there. When she says something, he falls over and we briefly see part of his bare butt from a little bit of a distance. He then throws a towel over his crotch before standing up apparently nude (without the towel) in front of Tess; While in a church basement, Tess hops into Finn's arms and they passionately make out before falling onto the ground behind a table where Tess makes pleasured sounds, but the scene ends there; In the next scene, Tess laments about having sex in a church basement with them being divorced; Throughout the film, we see women in tiny bikinis, including Tess and Gemma - both who also seem to not wear bras too often with their non-bathing suit attire, therefore making their outfits rather revealing; Two gay male chefs on Nigel's yacht converse about how exciting and sexy Finn is; One of the gay cooks calls the other a "butch"

Vulgarity/Language
: At least: 22 "s" words, 2 "J*sus," 4 "g*dd*mn" (1 mouthed), 6 "h*ll," 2 "S.O.B.," 6 "a" words, 1 "cr*p," 2 "d*mn," roughly 29 derivatives of "Oh my G-d" or "Oh G-d," 1 "pr*ck,"

Alcohol/Drugs
: A lot of characters are constantly drinking throughout the movie, including some joyriding kids who appear possibly drunk when they find Finn and end up flashing him

Blood/Gore
: Finn shoots at two guys and hits one in the ear (we don't really see the impact), and the other through the foot (we see some blood on the top of his foot a few times; Finn is hit in the head with a cane and we see a bloody mark on his head; Finn is hit by a boat and we see blood on the other side of his head; Finn's struck in the face by a lacrosse paddle and has some blood and a cut on his nose and face; A man is shot dead and we see a little bit of blood from a distance; A man gets sucked up a hole and from a distance we see blood and water shoot out of the hole and rain down onto the rocks around it; We see a harpoon shoot through a man's leg (not especially graphic), with some blood floating in the water around it

Violence
: Lots of action violence: A boat catches on fire and sinks; Finn is knocked unconscious from behind; Finn is strapped to an anchor and falls off a boat, but not before grazing two guys with bullets; Tess hits Finn in the head with a cane; Finn is hit by a boat; Tess throws plates of food onto a table (breaking the plates); An explosion throws Finn out of the water onto a boat and is then punched (apparently a few times, but we only see the one that knocks him down); Finn holds a knife to a man's throat and the get into a scuffle, then he holds down another man, and then is hit in the face by a lacrosse paddle; A man is shot and killed, others are held at gunpoint; Finn hits and knocks a man down, Tess knocks a man over and hits another in the crotch with a shovel, Finn subdues another guy; Finn's motorcycle goes off a cliff an explodes; Two guys hold each other at gunpoint; A man is sucked through a hole and killed; Some characters shoot at each other; A person is grabbed into a plane, then they try to knock out the pilot by hitting them in the face but are soon knocked out themselves; A person is shot at; A person falls from a plane and dies; A plane crashes and sinks
Disclaimer: All reviews are based solely on the opinions of the reviewer. Most reviews are rated on how the reviewer enjoyed the film overall, not exclusively on content. However, if the content really affects the reviewer's opinion and experience of the film, it will definitely affect the reviewer's overall rating.
To find out why we don't typically review R-rated movies,
click here