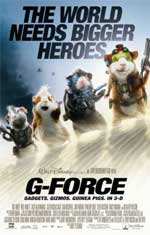 G-Force


- for mild action and rude humor.
Director:
Hoyt Yeatman
Starring:
Bill Nighy; voices of Nicholas Cage, Sam Rockwell, Tracy Morgan, Penelope Cruz
Running Time:
1 hour, 30 minutes
Theatrical Release Date:
July 24, 2009
Official Site
Plot Summary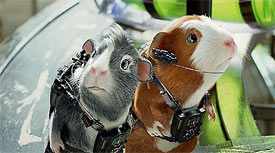 "G-Force" is a comedy adventure about the latest evolution of a covert government program to train animals to work in espionage. Armed with the latest high-tech spy equipment, these highly trained guinea pigs discover that the fate of the world is in their paws. Tapped for the G-Force are guinea pigs Darwin (voice of Sam Rockwell), the squad leader determined to succeed at all costs; Blaster (voice of Tracy Morgan), an outrageous weapons expert with tons of attitude and a love for all things extreme; and Juarez (voice of Penelope Cruz), a sexy martial arts pro; plus the literal fly-on-the-wall reconnaissance expert, Mooch, and a star-nosed mole, Speckles (voice of Nicolas Cage), the computer and information specialist. (from MovieWeb.com)
Film Review
While good family films are about as rare a find as intelligence in mainstream pop radio, Disney offers families a new action comedy this Summer in G-Force. Literally about a special task force consisting of trained guinea pigs, a mole, and a fly, collectively known as "G-Force," the film is preposterous from the get-go, urging viewers to check their brains at the door and just accept the film for what it is. G-Force mixes CGI-animated animals with live action actors to present the silly idea in a "realistic" setting.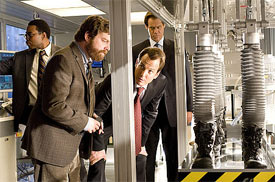 The charm (and I do use that term carefully) of G-Force lies within the animated characters themselves and their solid voice acting. The same, however, cannot be said for the live action actors. It's a wonder why a respected British actor like Bill Nighy would take the role of the chief villain in G-Force as a billionaire who has plans for some kind of technological domination across the globe. Nighy seems to sleepwalk the role a bit, putting in the occasional snarl he gave to Davy Jones but with less passion. In the end, an animated version of him probably would have been just as effective (if not more so). Zach Galifianakis, who helped make The Hangover a success at the box office this Summer, plays the straight man to the animal antics. He has enough warmth in his character as Ben to carry the part out, but doesn't add much to the film overall. The same can honestly be said for all the other secondary characters as well, with the exception of the FBI agents wasting their time trying to chase down the G-Force team who overact and simply dumb down (even further) the scenes that feature them. Lastly, comedic actor Will Arnett does a fair enough job as the purposefully unlikable FBI agent who issues plenty of threats to Ben and the team. In the end, the material isn't strong enough to give these actors much to work with, so naturally their presence is almost instantly forgettable.
But such is quite often the case with movies that use live action actors to sort of fill in the background for a story that is really about animals or some kind of animated character. They did it for movies like both Garfield films, for example, which ended up being their biggest problem (aside from weak scripts). Sam Rockwell voices the central guinea pig, Darwin, who believes with his whole heart he's a genetically-altered super guinea pig (think Bolt), and is accompanied by the adventure-loving Blaster, voiced by SNL/30 Rock's Tracy Morgan and Spanish actress Penelope Cruz voices the lone female, Juarez. Together, their antics are frequently entertaining, but sadly, seldom funny. It isn't until the team finds themselves in a pet store that smirks turn into actual laughs. Part of this is due to the presence of a fiesty hamster named Bucky who is wonderfully portrayed by Steve Buscemi. It's also when we're introduced to the chubby longhair guinea pig Hurley, voiced by actor/director Jon Favreau, who quickly becomes Darwin's shadow. G-Force is almost solely about these characters, and I couldn't help but wonder if the end result would have been stronger - and seemingly less cheesy - if it had been entirely animated (a la Bolt or The Incredibles). There are some fun action moments (that will bring Transformers to mind for sure), classic action movie quote references, and enough eye candy to help keep G-Force moving along, but an overall sense of mediocrity washes over the picture to keep it from really becoming anything great.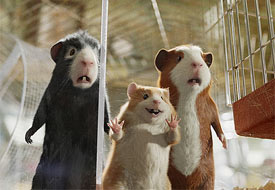 The content for Disney's G-Force is thankfully kept pretty tame (and that's not at all the cause for its mediocrity. If anything, more crude or crass humor would have just made it worse). Language is limited to one use of "suck," while the only other content to really be concerned about is violence. There are some intense scenes (and while we didn't see it in 3-D, there is a moment where a snake lunges at the screen, which would probably terrify little kids especially with 3-D glasses on), and the finale involves a giant machine that terrorizes people. Most of the violence is comedic or nonlethal, so there isn't much to be too cautious about.
When all is said and done, G-Force is a cute and mildly entertaining family film that doesn't break any new ground (if anything, feels all too familiar in parts), but will likely bring about a surge in interest in guinea pigs if anything. A mediocre script and unenthused human actors put a damper on the movie overall, but there's still enough mindless fun to keep the flick worth a matinee or rental. The kids will probably like it more than the adults, but pet lovers (especially of the furry little central characters) will most likely enjoy watching the G-Force gang in action most. You could certainly do a lot worse in a movie, but given the right ingredients, G-Force could have been a lot smarter and sharper. If they do greenlight a sequel, perhaps something a little more engaging could be assembled to really create something memorable.
-
John DiBiase
,
(reviewed: 7/28/09)
Parental Guide: Content Summary

Sex/Nudity
: None. There's just an innocent who-likes-who love triangle with Juarez, Blaster, and Darwin

Vulgarity/Language
: 1 "suck," 1 "Oh my G-d"

Alcohol/Drugs
: None.

Blood/Gore
: None.

Violence
: Mostly comedic action violence. Darwin runs over a fire pit as it is turned on and his furr gets singed in a small part; A hamster maliciously pushes a guinea pig out of a cage; a robot chases and shoots at two little animals; a giant robot starts tearing up an area and threatens many lives; a microwave explodes and traps some G-Force members; A character appears to be dead after falling but is OK; A character is thrown into a garbage truck and is believed to be dead; Speckles is chased by a dog; and other assorted violence
Disclaimer: All reviews are based solely on the opinions of the reviewer. Most reviews are rated on how the reviewer enjoyed the film overall, not exclusively on content. However, if the content really affects the reviewer's opinion and experience of the film, it will definitely affect the reviewer's overall rating.
To find out why we don't typically review R-rated movies,
click here