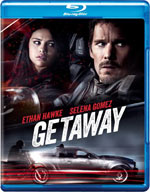 Getaway


- for intense action, violence and mayhem throughout, some rude gestures, and language.
Director:
Courtney Solomon
Starring:
Ethan Hawke, Selena Gomez, Jon Voight, Rebecca Budig
Running Time:
1 hour, 30 minutes
Theatrical Release Date:
August 30, 2013
Blu-Ray Release Date:
November 26, 2013 (
Amazon.com
)
Official Site
Plot Summary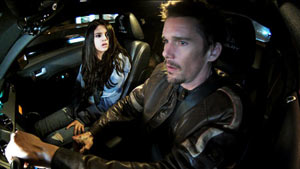 Brent Magna (Ethan Hawke) is a burned out race car driver who is thrust into a do-or-die mission behind the wheel when his wife is kidnapped. With Brent's only ally being a young hacker (Selena Gomez), his one hope of saving his wife is to follow the orders of the mysterious voice (Jon Voight) who's watching his every move through cameras mounted on the car Brent's driving. (from MovieWeb.com)
Film Review
It's kind of a cardinal rule of moviegoers that if a given film is universally panned by the critics across the board (It's only 3% "fresh" on Rotten Tomatoes), it's a true dud and warrants avoidance. The high octane trailer for Getaway, a thriller that places Ethan Hawke and singer Selena Gomez in the front seats of a custom, armor-plated Shelby, saw the unlikely duo racing through the streets of Bulgaria. It's one of those trailers that leaves you feeling more skeptical than enticed, but with a reliable and acclaimed actor like Hawke attached to a project like this, one would think, "It can't be that bad." But, sadly, it really can be.
There are so many things wrong with Getaway that it's tough to pinpoint any one main cause of it all. Perhaps one could fault director Courtney Solomon who assumes the director's chair for only the third time in his career here. His previous two directorial jobs were 2000's Dungeons & Dragons and 2005's An American Haunting, two films that were both widely panned by critics and audiences alike. How he ended up with a third project remains a mystery. Even more amazing is how he got Hawke, Gomez, Jon Voight, Warner Bros. and the cooperation of Bulgaria to get this turkey made and on the table.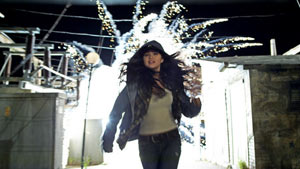 The film opens with Brent Magna coming home to find that there'd been a struggle in his home and his wife missing. A phone call from a mysterious man tells Brent that his wife "has been taken" (yup, just like in the movie by that name) and instructs him to steal a modified Shelby, which is lined with mini cameras, and do as he's directed. This includes Magna being forced to drive through populated parks and into Christmas decorations, wreaking havoc everywhere he burns rubber. This, of course, gets the attention of the Bulgarian police and now he's on the run, playing "games" that make little sense as directed by The Voice on the other end of the phone. It starts to feel like a made-for-TV version of any given Grand Theft Auto video game.
He's then instructed to park under a secluded bridge where a kid shows up and tries to steal the car from him at gunpoint. Enter Selena Gomez. The baby-faced, foul-mouthed and arrogant kid claims to be the owner of the car who doesn't believe Brent's situation and cares more about the vehicle than The Voice's hostage. Furthermore, Gomez's "The Kid" (that's right, she's never give a name) appears to know just about everything there is to know about technology, hacking, video feeds and Apple products. And it's something that she uses to make Brent look stupid, naive, and incompetent every chance she gets. Solomon makes Gomez do things that make little sense and have her interact with technology in ways that just doesn't operate so simply, and it really leaves you wondering how dumb the filmmakers expect their audience to be.
To make matters worse, the action isn't really all that good. A single chase sequence in any of the Jason Bourne movies is more expertly crafted than the Burnout-video-game-style mayhem seen here (actually, Burnout is so much more fun). There's only one scene that had me even remotely impressed and it was something not usually shown in a film. There's one seamless shot shown from the front of the car (as if the viewer were riding on the bumper or strapped to the car's hood) that gives us a near road surface view of the Shelby chasing another vehicle. As such, we see the two vehicles zip through busy intersections and red lights, narrowly missing certain death all in one continuous shot. Aside from that, however, there's just an overwhelming amount of footage involving the Shelby crashing into things, taking bullets, and leading pursuing cop cars into each other and surrounding poles and parked cars. Destruction is the name of the game here, and it never has to be logical.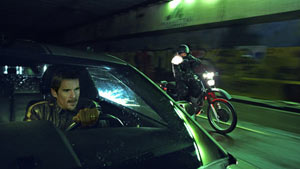 Profanity is the film's biggest content problem aside from mostly non-lethal (or ambiguously so) violence. There are nearly 40 uses of the "S" word, all mostly spoken by Gomez and Hawke. There's also quite a bit of blasphemy, and all of it is highly unnecessary. There's a little blood, mainly toward the end of the film after some car accidents and such--and the harrowing situation involving Brent's wife being abducted and held hostage--but most of the violence involves cars smashing into things and each other. By the time we see the Shelby racing away from a power plant as it's exploding in a raging fireball (kind of like the Batmobile racing from the chemical plant in the first, Tim Burton-directed Batman film), the absurdity has reached such great heights that it seems as though the sky's the limit in regards to how far out of reality Solomon can push this thing. All along the way, Hawke does the best he can with a way-too-simple script while Gomez remains irritating from the moment she appears until the very end. Voight's evil, also nameless, character gives villainous directions in such a way that you expect to see him twirl a long, greasy moustache at some point. Getaway ultimately has the feel of a live action cartoon.
Silly, mind-bogglingly absurd and unnecessarily profane, Getaway has more problems than a single review can touch on. It's certainly not the most unwatchable movie you can see, but you'll probably have more fun playing with a pack of Matchbox cars with a toddler than you would watching this messy pile of cinematic mush. If you want a smart thriller with good acting, storytelling, script, and action, watch (or rewatch) any one of the four Bourne movies and don't waste your time on Getaway.
-
John DiBiase
,
(reviewed: 11/23/13)
Blu-Ray Special Features Review
Warner Bros. clearly is trying to save a few bucks with the home entertainment release of
Getaway
(and I don't blame them). You can get the film on a single-disc DVD or single-disc Blu-Ray and through the normal digital retailers. The movie looks stellar in HD and the Blu-Ray disc comes with a total of five featurettes that altogether total less than six minutes of footage. Clearly, the minute-long-each featurettes were crafted as brief promos for the film.
Behind The Scenes: Crash Cams (1:12) - The first promo reveals that 18 to 42 cameras were used on every take, with an average of 20 being used per take. We also learn that they wrecked 70 small cameras during filming.
Behind The Scenes: Destroying a Custom Shelby (1:06) - Hawke talks about how the Shelby is his favorite car and the filmmakers talk about custom cars made for the movie.
Behind The Scenes: Metal and Asphalt (1:09) - Here we learn that no CG was used in any of the car crashes, and that they crashed 130 cars during the production of Getaway.
Behind The Scenes - Selena Gomez: On Set (1:19) - Here, the crew talk about working with Selena Gomez.
Behind The Scenes: The Train Station (1:03) - By the time you get to the fifth and last minute-long "Behind The Scenes" spot, they've used one quote from poor Ethan Hawke ("You can bet there was some metal scraping some asphalt," or something like that) a total of 3 times, while a couple other quotes were used twice. It's obvious that more interviews and making-of footage was recorded for this film, but they clearly didn't want to "waste" any more money to put them together for the Blu-Ray and DVD releases. Anyway, this last one talks about the gas explosions at the train station.
-
John DiBiase
,
(reviewed: 11/23/13)
Parental Guide: Content Summary

Sex/Nudity
: None.

Vulgarity/Language
: 37 "S" words, 9 "-ssh*le," 7 "h*ll," 4 "J-sus," 2 "Oh G-d," 4 "Oh my G-d," 7 "d*mn," 2 "G-d," 2 "a" words, 1 "cr*p," 1 "b*stard" We see a lengthy shot of The Kid giving "the finger" to someone as they're driving.

Alcohol/Drugs
: We see a flashback of Leanne sipping wine from a glass; We see The Voice sipping a martini.

Blood/Gore
: There's some blood on the floor in Brent's house; Leanne has some bloody marks on her face; We see some blood on Brent's face and forehead; Brent has some more blood on his head and hands.

Violence
: We see fragmented flashback footage of Leanne screaming and things smashing; A car speeds through a parking garage and smashes through the gate; We see a flashback of Leanne thrown into a Christmas tree; We hear sounds of a man being punched and hit and then see his body hit the ground; We see a flashback of some racing cars smashing into each other; We see two police cars smash into each other; We see a police car smash into a pillar; We see Leanne being manhandled by her captors and thrown to the floor in a cell; The Shelby smashes through a park into tons of Christmas decorations, smashing stuff and then onto an ice skating rink, with people running and screaming away. Brent the crashes the car into a pillar holding up a stage, knocking it down, and then more Christmas decor is smashed with people running and screaming; The Shelby plows into a water truck, causing other cars to smash into each other; We see another shot of Leanne thrown into a Christmas tree; We see a car crash and go flying into the air; A man forces Leanne to the ground at gunpoint; Brent rams a cop car into a tree; A car hits parked cars and goes airborne; We see more car crashes; A cop car hits a pole; a cop car goes airborne and smashes into the top of a van; a cop car smashes into a curb, shedding pieces; The Kid runs as sparks and explosions happen around her. She jumps in the Shelby and they race off as the buildings around them explode in a big fireball; A cop car smashes into parked cars; Two cops smash into each other; A cop car rear ends the Shelby; A cop car crashes, another goes flying. The Shelby knocks over a bike and the guy goes flying in the air and another cop car crashes; Men on bikes shoot up security guys, and an armored vehicle crashes into a pole; The Kid hits one of the thugs with her car door; The thugs shoot at the car; They knock a bike and driver into a train, presumably killing him; During a chase, they knock out the rest of the guys on bikes, too; They're shot at and pursued by bikes; Brent shoots a biker and he crashes into a gas pump at a train station which causes chain explosions as they drive away; The Shelby is surrounded by police so Brent asks The Kid to play along and he holds her at gunpoint yelling at the cops to go away or he'll kill her. They leave; Brent is shot at and it looks like he's hit in the shoulder but it's never shown as such; Another big chase scene ensues and a guy with a grenade launcher shoots at them during there a chase; Two cars grind against each other and the wall; Another two grenades are fired and a car flips, then another flips; A huge truck takes out a car sitting in the middle of the street; A car flips and crashes in a heap; Cops swarm some thugs at gunpoint.
Disclaimer: All reviews are based solely on the opinions of the reviewer. Most reviews are rated on how the reviewer enjoyed the film overall, not exclusively on content. However, if the content really affects the reviewer's opinion and experience of the film, it will definitely affect the reviewer's overall rating.
To find out why we don't typically review R-rated movies,
click here