Film Review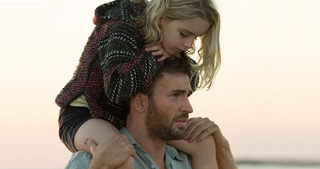 Life just doesn't play out the way any of us anticipate it to, and Frank Adler, the protagonist in the new family drama, Gifted, is a prime example of this. When the film opens, Frank is seen living in a modest home, raising a 7-year-old girl named Mary by himself with a one-eyed house cat named Fred. It doesn't take long for the audience to realize that Mary is a special child, especially when, on her first day of First Grade, she wows her teacher by solving an off-the-cuff, complex math problem in her head. Frank and Mary's life together becomes unhinged once people realize that not only is she Frank's niece (and not his daughter), but she's a budding genius who doesn't really belong in the humble setting of a small town in Florida.
Chris Evans has come quite a distance since his early films playing Johnny Storm in the first two Fantastic Four films and running to the aid of a kidnapped Kim Bassinger in the Speed-like thriller, Cellular. He's most recognizable for his excellent portrayal of Captain America in the Marvel cinematic universe, but his love for indie films and smaller, dramatic roles has had him turning in some interesting performances. (You can even catch his little film Before We Go on NetFlix, a drama he directed himself and starred in alongside Alice Eve.) Evans is a relatively low key actor these days, and in Gifted, he's a little more subdued or sullen. But what the film does nicely is slowly peel back the layers of who Frank is and how he got to where he is at this point in his life, giving us bits and pieces of the full story as it unfolds. It makes for some surprising dramatic revelations by the film's climax, and keeps the story compelling till the end.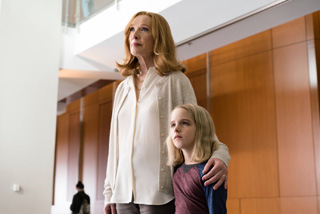 But what helps elevate the film above your usual dramatic affair is the acting. Evans is good, but his performance is mostly reserved, if not a little understated. Mckenna Grace, who plays Mary (and can currently be seen in a recurring role on Kiefer Sutherland's new show, Designated Survivor), is a wonderful young actress who brings a lot of warmth, depth and heart to the role. You need that in her character as she clearly has some fire and spark to her that isn't always good (like mouthing off to her teacher or occasionally swearing). Octavia Spencer has a surprisingly smaller role as a friend and neighbor of the Adlers, but she helps bring additional warmth to the story. Lindsay Duncan plays Frank's mother, Evelyn, and proves to be a fantastic and surprisingly charming antagonist who turns in a truly powerful performance. No family is perfect, that's for certain, but Evelyn takes it to a whole new level of complexity. Throughout the story, we're given small revelations into Mary's mother's story and learn about her own skills and experiences being raised by Evelyn. Finally, there's a custody battle between Evelyn and Frank that takes the twosome into a courtroom where everything feels a bit gritty and grounded. The lawyers and judge feel as real as it gets, and it all helps draw you in to feel the struggle Frank is going through.
If there's anything that the film suffers from, though, it's some predictability. It has some of the same beats of similar films that have come before it over the years, albeit not completely. You can predict how some things will go - whether romantically, between Frank and Bonnie, or with the legal battle over Mary. Still, there is plenty of drama with plot details that are more unique to this story, and it keeps it feeling fresh enough.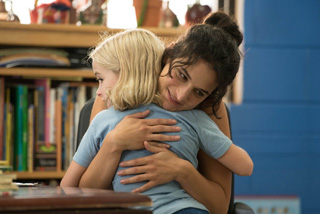 The content is of the PG-13 variety, but mostly only because of the language and a scene of sensuality. It's unfortunate, too, because it's otherwise a fine film about family. Frank does utter the "F" word once in a fit of frustration, and there's a scene where Frank and Bonnie are making out on top of his bed, which ends abruptly. We then see Bonnie wake up in his bed the next morning wrapped in just his bed sheet (and she takes herself to the bathroom like that). There are a few sexual references in conversation, including the two of them discussing first celebrity crushes (with them talking about how the character Frank chooses having a love for sex), and there's another moment where he matter-of-factly mentions his past aspirations for sleeping with a girl after a date. Other than little Mary saying the "S" word and "*ss" at two separate moments, there are a handful of other uses of language (including Frank saying "g*d-d*mnit" in a fit of anger), but it's infrequent.

The film very briefly touches on faith through a philosophical lens. With Frank and Mary backlit by a beautiful sunset, and Mary climbing all over him like a jungle gym, she asks him if there is a God. He replies honestly that he doesn't know. She then asks him about Jesus and he says he loves "the guy." When she asks if He was God, Frank replies again that he doesn't know, which sparks her question about their neighbor's beliefs in Him and Frank comments that that is called having faith. It's a cute moment that feels a bit dropped into the movie out of nowhere, but it actually does make sense when some more details about Frank's past are revealed later.

Gifted is a wonderful surprise to grace theaters this spring. It's funny, it's serious, it's heartwarming and it'll have you reaching for the nearest box of tissues. If you like a good drama about family and/or childcare, you may be hard-pressed to find one as enjoyable or well done as Gifted.

- John DiBiase (reviewed: 4/14/17)

Parental Guide: Brief Summary of Content

Sex/Nudity: When talking to Bonnie at a bar and relating a story about his past, Frank admits to ditching his sister to go out with a girl in hopes he can get "laid" that night; Bonnie asks Frank who his first celebrity crush was. He smiles and says Mona, the sexy grandmother from Who's the Boss?. She asks him why and he remarks that it had something to do with her love for "sexual intercourse." Bonnie then jokes that she had a crush on her too; Frank and Bonnie bust into his bedroom while kissing passionately and fall down on his bed. She then pushes herself off of him and says she can't do this. He agrees and says he'll take her home. She then lunges at him again and they keep kissing. The scene ends and we see her waking up in his bed alone the next morning just wrapped in his bed sheet. While sneaking around his bathroom, Mary sees her and slowly smiles, realizing what had happened the night before


Vulgarity/Language: At least 1 "F" word, 3 "S" words, 2 "a" words, 1 "g*dd*mn," 2 "d*mn," 1 "G-d," 1 "d*ck"


Alcohol/Drugs: We often see Frank sitting alone at a bar drinking beer; Frank's lawyer tells him to go out and have a cocktail; Bonnie and Frank drink shots together and get drunk


Blood/Gore: None.


Violence: Frank steps on LEGOs on the floor and screams in anger; Frank throws a boat machine part in anger; We see some cats at a pound in cages with lethal injection shots lying nearby, revealing that they're going to be put-down; We hear some stories about a woman who committed suicide.

Disclaimer: All reviews are based solely on the opinions of the reviewer. Most reviews are rated on how the reviewer enjoyed the film overall, not exclusively on content. However, if the content really affects the reviewer's opinion and experience of the film, it will definitely affect the reviewer's overall rating.

To find out why we don't review R-rated movies, click here