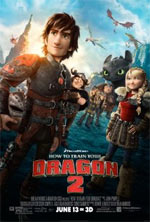 How To Train Your Dragon 2
(Review #2)


- for adventure action and some mild rude humor.
Director:
Dean DeBlois
Starring:
voices of Jay Baruchel, Cate Blanchett, Gerard Butler, Craig Ferguson, America Ferrera, Christopher Mintz-Plasse, Jonah Hill, Kristen Wiig, T.J. Miller, Djimon Hounsou, Kit Harington
Running Time:
1 hour, 42 minutes
Theatrical Release Date:
June 13, 2014
Official Site
Plot Summary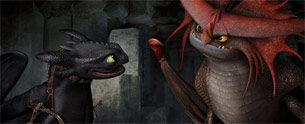 Five years from where we left them, Hiccup and his village of dragon riders must stand for what they've come to love. To do so, Hiccup has to discover his past and accept his future. He has to learn what it is to forgive. Together he and his faithful dragon Toothless must stand against a forgotten enemy.
Film Review
Some movies surprise us in the most unexpected ways and serve us our expectations on a silver platter. How to Train Your Dragon 2 does so with flying colors. The creators of Madagascar, Kung Fu Panda, and The Croods brought a movie which surpassed the original in almost every way. This animated feature moves our hearts in a way they haven't been moved since, well, Toy Story 3.
Dreamworks Animation have arguably struggled to meet the quality of movie that their rivals at Pixar have released over the years, despite releasing more films themselves. It would seem that Dreamworks finds success at getting movies out quickly. Though this works on occasion, many of their films leave us wanting more. We get the more we've wanted in How to Train Your Dragon 2, which was in production almost a year longer than most of Dreamworks' recent offerings. Time and quality of work seem to go hand in hand.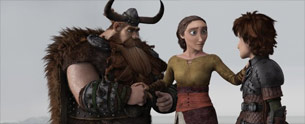 Time has been good to the land of Berk as well. The story picks up where it left off with our favorite Vikings atop their dragons, both new and familiar, but all unique. What was a successful element in Toy Story 3 also works well here. The characters aged accordingly, making us feel we have grown with them in the time between films. This effect is enhanced by keeping the same voice talent for the most part since then. Hiccup (voiced by Jay Baruchel), the once boy now young man who changed Berk, is met with an adventure which will force him to come to grips with what he believes, face who he is, and decide what friendship really means. It makes us giggle, understand morality, desire a peaceful world, and even shed a tear or two.
The voice cast is a refreshing reminder of the original, with America Ferrera as Astrid and Gerard Butler as Stoick shining as returning talent. New to the Dragon crew, Djimon Hounsou voices a very convincing and menacing Drago. Butler's Stoick calms and reassures us, Hounsou provides a voice which haunts us as much as Drago's appearance itself, and the brilliantly voiced Hiccup is convincing and inspirational with his dark companion, Toothless.
The animation is very well done. As with all animation, we expect to see something that's impossible to do in the real world with real cameras. Besides populating a world filled with dragons, we find some amazing virtual shots. These allow us to fly with the dragons themselves, have ice and fire shot directly at us, and spend time in the clouds. A variety of scenes are beautifully lit with deep focus being used very wisely and only when necessary. It is crucial as Hiccup accepts his lot before the setting sun. It's a refreshing offering from the company who seems to have relied on glowing neon colors to add an element of beauty film after film.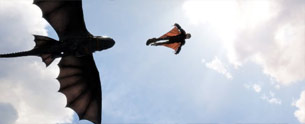 The content of the movie is clean for the most part. Only on two occasions is the term "gods" used as a Viking play on words for "Oh my G-d." There is plenty of comic mischief and mild violence. It is however a family movie, and there are no traces of blood anywhere in the film, even in places we'd expect to find it. Drago's character is menacing and may prove scary to younger viewers. There is plenty of flirting from Snotlout (voice of Jonah Hill) and Fishlegs (Christopher Mintz-Plasse) toward Ruffnut (Kristen Wiig) and from Ruffnut toward one of the film's new characters, Eret (Kit Harington). Hiccup and Astrid share a kiss or two and some minor flirting when together, but they have reached a new stage in their lives after all.
Humanitarianism calls loudly throughout the film. On occasion it misses the right motive for humanitarian efforts, but in the end it is a call for peace. Thankfully, there are amazing displays of right and wrong, good and evil, freedom and fear, as well as true forgiveness. These could easily act as an avenue to raise questions about our own good, evil, and truth. Right and wrong are clear, literally becoming black and white in the film's largest battle scene.
Enslaving evil and sin are evident as well. While it is not an issue of the soul but the mind in Train Your Dragon 2, the truth about what these can do is clear. They rely on fear to remove hope in order to enslave. The dragons become mindless under the evil alpha's influence. However, the shift in the film and the battle rest on an act of forgiveness. Though it was not director and co-writer Dean DeBlois' intention, it reminds us of the act of forgiveness which made a shift in our spiritual lives.
How to Train Your Dragon 2 is a film about peace, hope, and forgiveness. While we must be discerning in our understanding of how these are presented, they are the values of the film. Dreamworks brought an offering unseen since we first met Hiccup. Then, he showed us people can change. Our second encounter reminds us not everyone does change, but forgiveness and friendship are powerful. In the end, this village of dragons and Vikings melts out hearts faster than Frozen and teaches us more than Monster's U.
-
Hunter Hoover
(reviewed: 6/17/14)
Parental Guide: Content Summary

Sex/Nudity
: Astrid and Hiccup kiss briefly twice. The second time, Gobber shields the eyes of a little boy watching (which wasn't necessary and, therefore, played for laughs); Ruffnut lusts a little after Eret's body and the camera focuses on his muscles a few times as she acts dreamy about his looks.

Vulgarity/Language
: At least 1 use of "Oh my gods" (Plural because of the viking beliefs in multiple "gods")

Alcohol/Drugs
: None.

Blood/Gore
: We see a little scar on Hiccup's chin and then a flashback of a dragon accidentally scraping a small bloody cut on an infant Hiccup's chin; We see a dragon vomit up a pile of half-eaten fish parts, which Toothless then slurps up; We see that Drago is missing one arm and we see the healed-over shoulder stump a few times, which he otherwise covers up with a fake armored arm.

Violence
: Lots of action violence; We see some dragons being destructive while being playful, including Toothless dangling Hiccup over the side of a cliff in order to encourage him to apologize to him; We see dragon races in which they capture and hurl sheep like basketballs; Ruffnut and Tuffnut still beat on each other a little bit; A group of vikings shoot down Astrid's dragon with a net and try to capture it; Hiccup wields a fire sword that he waves around; We see many dragons netted and shot down with tranquilizers several times; A Bewilderbeast spears another one with its tusks. We see it motion them toward the other one (with its body blocking our view) and the camera cuts away before we see the impact and we just see the horrified reaction of onlookers as we realize it killed the other one; We see an alpha dragon entrance many others and cause them to wreak havoc; A dragon fires on a viking while another viking pushes them out of the way. We then learn that the viking that was hit has died; We see a viking funeral in which vikings set a dead body adrift on the water and shoot flaming arrows at it, burning up the vessel; A Bewilderbeast shoots icy breath from its mouth; Drago is a rough, loud, angry viking who hopes to rid the world of dragons and anyone who supports them. He's missing one arm and we see the healed-over shoulder stump a few times, which he otherwise covers up with a fake armored arm; Drago wields a hook-ended spear which he uses to hit/attack some people (including Valka) and bully dragons; A viking goes to kill another viking but a dragon jumps between them to save the victim; Hiccup (and sometimes an actual dragon) sprays a green mist that can be ignited to cause an explosion; Dragons shoot fireballs at a much larger dragon; And other action/fantasy violence.
Disclaimer: All reviews are based solely on the opinions of the reviewer. Most reviews are rated on how the reviewer enjoyed the film overall, not exclusively on content. However, if the content really affects the reviewer's opinion and experience of the film, it will definitely affect the reviewer's overall rating.
To find out why we don't typically review R-rated movies,
click here