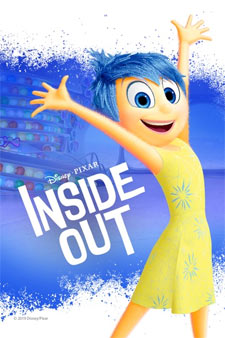 Inside Out


- for mild comic mischief.
Director:
Pete Docter, Ronaldo Del Carmen
Starring:
voices of Amy Poehler, Phyllis Smith, Kaitlyn Dias, Bill Hader, Mindy Kaling, Lewis Black, Richard Kind, Diane Kane and Richard MacLachlan
Running Time:
1 hour, 34 minutes
Theatrical Release Date:
June 19, 2015
Official Site
Plot Summary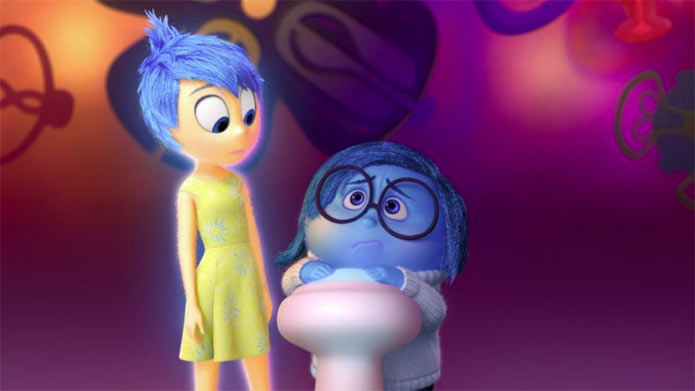 As eleven year old Riley struggles to adapt to her new life in San Francisco, the emotions in her head (Joy, Sadness, Anger, Disgust, and Fear) do their best to help her cope. However, when emotions conflict, they may have to realize something about themselves before they can offer help to the girl they love.
Film Review
With no film released in 2014, Pixar fans have eagerly awaited the studio's next project. Thankfully, the wait is over. Almost two full years since Monster's University, Pixar's summer feature, Inside Out takes us on an adventure into the mind of an eleven-year-old girl in an attempt to help us understand the human person and our own emotional selves. One thing becomes clear early on, this isn't a standard issue Pixar feature. Pixar is putting a lot on the line to produce a family film unlike what viewers have grown accustomed to.
Inside Out opens inside of Riley's (voice of Kaitlyn Dias) head. Interestingly, Riley is a central character and also the setting of the film. At the wheel of her emotional switchboard are five emotions; Joy, Anger, Disgust, Fear, and Sadness. Joy (voiced by Amy Poehler) is depicted as a lively, sprite/fairy-like character. Her form isn't completely solid and she has a glow which is evident throughout the course of the film. Anger (voiced by Lewis Black) is a short, red, uncomfortable looking man in stuffy clothes. Disgust (voiced by Mindy Kaling) is a fashionably savvy green girl in charge of keeping Riley away from "toxic" items and situations. Fear (voiced by Bill Hader), a lean, purple man is always concerned about every possible outcome. And last, Sadness (voiced by Phyllis Smith of TV's The Office) is a short blue woman who finds the sad angle of any situation. The voice casting not only fits these characters, but serves to embody what one thinks those emotions would sound like. While each of these characters is unique in their own right, their interactions with each other, and how it affects Riley on the outside, is essentially what drives the story.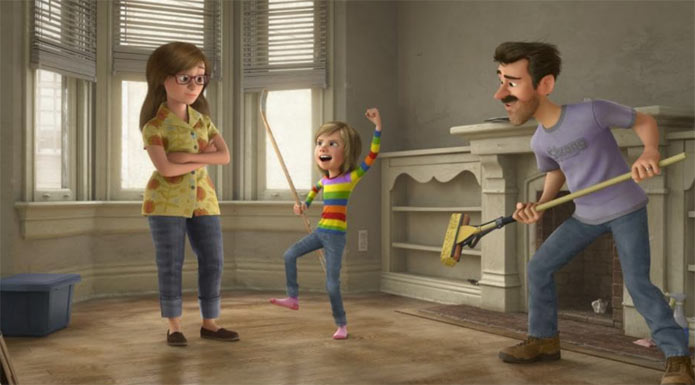 The animation in the film is above par for the team at Pixar. One thing which is honed and perfected is the task of portraying emotions. They do well in portraying the major ones, but are able to distinguish these from other emotions we feel, such as apathy and uncertainty. However, the brilliance of Inside Out is it allows us to get a feeling for why we experience these wide array of responses. Besides emotion, it also explores a person's thought process, memory, and even morality. There is more to this story than good writing. The team at Pixar did their psychological research.
The film was, all things considered, very clean as well. Anger has a "swear word" button which he begs his fellow emotions to let him "hit." Towards the end of the film, we are told he has more than one of these, presumably because Riley learned more swear words. There is a shot of Riley's bottom as a baby as she is being silly and running away from her father who is trying to dress her. Riley has a dream in which she forgot to wear pants, but all we see are bare legs from the knee down. The emotions inside Riley's mother's head fantasize over a past "love interest" of her character, but in the end, they throw the memory of him away (for the most part... Fear does kind of rescue it for safe keeping). Besides some mild cartoon violence and character driven humor between the emotions in Riley's head, the film is very family friendly.
This film stands out in Pixar's lineup to this point because it doesn't have a clear villain. In fact, one might argue that Joy is the main character, the hero, and the villain. The somewhat unclear roles and relatively small number of characters in the film make us watch, waiting to see how things will be resolved. Also, there are essentially two stories operating at the same time and each affecting one another; one inside Riley's head with the cast of emotions, the other outside as Riley interacts within her world. For the first time, we are presented with a very realistic space for a children's movie. No toys are coming to life and there aren't any monsters waiting in Riley's closet. We are presented a girl and her emotions. This allows us to empathize with Riley on a whole new level and also ask questions about ourselves.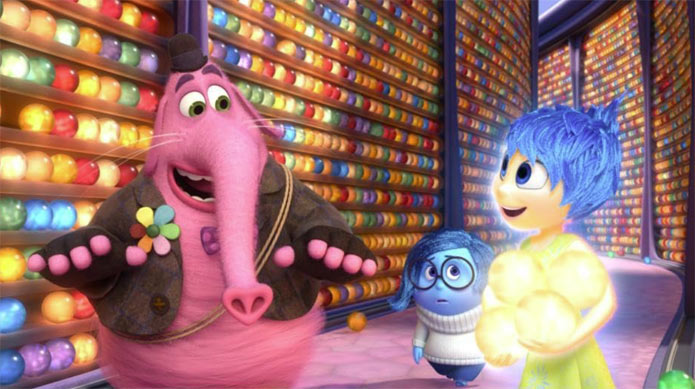 The film is ultimately concerned with two things: vulnerability and selfishness. For much of the film, the task of Riley's emotions is to keep her happy. Even when she ought to be afraid or angry, the team works it out so she responds happily. At the end of the day, the wall of memories was all joyful, to which Joy says, "another perfect day." However, Pixar helps us see that a perfect day may not mean a wall full of joy... Joy must learn to share control over Riley's emotions, reminding us that, as creations of God, we are designed with different emotional responses for a reason.
Inside Out begins a valuable discussion about one's emotions and actions. However, discernment is necessary in this discussion. As the film progresses, it would seem Riley's actions are merely the sum and result of her emotions. It assumes people are essentially good and it is "the voices in their heads" which cause them to do bad things. Sin doesn't play a part in Inside Out.
As with all things, we must be discerning. Inside Out is arguably the funniest film Pixar studios has produced to date. All things considered, it is a unique family film with some valuable lessons for viewers of any age. It resolves quickly and warms our hearts in a way which the people at Pixar love to do. And in the end, it reminds us that, "There is a time for everything under the sun. A time to weep and a time to laugh, a time to mourn and a time to dance."
-
Hunter Hoover
(reviewed: 6/20/15)
Parental Guide: Content Summary

Sex/Nudity
: We see infant Riley's bare bottom as she runs away from her father trying to dress her after a bath; We see Riley in the bathtub, nothing is shown; Riley has a nightmare in which she forgot to wear pants to school, all that is shown is bare legs from the knee down (from her perspective). The emotions in Riley's mother's head fantasize over a former love interest.

Vulgarity/Language
: A bleeped out profane word usage from Anger; Anger has a swear word button that he desires to push throughout the film. (Also, Riley talks back to and disrespects her parents in a few scenes)

Alcohol/Drugs
: None.

Blood/Gore
: In a nightmare where Sadness and Joy are trying to infiltrate Riley's dreams while dressed as a dog, the costume tears apart and we see what Riley imagines and it's the dog in 2 halves and we see the meaty inside as both halves run around separately (like a cartoony representation of a chunk of ham with the bone in it)

Violence
: Mild comic adventure. An imaginary cloud character is "blown away" and ceases to exist; Anger's head erupts into flames when upset; The emotions quarrel on numerous occasions; A character fades away and disappears; We see many memory spheres disintegrate into dust; Disgust insults Anger to make him upset. When his head ignites in a big flame, she uses it to burn a hole in a glass window; We see many "islands" or "lands" in Riley's inner personality crumble and fall; A train (of thought) crashes to the ground; a pair of characters fall into an abyss (but we see them at the bottom, appearing OK), etc.
Disclaimer: All reviews are based solely on the opinions of the reviewer. Most reviews are rated on how the reviewer enjoyed the film overall, not exclusively on content. However, if the content really affects the reviewer's opinion and experience of the film, it will definitely affect the reviewer's overall rating.
To find out why we don't typically review R-rated movies,
click here