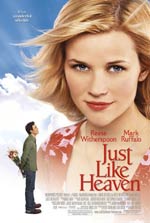 Just Like Heaven


- for sexual content.
Director:
Mark Waters
Starring:
Reese Witherspoon, Mark Ruffalo, Jon Heder
Running Time:
1 hour, 35 minutes
Theatrical Release Date:
September 16, 2005
Official Site
Plot Summary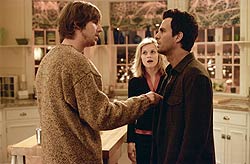 When David (Mark Ruffalo) rented this quaint Sand Francisco apartment, the last thing he expected - or wanted - was a roommate. He had only begun to make a complete mess of the place when a pretty but decidedly controlling young woman named Elizabeth (Reese Witherspoon) suddenly shows up, adamantly insisting the aparment is hers. David assumes there's been a giant misunderstanding... until Elizabeth disappears as mysteriously as she appeared. Changing the locks does nothing to deter Elizabeth, who begins to appear and disappear at will - mostly to rebuke David for his personal living habits in her apartment. Convinced she is a ghost, David tries to help Elizabeth cross over to the "other side." But while Elizabeth has discovered she does have a distinctly ethereal quality - she can walk through walls - she is equally convinced that she is still somehow still alive and isn't crossing over anywhere. As Elizabeth and David search for the truth about who she is and how she came to be in her present state, their relationship deepens into love...
(from JustLikeHeaven-themovie.com)
Film Review
Just Like Heaven isn't quite your run of the mill romantic comedy. While it may borrow elements from more serious films like Ghost or even City Of Angels, Just Like Heaven is a mostly fun romantic comedy with a sensitive, heart-felt side. However, the film does throw up a few red flags for Christian audiences when it dabbles in the occult and the worldly view on spirituality, but most - if not all - of it is done in a light-hearted or tongue-in-cheek fashion. The only thing the film seems to take seriously is its heart.
Mark Ruffalo proved himself a worthy leading man in a romantic comedy with last year's 13 Going On 30, an equally fun installment into an often tired genre. Here, Ruffalo plays a more troubled role than in that film, as a guy struggling to get over a lossed loved one. Reese Witherspoon steps out of her goofy, ditzy Legally Blonde shoes and plays one of her best roles to date as the workaholic doctor Elizabeth. Both are charming and funny in their own way which is crucial for such a film. Napoleon Dynamite's lead Jon Heder makes his first post-Napoleon appearance as a spiritually in-tune occult bookstore clerk named Darryl who befriends Ruffalo's David. Heder channels some familiar traits from his previous role into his character here, but mostly steers clear. His addition to the film's cast aids in the comedic side of the story and helps make the spiritual elements less serious.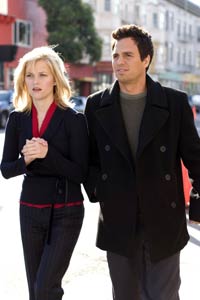 I was a little surprised about the occultic spin on the film. David quickly seeks the aid of the occult bookstore before anything else to read up on ghosts and spirits. Later, we see a pretty funny montage where David tries several different avenues of ridding the house of Elizabeth's spirit including a priest, reading different books, and a humorous nod to Ghostbusters (with that film's theme accompanying the sequence). Never once did the film really seem to get serious about the spirituality, all the time focusing on David and Elizabeth's relationship first and foremost.
With that said, the main objectionable content in the film was some sexual material that appeared mostly in dialog with the exception of one stronger scene. A woman in David's apartment building invites herself over with the intentions of seducing him. When he doesn't react to her advances, she presumably undresses in his bedroom (Elizabeth spies on her and reports to David, who is outside the door). The woman then emerges in just a towel, which she then drops in front of him and we just see her bare back. In the next scene, David joins Elizabeth's spirit on the roof and she sarcastically remarks "That was quick," but he responds by telling her nothing had happened. Some other dialog is present, but most is still lighter fare than what's common for such films.
Just Like Heaven is a cute character-driven romantic comedy. It actually sends a valuable message about being too busy and missing out on what's really important in life. The storyline turns a bit too sweet for its own good before it ends, but is forgivable in the whole of the film. The storybook ending easily removes the viewer from almost any sense of reality that may remain given its intangible plot (which isn't necessarily a bad thing), but is likely to leave you with a welcomed warm, fuzzy, feeling. It's okay to have an excess of sugar from time to time, and the comedic nature of the film makes the sweetest moments bearable for some of the more intolerant of such "chick flicks." Ruffalo, Witherspoon, and Heder carry this film and help it rise above just an average romantic comedy.
While it's a bit tamer in content than what's typically found in the romance genre, Just Like Heaven still offers plenty of worldly views of love and spirituality to keep its feet firmly on planet Earth. A little bit of pruning could have made this more family-friendly, but it's obvious the filmmakers sought after the PG-13 rating to attract the older crowds (and it looks like it worked since it debuted number one at the box office). We liked it enough to suggest catching it edited sometime, but for those who can't wait, please be cautious of the content listed below.
-
John DiBiase
,
(reviewed: 9/20/05)
Parental Guide: Content Summary

Sex/Nudity
: A male patient tries slapping Elizabeth's clothed butt; We see part of man's butt when he's given a shot in the hospital; We see an old man's completely nude butt when we see the back of his hospital gown open; David is just in a towel after his shower; We see David showered in his boxers since Elizabeth is around; David knocks on Katrina's door (who lives downstairs in his building) to ask her questions about Elizabeth and she invites him in for dinner. When he declines, she suggestively asks if he wants dessert. He still declines and leaves; In trying to find people who knew Elizabeth, David accidentally stops at the wrong address and finds an older man who thinks David is on to the affair he's having. He offers to pay David off later and as Elizabeth and David walk off, she starts to wonder if maybe she slept with the old man (she definitely didn't). She then thinks about it and sadly remarks, "Maybe I was a lonely, home-wrecking slut" (she wasn't); Elizabeth finds a couple passionately kissing in a hospital supply room; Katrina invites herself over David's with the intentions of seducing him. When he doesn't react to her advances, she presumably undresses in his bedroom (Elizabeth spies on her and reports to David, who is outside the door). Katrina then emerges in just a towel, which she drops in front of him and we just see her bare back. In the next scene, David joins Elizabeth's spirit on the roof and she sarcastically remarks "That was quick" but he responds by telling her nothing had happened; We see David and Elizabeth lying facing each other, clothed on a bed. He asks her why she's so nervous if he can't actually touch her, since she's just a spirit. They try to make their hands lightly touch (and there appears to be some light around their hand), and the scene ends there with obviously nothing sexual occuring.

Vulgarity/Language
: 2 "s" words, 1 "J-sus," 7 "h*ll," 1 "a--h*le," 4 "a" words, 1 "cr*p," 1 "d*mn," 12 "Oh my G-d," 5 "G-d." Jack gives Elizabeth the finger while he's testing David to see if she really is an apparition in the room with them (and have David tell him what Elizabeth sees behind Jack's back while David can't see)

Alcohol/Drugs
: David drinks a lot since living on his own. Elizabeth harps on him for this. In a scene when he's in a bar, she enters his body and won't let him drink (so it looks like he's crazy and can't bring the glass to his mouth)

Blood/Gore
: We see some fresh stitches in a person's skin in the hospital; We see a scalpel press down into a person's skin during surgery in the hospital; Later, we see David perform a similar surgery in a restaurant and a knife pressing against the skin (but don't see the cut or blood). We then see him insert a cork into a hole in the chest (however, not shown in explicit detail); David finds blood on his hands afterwards and faints.

Violence
: Some comedic violence. We see some brief looks at two different surgical procedures. A chase through a hospital with people tackling each other. A man punches another. Elizabeth sees a truck coming at her head-on but the scene ends there (and it's assumed she's in a serious accident), etc
Disclaimer: All reviews are based solely on the opinions of the reviewer. Most reviews are rated on how the reviewer enjoyed the film overall, not exclusively on content. However, if the content really affects the reviewer's opinion and experience of the film, it will definitely affect the reviewer's overall rating.
To find out why we don't typically review R-rated movies,
click here