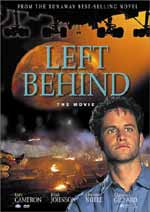 Left Behind- the Movie


- for violence.
Director:
Victor Sarin
Starring:
Kirk Cameron, Brad Johnson, Chelsea Noble
Running Time:
1 hour, 35 minutes
Official Site
Christian Film Database Page
Plot Summary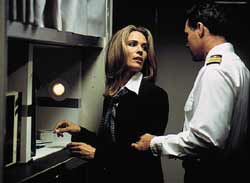 While the rise of a new dictator in the United Nations begins to spark peace settlements in Israel, things begin to go crazy when suddenly hundreds of thousands of people disappear. Utter chaos breaks loose as people search for answers to the cause of their vanished loved ones. TV reporter Buck Williams (Kirk Cameron) becomes to determined to get to the bottom of the mystery and encounters several life-threatening situations on the way.
Film Review
Here it is folks, the long-awaited movie adaptation to the beloved best-selling series Left Behind. Many feared the movie wouldn't be nearly as good at the books and feared who would be cast as the main characters. Some worried about how the quality would be? Some if the acting would be good. I'll give you my opinion on all these factors and more in this look at the film.
The film was produced and directed by Christians and distributed through a Christian movie company. From start to finish, the film's production quality is no better than that of a TV movie, but the story is strong and the directing is good. The main character's acting was solid throughout. Kirk Cameron was wonderful as Buck Williams.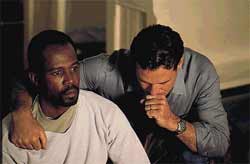 It isn't long before you completely forget his star role as Mike Seaver in the 80s TV show Growing Pains. He really makes Buck's character come to life and clearly steals the spotlight. Brad Johnson did a pretty good job as the airline pilot Rayford Steele. One of the film's best and most moving scene is Rayford's conversion. Pastor Bruce Barnes is another great character. Played by Clarence Gilyard, Barnes is one of the most interesting characters in the film. His role of being a preacher who preached about God but never really knew Him is moving and quite thought-provoking. The characters of Chloe and others are done well, too, with the special nods going to Gordon Currie who plays the innocent yet sinister Carpathia.
The movie tends to fall on the violent side at times. Although there is no profanity and no sex, the film may be slapped with a PG-13 rating when it's released to theaters in February due to the nature of the film and a few sequences. At one point, they even go as far as to show a mildly bloody bullet hole in a man's temple twice, briefly. Aside from those scenes, the movie is virtually spotless. The musical score, as opposed to last year's The Omega Code, is infinitely better and is rather strong enough to help scenes. The only questionable music choices would be the Christian pop songs selected for the play in a few scenes. I fear it will date the movie and that stronger, more appealing songs could have been chosen.
One quite intriguing feature in the film is the presence of a few cameos. Christian pop/rock artist Rebecca St. James is seen briefly in two scenes and is given 1 line to say. "Butterfly Kisses" man Bob Carlisle also receives a line (although somewhat poorly executed), and apparently vocalist Clay Crosse has a brief spot as an extra.
Overall, I liked this movie. The production wasn't all too clean and crisp and theater-quality, but the direction and fine acting (save a couple not-so-fine extras) kept the film quite enjoyable and interesting. I can only hope this movie does well and that the following sequels will be stronger, bigger, and cleaner than its predecessor. A wholesome movie but a little bit too violent for the younger ones. I suggest catching this film on video before it's release to theaters and then seeing it again when it hits the big screen (It's said that it's going to be touched up before it's February 2nd theatrical release). Due to it's so-so production yet good overall final outcome, I give Left Behind: The Movie a 3 out of 5.
-
John DiBiase
,
(reviewed: 10/21/00)
Parental Guide: Content Summary

Sex/Nudity
: Rayford and Hattie kiss to imply they're having an affair, but nothing is seen or done.

Vulgarity/Language
: 2 "Oh G-d"

Alcohol/Drugs
: Some people drink beer or wine.

Blood/Gore
: After the rapture, we see a man walking around the scene of the accident with a large amount of blood on him from a head wound-- mostly dried up. Buck hurts his leg, creating a big bloody stain on his knee. Later a man is shot close-range in the head and we briefly see the slightly bloody hole in his temple.

Violence
: Car crashes, people hitting each other, people shot and some killed.
Disclaimer: All reviews are based solely on the opinions of the reviewer. Most reviews are rated on how the reviewer enjoyed the film overall, not exclusively on content. However, if the content really affects the reviewer's opinion and experience of the film, it will definitely affect the reviewer's overall rating.
To find out why we don't typically review R-rated movies,
click here