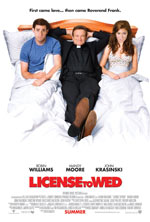 License To Wed


- for sexual humor and language.
Director:
Ken Kwapis
Starring:
Mandy Moore, John Krasinski, Robin Williams
Running Time:
1 hour, 30 minutes
Theatrical Release Date:
July 3, 2007
Official Site
Plot Summary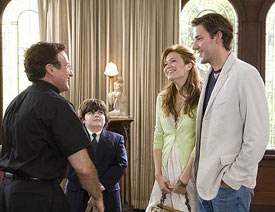 License to Wed follows newly engaged Ben Murphy (John Krasinski) and his fiancÚ, Sadie Jones (Mandy Moore), who has always dreamed of getting married in a traditional wedding at her family church. The problem is St. Augustine's only has one wedding slot available in the next two years, and its charismatic pastor, Reverend Frank (Robin Williams), won't bless Ben and Sadie's union until they pass his patented, foolproof marriage-prep course. Through outrageous classes, outlandish homework assignments and some pious manipulation, Ben and Sadie are about to find out if they really have what it takes to make it to the altar... and live happily ever after. (from MovieWeb.com)
Film Review
Ah, the romantic comedy. Forumlaic, seldom original, but often entertaining, the romantic comedy is a hit or miss genre that can be pretty good when it's good, and quite bad when it's bad. License To Wed falls somewhere in between - a bland tongue-in-cheek look at the weeks leading up to marriage, with an eccentric priest making it a trying road for a husband and wife to be.
From director Ken Kwapis, who has sat behind the camera for nine episodes of the U.S. version of The Office and delivered 2005's teen girl flick, The Sisterhood of the Traveling Pants, License To Wed is a goofy but rarely laugh-out-loud funny comedy directed at married and non-married couples. The scary part about the film being intended for non-married couples, is it condones premarital sexual relationships and living together before marriage. Comedian Robin Williams, who has never exactly been supportive of the Christian faith, makes somewhat of a mockery of the faith as a Catholic priest who's rather unorthodox. While his take on Reverend Frank occasionally has his redemptive moments, they're so very few and far in between, and there's very little about his character that should resemble a man of God. He does make jokes about the film's central couple's living arrangement and sex lives, but never even tries to lovingly explain why certain things are wrong outside of the confines of marriage. I understand that everything within is intended for comedy, and that it's all presented from a worldly point of view, but given a church's involvement in the main plot elements, I just felt it didn't exactly show the church in a positive light. Of course, when things inevitably come to a positive conclusion, there is a bit of method revealed from the Reverend's madness. While I didn't expect any kind of spiritual merit like from films such as Bruce Almighty or the more recent Evan Almighty, I just feel like the way the church and priest were handled in the film could have been done a lot more reverently.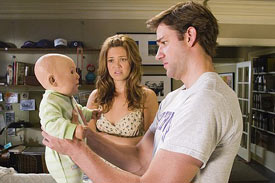 The Office's John Krasinski did quite well as Ben, the male lead put through the ringer by Reverend Frank, and Mandy Moore actually was quite good as his fiancÚ Sadie. Krasinski's prankster-yet-professional persona in The Office is actually a lot different than Ben's more slapstick, awkward demeanor. As zany as the TV show can get at times, it's never as purely silly as Lincense tends to be. Moore is a good match for Krasinski, and they have enough chemistry to make it through the story together. The problems with the film aren't due to its leads, but more or less are with from its direction and script, which are all average at best. And License To Wed follows the romantic formula to a "T," to the point of offering no surprises or diversion from what you've come to expect from a film like this. However, Kwapis does play his cards right in the final scenes, and a stereotypical ending offers a truly sweet and fun moment that is as unreal as the rest of the film, but a nice touch nonetheless.
As I mentioned briefly earlier, License To Wed doesn't take much about itself seriously, especially the spirituality. So if casting Robin Williams as a priest isn't ridiculous enough, most of his dialog proves to be. From quoting M.C. Hammer song lyrics as a prayer to instigating a quarrel among family members and to being shown spying on Ben and Sadie from a church van, Williams' Reverend is nothing more than a cartoonish representation of a minister, and the film holds very little sacred. The sexual dialog is significant, with the Reverend even showing up at Ben and Sadie's apartment to prevent them from sleeping with each other during his premarital course, and proceeds to ask them to share out loud what they like most about each other sexually. It's an awkward scene and one that gets out of hand quick. Despite the film eluding to the fact that the Reverend's intentions are to put the leads through these terrible experiences for their own good, it's often ridiculous, over-the-top, and not very funny. To make matters much worse, the Reverend's sidekick is little Josh Flitter, who is only annoying in every scene he's in. The film's funniest moments, however, often involve Krasinski's antics and reactions to situations, especially when he and Moore are forced to lug around robotic babies. But while a movie like the underwhelming Bewitched remake from a few years ago that remained charming despite not delivering many laughs, License To Wed barely offers enough charm to make up for its stale content. It's too over-the-top to be serious and not over-the-top enough to pass as a good screwball comedy.
Overall, License To Wed is an average romantic comedy with much too much focus and reliance on sexual humor to really paint a good picture of love on the road to marriage. Not the best in way of date movies and by no means one for the family, License To Wed is just another notch on the belt of been-there, done-that romantic comedies. Skip this one this Summer.
-
John DiBiase
,
(reviewed: 7/13/07)
Parental Guide: Content Summary

Sex/Nudity
: In addition to some suggestive jokes or double meaning references... Sadie's dresses often reveal a lot of cleavage; To stop Sadie from stepping out into traffic, Ben sticks his arm out across her chest and accidentally grabs her breast. They joke about going to "second base" and mentioned they hadn't done first base yet, so they kiss passionately; In a later scene, he yells "I love you" to her in front of her apartment and they go inside her apartment and apparently sleep together; A joke is made about Sadie and Carlisle sharing baths together as little kids; The day they're supposed to meet with Reverend Frank, Sadie makes Ben take off his sweater, and then pulls off his belt and they start kissing on their bed (they live together). In the next scene, she asks how she looks and he says, "Like you've just been..." (or something like that, meaning they just had sex); We see Reverend Frank teaching kids the Ten Commandments, and he makes some suggestive jokes about sexual sins (like a man who goes out for milk and cheats on his wife has "pefectly good jugs at home); Frank makes a comment about Sadie's bisexual roommate in college and asks Ben what he does "besides Sadie;" Frank tells Sadie and Ben they can't have sex anymore before the wedding and Ben is upset about this, asking if he's joking. This becomes an issue throughout the movie, and we see him complaining to his friend Joel in the next scene about it, who says "no sex" is supposed to happen after you get married; Reverend Frank jokes that a deflated basketball needs Viagra; An exchange between Ben and Sadie in bed (with Reverend Frank listening in via a bug in their room) has Ben playfully and suggestively asking Sadie to sleep with him, but she says she wants to follow the rules. A reference to "walk the midget" and playing "pickle me, tickle me" concludes with him telling her he's a "cigar vendor" (possible oral sex reference), before she turns him down again; Frank overhears Ben and Sadie trying to patch up a rough afternoon by kissing on the bed and getting ready to have sex, and barges in on them. He then asks them to say what they like about each other in bed and Ben resists on sharing, but Sadie rants on about what she likes to Reverend Frank (in a way that creepily sounds like it's Frank and Sadie talking about
their
sex life, but it's played for laughs), and Ben finally mentions when they had sex on the floor and got rug burns; We see Reverend Frank singing in the shower several times, from his bare chest up. Later we briefly see him in a towel after he gets out; Reverend Frank tells Ben to act surprised on his honeymoon

Vulgarity/Language
: 2 bleeped "f" words (with the "mother-" part of one heard), 2 "s" words, 3 "J-sus," 1 "Oh my L-rd," 6 "h*ll," 2 "a" words, 2 "d*mns," 1 incomplete S.O.B., 21 derivatives of "G-d"

Alcohol/Drugs
: Some drinking casually throughout the film's duration; a few scenes take place in a bar with some drinking

Blood/Gore
: Ben has a bloody nose after being hit in the face with a softball

Violence
: Ben is hit in the face by a softball; Ben slams a robot baby into a glass counter repeatedly to get it to stop making a fuss. One of their heads eventually pops off; A man punches another in the face; a nurse pinches Sadies arm and steps on her foot; an old man goes flying off a scooter when he hits a car
Disclaimer: All reviews are based solely on the opinions of the reviewer. Most reviews are rated on how the reviewer enjoyed the film overall, not exclusively on content. However, if the content really affects the reviewer's opinion and experience of the film, it will definitely affect the reviewer's overall rating.
To find out why we don't typically review R-rated movies,
click here