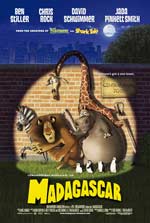 Madagascar


- for mild language, crude humor and some thematic elements.
Director:
Eric Darnell, Conrad Vernon
Starring:
voices of Ben Stiller, Chris Rock, Jada Pinkett-Smith, David Schwimmer
Running Time:
1 hour, 26 minutes
Theatrical Release Date:
May 27, 2005
Official Site
Plot Summary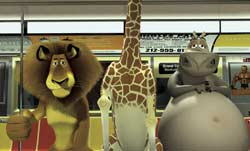 This computer-animated comedy stars four civilized Central Park Zoo animals who have pent their entire lives in blissful captivity. But when they are unexpectedly shipped to Africa and get shipwrecked on the exotic island of Madagascar, these native New Yorkers must try to survive and come to terms with what it truly means to be 'wild'... (from MovieWeb.com)
Film Review
DreamWorks Animation established themselves as forces to be reckoned with the release of the Academy Award-winning Shrek in 2001, and again with the sequel last year. And while Shark Tale wasn't nearly as good as the studio's other films, it still remained a noteworthy, albeit flawed, effort. Madagascar is the studio's fourth project, and a winner at that. Giving the computer-generated animation a classic style, Madagascar bears a sort of retro feel that is seldom seen in today's cartoons. This approach works nicely and to the film's benefit in helping to make the film stand out from other recent projects. While Fox's Robots was a bedazzler in its stunning detail, the boxy and expressive style of Madagascar lets the film rely more heavily on its charm and humor.
Two of the four lead voice talents make their animated feature film debut, and all add a lot to their characters. With Melman being a giraffe who's some kind of neurotic hypochondriac, Friends' David Schwimmer was brilliantly cast for the part. Schwimmer's character on the famous TV show was often somewhat neurotic and Schwimmer was able to portray this in his vocal performance of Melman perfectly. Stiller's voice, while usually accompanied by his signature comedic antics in his live-action films, sounds mostly common and plain here, but works nonetheless for adding the right amounts of humor and charm to the role of Alex.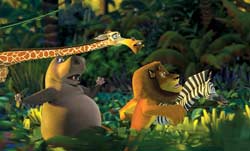 The film's story is a fun one, taking the comedic quartet from their home in New York City's Central Park Zoo to the streets of the city and finally to the island of Madagascar. Along the way, a few popular films are spoofed, most notably Planet Of The Apes and Cast Away. I enjoyed the filmmakers' fresh approach to the concept of the zoo animals escaping and trying to return to the wild. Mixing the cartoon animals with humans in a quasi-realistic fashion, where we can understand their dialog but the humans on screen cannot, was a nice detail. The only problem I found with the story is it all seemed to end rather quickly. The film was just under an hour and a half and I felt they could have embellished a few plot points further, either spending a little more time in NYC or the zoo, etc.
The content of Madagascar was questionable at times. While Melman's medical paranoia lead to references to rectal thermometers and the like that would naturally go over the young one's heads, there were a few hints at profanity that were seldom straightforward. The most obvious inappropriate scene involved a "HELP" sign made out of logs that showed the "P" breaking to form the word "HELL." Besides this, Marty mutters an incomplete "Mother..." and exclaims "Oh, Sugar Honey Iced Tea" which will go by most viewers but is a clear reference to the "s" word (specifically when you take the first letter of each word). Besides that, the penguins utter a "This s*cks" and use "Hoover Dam" as a substitute for swearing. It's surprising that the family films today keep pushing the envelope, and it's mostly DreamWorks that seems to enjoy doing so. As far as the appropriateness of the rest of the film for the younger audiences, some scenes later in the film may be a bit too intense. Once the gang is out in "the wild," and Alex's instincts as a lion kick in, his friendly demeanor becomes quite menacing and intimidating, which may unnerve some of the littler ones.
All in all, I really enjoyed Madagascar. Some of the language and crude humor, although in small doses here, may make the film inappropriate for the younger audiences, but otherwise, Madagascar is a decent family film. An edited version may take the edge off just enough to make it more family friendly, so some may just want to wait till it's on DVD to view it.
-
John DiBiase
,
(reviewed: 5/30/05)
Parental Guide: Content Summary

Sex/Nudity
: Alex, while talking in his sleep says, "C'mon baby, I like a little fat on my... steak" which starts out sounding sensual before we realize he's dreaming about his favorite food.

Vulgarity/Language
: 1 "s*cks," 1 incomplete "Mother...," an implied "d*mn" with "Hoover Dam" used as an exclamation, and Marty shouts "Oh, Sugar Honey Iced Tea!" (which the first letter of each word spells the "s" word). Finally, Alex builds a sign out of logs that says "HELP." When the "P" falls apart, it forms an "L" and the sign clearly reads "HELL."

Alcohol/Drugs
: Alex hallucinates when shot with a tranquilizer dart. We see a penguine pop open a bottle of champagne. The gang on the island drink seawater in glass as if it were an alcoholic beverage. They spit it out, however.

Blood/Gore
: None.

Violence
: Mostly played for comedy: A penguin slaps another; The penguins knock out a ship officer (and later slaps him a few times); Alex is shot with a tranquiler dart; Alex tries to strangle Marty a few times; Alex's animal instincts begin taking over at one point and he tries to eat Marty (and bites him, but Marty gets away); After Alex freaks out about a large spider being on his back, Gloria starts beating Alex to try to get it off of him; Some hyenas begin to swarm Marty, etc.
Disclaimer: All reviews are based solely on the opinions of the reviewer. Most reviews are rated on how the reviewer enjoyed the film overall, not exclusively on content. However, if the content really affects the reviewer's opinion and experience of the film, it will definitely affect the reviewer's overall rating.
To find out why we don't typically review R-rated movies,
click here