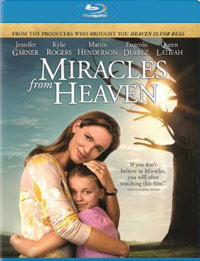 Miracles From Heaven


- for thematic material including frightening sequences of threat with some violence, and brief language.
Director:
Patricia Riggen
Starring:
Jennifer Garner, Kylie Rogers, Queen Latifah, Martin Henderson, Eugenio Derbez, John Carroll Lynch
Running Time:
1 hour, 49 minutes
Theatrical Release Date:
March 11, 2016
Official Site
Blu-Ray Release Date:
July 12, 2016 (
Amazon.com
)
Plot Summary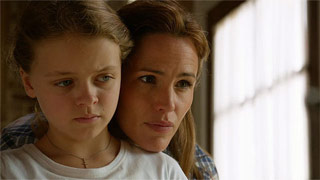 Jennifer Garner (Alexander and the Terrible, Horrible, No Good, Very Bad Day) and Academy Award® nominee Queen Latifah (Best Supporting Actress, Chicago, 2002) star in the inspirational box office hit MIRACLES FROM HEAVEN, the incredible true story of a young girl's medical miracle debuting on digital June 21 and on Blu-ray™ and DVD July 12 from Sony Pictures Home Entertainment and AFFIRM Films. Based on the story of the Beam family, Garner plays Christy Beam, whose daughter Annabel (Kylie Rogers, Fathers and Daughters) suffers from a rare digestive disorder, but finds herself miraculously cured after surviving a terrible accident. The family film also stars Martin Henderson ("Grey's Anatomy"), John Carroll Lynch ("American Horror Story") and Eugenio Derbez (Instructions Not Included). (from Sony Pictures)
Film Review
The old adage "truth is stranger than fiction" is cliche, but it's definitely applicable in situations like the one that inspired the Sony Pictures film, Miracles From Heaven. The movie was inspired by the true story of Annabel Beam, a 10-year-old girl from Texas who experienced extreme digestive issues that stumped every doctor who saw her (and she was often misdiagnosed). The poor girl couldn't keep food down and even had to endure the appearance of a distended belly. However, the Beam family experienced a healing miracle that left doctors, friends, church-goers and cynics baffled. And it makes for a truly inspiring film.
While true life stories still run the risk of feeling insincere or too extraordinary to accomplish what they're set out to do, what Miracles From Heaven has going for it most of all is a strong cast and a skilled director. Patricia Riggen also directed last year's intense mine cave-in drama The 33, and she helms another inspirational story here. Also, Jennifer Garner steps in the lead role of Christy Beam, Annabel's mother, and Garner puts a great deal into the role. She's strong while also being vulnerable, and her desperateness to save her young girl's life is understandable. At the same time, the hoplessness of the situation, coupled with gossip from her local church family, cause her to severely doubt her faith, and the film takes Christy on a pretty realistic faith journey. Young actress Kylie Rogers plays Annabel with great believability as well, and Martin Henderson (Everest) strikes a good balance alongside Garner as Christy's husband, Kevin. Queen Latifah plays a waitress who befriends Anna and Christy on their hospital visits to Boston, giving the girls a little more hope to keep pressing on. Rounding out the primary cast is Eugenio Derbez, who's fantastic as the charismatic specialist Dr. Nurko, who tries to help the Beams with Anna's condition.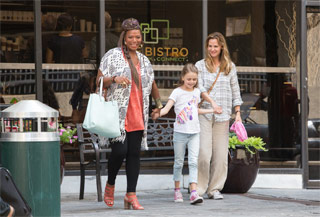 Miracles From Heaven certainly isn't for everyone, however. Because it's such a harrowing journey for the Beam family, a significant portion of the film is spent watching Annabel go through such intense agony and hopelessness, while Christy's faith (and family) is put through the ringer. Granted, it's actually this aspect that makes the finale so powerful, but it also makes the film a tough one to endure. But it's also the trials of the sickness that pose some serious questions. Christy confronts her pastor--wonderfully portrayed by John Carroll Lynch--who is forced to admit he has no answer for her. At the same time, Christy is confronted by people in her church who dare to propose that her family is merely enduring the pain of this experience because of sin in their lives. Many believers and nonbelievers alike have been hurt by people with this kind of cold and judgmental approach to faith and it's intriguing to find a faith film that isn't afraid to address the ugly side of the church body at the same time as showcasing the good side. Miracles From Heaven really paints a well-rounded portrait of what it looks like to be a Christian and how difficult living out our faith can be, especially in extreme circumstances.
The content for Miracles From Heaven is PG-friendly, but the thematic material is definitely heavy. Watching Anna go through the sickness and testing is no picnic--from them holding her down to force a very long tube up her nose, to them pulling it out while she cries about how painful it is to her mother, to watching a scraped up and slightly bloodied Anna be pulled from a hollowed out tree (which she accidentally falls into). It's a tough story to endure, but the end result makes the journey worth it.
If you read my movie reviews regularly, you know I'm pretty tough on the faith film genre. Like with music, just having a good message or good intentions doesn't automatically make the product a quality one, so when a movie as skillfully crafted as Miracles From Heaven comes around, it's worth taking note of and supporting. It's not perfect (the musical score is just OK and having Third Day as the church's worship band feels more like product placement than suitable to the story... but I admit it was still kinda cool seeing the guys in the film; and the visual interpretation of Heaven in the film was a little too much, bringing a fantasy element to what was otherwise a grounded film about real-life struggles), but as far as inspiring films go, you can't do much better these days than Miracles From Heaven.
-
John DiBiase
(reviewed: 7/10/16)
Blu-Ray Special Features Review
Miracles From Heaven
arrives on Blu-Ray in a single-disc Blu-Ray with a digital copy and also on DVD. The film's picture is really excellent with vibrant colors, and it includes a feature commentary, along with the following bonus features...
Bearing Witness (9:09) - The first featurette introduces us to the real Beam family, along with their friends as they get together to talk about Anna's recovery and the miraculous tree accident.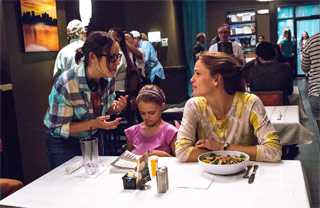 Miracles Abound: The Making of Miracles From Heaven (9:16) - The director, cast and crew, along with the real people they played, talk about the story and miracles. Jennifer Garner talks about how drawn she felt to the story and what it was like to get to know Christy during the filmmaking process.
Accounts From Annabel (6:17) - Here we hear a few stories from Anna and Christy, as well as the real life Dr. Nurko. They even finally open the last box of medication Anna ever received that actually arrived the day of the tree accident.
Deleted scenes (13:33) - There are five deleted scenes, most of which feature more of Anna's struggle with the illness in everyday life settings. The first scene shows Christy taking her daughters shopping, while a mother and daughter see Anna and her distended belly and gossip about her being pregnant. Christy can't take it, so she ushers her daughters outside and then tells off the woman (3 "oh my G-d"). In the next scene, we see Anna in the school cafeteria getting teased for not eating much. Then we see her in a computer class where she tries to excuse herself to the bathroom and accidentally has an accident (we see the brown stain on the back of her pants) as the kids make fun of her. The scene carries over to her hiding in the school bathroom stall as her mother stands outside it and tries to encourage her. The next scene is a short one where one of Anna's sisters calls Kevin at work but is told he's busy. The fourth scene just shows Kevin awake in the hospital with everyone else asleep. Lastly is a series of scenes that start with Christy seeing a shooting star outside Anna's hospital window after the tree accident. As they leave the hospital, a reporter asks what happened and Anna tells him she went to Heaven. There's then a short scene of Christy and Kevin in bed that night talking about what Anna said and then the family at breakfast the following morning.
"Your Words" Music Montage (3:47) is a music video presentation of Third Day's song "Your Words" set to scenes (some with dialog) from the film with footage of Third Day playing in front of the church.
Creating Heaven: Concept Art Exploration (3:48) - Director Patricia Riggen talks about how she and an artist conceptualized Anna's Heaven experience, showing us the storyboards and "previz" of the sequence and then a side-by-side comparison of that with the final footage.
-
John DiBiase
,
(reviewed: 7/10/16)
Parental Guide: Content Summary

Sex/Nudity
: None.

Vulgarity/Language
: 1 "Sucks," 4 "Oh my G-d" (said as Christy is in shock preceding a panic-stricken prayer)

Alcohol/Drugs
: None.

Blood/Gore
: Anna runs to the bathroom in the middle of the night and throws up into the toilet. We then see Kevin wiping up a splatter of it on the floor; We see an unconscious Anna, bloodied and scraped up, being hoisted out of the tree. She has some scrapes on her face in following scenes.

Violence
: Anna runs to the bathroom in the middle of the night and throws up into the toilet. We then see Kevin wiping up a splatter of it on the floor; The doctors ask Kevin to hold Anna down as they push a thin, long tube up her nose; We see Anna in pain as they pull the tube out of her nose; We briefly see a monitor that shows what an internal scope is seeing of the inside of Anna's throat; Anna falls through a hole inside a hollowed out tree and hits her head on the way down; We see an unconscious Anna, bloodied and scraped up, being hoisted out of the tree.
Disclaimer: All reviews are based solely on the opinions of the reviewer. Most reviews are rated on how the reviewer enjoyed the film overall, not exclusively on content. However, if the content really affects the reviewer's opinion and experience of the film, it will definitely affect the reviewer's overall rating.
To find out why we don't typically review R-rated movies,
click here