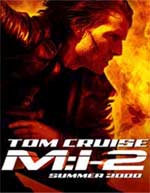 Mission Impossible 2


- for intense sequences of violent action and some sensuality.
Director:
John Woo
Starring:
Tom Cruise, Dougray Scott, Thandie Newton, Anthony Hopkins, Ving Rhames
Running Time:
2 hours, 3 minutes
Plot Summary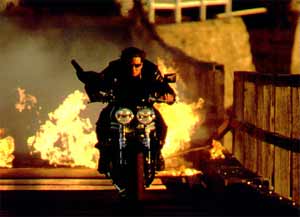 Impossible Mission Force (IMF) Agent, Ethan Hunt (Tom Cruise) returns for another "impossible mission" where he must destroy a German-made virus that would brutally kill a human being in approximately 30 hours. In the process, he meets up with Nyah (Thandie Newton), a thief who could lead them to the villain who was using the virus. Through a series of encounters, the conditions become more serious as Hunt's time for completing the mission successfully is running out.
Film Review
Speechlessness and slight bewilderment were partly my first impressions of the this movie. When I compare 1996's Mission: Impossible with 2000's Mission: Impossible 2 or more widely known as M:I 2, I can't help but notice that there are little to no similarities. Of course you have Cruise's character return with Rhames' character, and the high-tech stealthy break-ins, but that is where all similarities end. The music went from the professional and slick from the genius of composer Danny Elfman to the odd composing of the usually excellent, Hanz Zimmer. Although it didn't really seem out of place (except for the occasionally annoying female hums and moans), the music had more of an "MTV" music video feel than the theatrical feel of the first film. In fact, M:I 2 could probably be best compared to one feature-length music video concept.
The directing was completely different, too. Where the first one had an overall darker tone and more of a secret agent premise, the original short-haired spy, Ethan Hunt, has been replaced with the kick-butt longer-haired spin-kicking Ethan Hunt. While the idea seems purchasable, when you ponder it, you realize the bizarre nature of this "modification." When exactly between the first film and the second did Ethan become a superhero?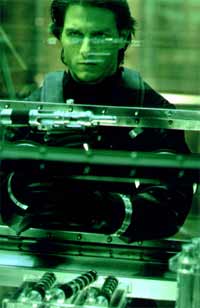 With all that aside, let me say that this movie sure had its moments. While Woo did get carried away with the corny long gazes between Ethan and Nyah as they flirted, he at the same time delivered some incredible action sequences and stunts that you can't help but exclaim a "Wow" to. From the amazing motorcycle stunts (which Cruise did all himself!), to the fighting scenes, M-I2 has a lot to watch.
Like the first one, but maybe more so in this one, there's a lot of violence and intense sequences. In one bloodless scene, the villain roughs up his friend and threatens his pinky finger with a cigar cutter. While although we see the pinky in the object and the intensity of the matter, no cutting action or blood is scene, however, he does apparently lose the very tip in which we see him scream and later have his finger bandaged. We also see Hunt get his face cut with some blood and at the end, a character is shown being shot and we see some bloody holes in his clothing. Bullets fly in this film and we often see people getting shot with bloodless results. But there are also a lot of explosions and crashes.
Language is pleasantly benign, about the amount of a PG film but contains 2 "s" words, and a couple other more minor ones. Although Ethan does sleep with Nyah, as does the villain, we don't see any nudity or sexual actions. We do see Ethan and Nyah under the covers, but that is all-- and rather brief. Also, a few references to having sex, but they're rather benign as well.
Good, but far from perfect, M-I2 is a good sequel, but rather detatched from it's predecessor, unlike the Indiana Jones movies, Ghostbuster movies, and Back to the Future movies. Too much violence to be for the younger audience, not a kid's movie, and not a family movie, M:I2 is the action fan who can't stand lots of blood and cursing (like me).
In summary, the movie was good. The excessively violent content makes it definitely not for everyone. Corny and bizarre at times and quite different from the first one, but still very entertaining and enjoyable, Mission:Impossible 2 scores a 3 out of 5.
-
John DiBiase
,
(reviewed: 5/24/00)
Parental Guide: Content Summary

Sex/Nudity
: Only some minor suggestive comments are made. We see Ethan under the covers in bed with Nyah, supposedly after sex, but no nudity, actions or anything is seen. Nyah changes into a dress in front of Ambrose, although we don't see her nude, we do see his lustful facial expression to what he sees. It's then understood that they have sex afterwards but nothing is shown because they switch scenes.

Vulgarity/Language
: 2 "s" words, 4 "h*ll," 2 "a" words, 1 b*tch, 3 "d*mn," 1 "God"

Alcohol/Drugs
: Some people have drinks during the course of the film, but not many.

Blood/Gore
: Ethan sees black and white photos of a man who appears to have been beaten and murdered. When a homing device is implanted in Nyah's ankle, we briefly see the needle going into her skin, but it isn't bloody. When Ambrose threatens to cut off Stamp's finger with a cigar cutter, he evidently clips the very tip of the skin, which we don't really see, but we do see Stamp later wearing a bandage around that finger with a tiny bit of blood at the end of it. When viewing sequential photographs of an example of what the Chimera virus does to a person, we see several shots progressively getting worse of a man as his skin appears to develop cracks in it and by the final frame see that the face has bled quite a bit and looks rather gross. We see a man with a bloody nose after a fight. We briefly see a guy in a car who has some blood on his hand as he holds his shoulder which suffers a gunshot wound. As Ethan and Ambrose fight, we see Ethan has a bloody slice on his face from a knife and a bloody nose while Ambrose has some blood coming from his mouth. Finally, we see some pretty bloody bullet holes in a man who's been shot several times.

Violence
: Many explosions, shootings, people being punched, kicked, and shot up.
Disclaimer: All reviews are based solely on the opinions of the reviewer. Most reviews are rated on how the reviewer enjoyed the film overall, not exclusively on content. However, if the content really affects the reviewer's opinion and experience of the film, it will definitely affect the reviewer's overall rating.
To find out why we don't typically review R-rated movies,
click here