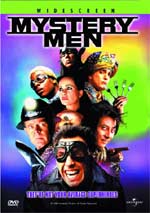 Mystery Men


- for comic action violence and crude humor.
Director:
Kinka Usher
Starring:
Ben Stiller, Greg Kinnear, William H. Macy, Hank Azaria
Running Time:
2 hours, 1 minute
Plot Summary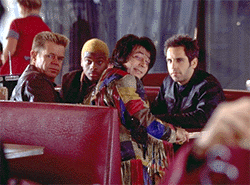 A group of seven wanna-be powerless "super heros" unite to attempt to thwart the plans of an evil mastermind who has taken their city's only true super hero, Captain Amazing, captive.
Film Review
I wasn't sure what to expect. I had seen enough previews and read enough about it to know it was a comic book story that was pretty much a spoof on comic books and super heros, and movies and TV shows that were made from original comic book stories. So when I sat down in the theater to finally get to see Mystery Men, I was ready for a funny silly satirical film with a good cast and enjoyable plot. I can whole-heartedly say, I came home happy.
The flamboyant, colorful, ornate scenes were very reminiscent to the later Batman films and most comic book "super hero" settings. It easily set the mood. In fact, the film opens in a very Batman-esque (if you will) way. It starts off with a very flamboyant, colorful party that soon gets trashed by corny villains. But instead of Batman coming to save the day, 3 wanna-be super heros show up: Mr. Furious (Ben Stiller), The Blue Raja (Hank Azaria), and The Shoveler (William H. Macy). It doesn't take long before they get beaten and the city's real super hero, Captain Amazing (Greg Kinnear), shows up to save the night.
The plot was clever, as well as the jokes. The film makers took every chance to make jokes on comic book/super hero stereotypes and norms. The idea for 7 pseudo-super heros trying to prove themselves was great. And the cast did a fantastic job of bringing these underdogs to life. And the incompetence and absurdity of the villains and main villain's henchmen are taken to new levels in this film. One of the most comical of the good vs. evil scenes involves the "return" of the Disco Boys, henchmen of the evil Cassanova who haven't changed since he went to jail 20 years prior (and who are angered by anyone who claims disco is "dead"). Their presence adds to the fun silliness of the film.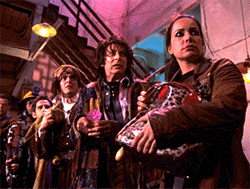 Although the film does tend to drag and occasionally has some jokes that just fall flat on their faces, the movie remains enjoyable throughout. However, this film is far from "for everyone." Several minutes into it, 4 people in front of us up and left. And two others followed shortly thereafter. But I saw nothing in what they could have seen to make anyone walk out of a $6 movie (unless they had no idea what it was about going into it). The only conclusion I can draw is that you have to like comedies and silly movies or you'll hate this film with a passion.
The blood/gore level isn't bad at all except for 2 key scenes. The first of the 2 is by far the worst. In an instance where a character is struck by a powerful laser beam, their body is distorted, grotesquely altering their face and burning their body to a crisp. Their eyes bulge out and their skin cooks. Really not a pretty sight (it's worse than the man who gets fried by the Joker's "joy" buzzer in the first Batman movie). After the beam is shut off, we see the character's comic book-like charcoal remains shaped in a grotesque, eye-bulging manner. The 2nd "scene in question" is when another character receives similar treatment and we briefly see their face distort and tear in half. One other real mentionable occurence of blood is when Cassanova pricks Monica in the neck and draws blood, as well as slicing a bloody cut on Mr. Furious' forehead.
Paul Reubens, whom we all know as Pee Wee Herman, returns to the big screen as the hilarious "The Spleen," a "super hero" who uses human flatulence (gas) to clear out rooms of knock people cold. Although it is merely used for laughs, The Spleen tends to "pass gas" quite frequently throughout the course of the film, introducing gross humor into the production.
On a side note, the fantasy atmosphere of the film is meant to be taken lightly and not seriously. One aspect, that if taken too seriously may trouble people, is that the Bowler's bowling ball contains the head of her deceased father, who was murdered by a henchman of Cassanova's. The ball often "talks" to The Bowler, although we never hear what the ball says to her, only her comments on what he is supposedly saying. Also, the ball tends to take on a mind of its own and "magically" move around and do things. Again, a piece of the plot that shouldn't be taken seriously.
Overall, I was impressed. I enjoyed the movie despite it's "gross" faults and the presences of some minor innuendo. But due to it's overall appeal and success (in my book), I can't seem to be able to grant the movie any less than 3 and a half stars. If you have any questions about the movie, if you intend on seeing it (or not), don't hesitate to contact me.
-
John DiBiase
(reviewed: 8/9/99)
Parental Guide: Content Summary

Sex/Nudity
: A few lines of innuendo (not much). In Heller's lab, we see the torso of a naked female mannequin with a realistic bare chest. Invisible Boy stands nude before the group and asks if they can see him. They say yes and react to what they see, but we only see his chest and up. We then see him quickly throw his hands over his crotch showing him completely bare except for his hands covering himself. And for some odd reason, a skunk comes up to The Spleen at night and begins to "hump" his leg, as though it were a dog (played for bizarre laughs, I presume).

Vulgarity/Language
: 1 "s" word, 4 "a" words, 1 d*mn, 1 h*ll, 2 "Oh My G-d"

Alcohol/Drugs
: Some drinking; and some references are made to beer, getting drunk, and smoking marijuana

Blood/Gore
: A character sitting in a destructive machine is blasted with a laser beam which grotesquely distorts his face, bulging out his eyes and twisting his appearance before completely frying him, leaving the end result as a charred cartoon-like grotesque body. Someone touches its charred, crispy hand, it falls off and shatters when it hits the floor. In another scene, a laser beam turns a henchman to non-gross charred dust. Casanova draws a little blood from Monica's neck with his sharp fingernail during one scene, and then slices Mr. Furious' forehead with it, leaving pretty bloody cuts. Finally, we see another character's face distort (much like the previous one), and briefly see it tear apart in a similarly gross way. A character's face ever-so-briefly distorts, bulging their eye as they get near the laser beam, but nothing else happens (and they incidentally survive). Also, the Bowler's bowling ball is clear and has her father's skull inside it.

Violence
: Instances of shooting, kicking, punching, fighting, people being burned, blown up (unseen), The shoveler hitting people with a shovel, Raja throwing and hitting some people with forks, and various other comic book-style violence
Disclaimer: All reviews are based solely on the opinions of the reviewer. Most reviews are rated on how the reviewer enjoyed the film overall, not exclusively on content. However, if the content really affects the reviewer's opinion and experience of the film, it will definitely affect the reviewer's overall rating.
To find out why we don't typically review R-rated movies,
click here