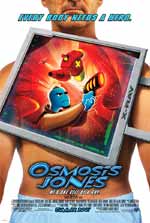 Osmosis Jones


- for language and crude humor.
Director:
Farrelly Brothers
Starring:
Bill Murray, voice of Chris Rock
Running Time:
1 hour, 35 minutes
Plot Summary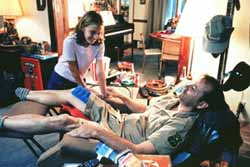 Frank Pepperidge (Bill Murray) is a single father raising his daughter Shane, and has an incredibly unhealthy diet. Inside Frank, his body is waging war to keep him healthy. Osmosis Jones (voice of Chris Rock) is part of the police squad of Frank's white blood cells. Known for screwing up, Osmosis tries nonetheless to apprehend invading viruses. With the introduction of a new, highly deadly virus into Frank's body, it becomes up to Osmosis and an unlikely partner from a cold pill, Drix, to stop the virus from killing Frank.
Film Review
Interesting. Osmosis Jones is an entertaining film that successfully blends live action scenes with animated inner-body shots. The movie takes an original and intriguing idea, and mixes it with some unoriginal subplots, including an unlikely pairing of cops to solve a case (like Rush Hour and other films). In fact Osmosis, voiced by Chris Rock is even a screw up and always in trouble with his chief like Chris Tucker's character in Rush Hour. But it's not those plot elements that make the movie work like it does. What makes it work is the extremely clever setup of live inside a human body as a town from food acting as transportation for new life into the body to the bladder being the ferry ride out. It isn't long before this society is easily accepted and an all-around joy to watch. What tends to slow things down is the mildly unfunny live action plot with Bill Murray (I am a fan of his) being the only really interesting human in the film. The film probably would have worked better with all animation, a better written live action plot, or more of a parody feel to it. The film does take its opportunity to mock The Matrix (as does almost every goofy comedy these days), and Titanic. However, the parody of Titanic is the first of its kind (it's not the typical "I'm the king of the world!" joke), and is so well-placed and better yet unexpected that you wish they had made fun of more things!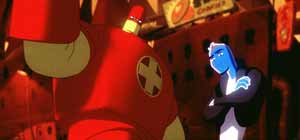 Content is kept kind of mild due to its PG rating, but it does weigh kind of heavy on the gross-out side for a PG film. For this, parents should be warned that although PG, some of the material isn't all too suitable for children. Who'd expect the Farrelly brothers, known for Dumb and Dumber, There's Something About Mary, and Me, Myself, and Irene to make a clean-cut PG film? There is a lot of bodily humor including material involving zits, the bladder, an ingrown toenail, snot, etc. Profanity is kept to a minimum with just 1 d*mn, however several uses of swear words turned around and used bodily exist (for example, a cell says "Holy Spit!"). Sexual material isn't really prominent, but we do see various cell women in bikinis at different times, and Osmosis tries picking up Leah but she turns him down. We also see a cell couple making out in a movie theater watching dreams Frank is having. One of these is shown in which Frank forgot his pants, so we see him wearing only a t-shirt and briefs.
I just have mixed feelings about this movie. It often felts like I wasn't watching a movie, but more like a Saturday morning special of sorts. It was funny and entertaining, but something seemed to be missing or was just not right. However, I cannot place my finger on what it is. The jokes and references used while portraying the inside of the body to be a micro society is excellent, but the jokes weren't pushed far enough. With that, I don't mean crudely, but just to be more-so of a parody would have probably made it even more enjoyable to watch.
Not bad, but not entirely a summer highlight, Osmosis Jones is an entertaining fun film to watch with a couple of friends on a rainy day. It could have been a lot better, but was still good as it was.
-
John DiBiase
,
(reviewed: 8/17/01)
Parental Guide: Content Summary

Sex/Nudity
: When we're introduced to Jones, he's viewing a magazine centerfold of a DNA strand as if it were an attractive model. During a cartoon chase scene, billboard that reads "Come see the land down under" with the drawing of a bare male rear end on it. Jones sees a curvy female with her back turned towards him and decides to hit on her, but discovers her to be Leah. After he tries a pickup line on her, she turns him down. In Osmosis' locker at work, there is a photo of a woman in a bikini hanging inside with an image of Leah's head attached to it. We see a female cartoon dancing in a bikini, and later see a photo in Osmosis' work locker of a woman in a bikini (with Leah's head attached to it). For a second, we catch a cartoon cell couple passionately kissing inside a movie theater. In a live action sequence, we see one of Frank's weird dreams where he's an adult in school wearing just a t-shirt and briefs as he's forgotten his pants.

Vulgarity/Language
: 1 d*mn, 4 "Oh my G-d"

Alcohol/Drugs
: Several characters, live action and cartoon, drink or smoke in the film.

Blood/Gore
: Most of the "blood/gore" that is cartoon related isn't realistic enough to be really gross. However, we do see some cell characters explode when attacked by Thrax. In live action, we see a slightly bloody, gross-looking ingrown toenail of Frank's. We see a flashback of Frank puking onto someone, with the vomit on the person. Later we see a disgusting photo of the projectile vomit ejecting from his mouth onto the person. We see a red, irritated large zit on Frank's forehead. Before it bursts, we see a gross close up of it as the white head seeths before exploding (not seen), but we see its contents on Mrs. Boyd's face.

Violence
: Various cartoon-related violence: Germs killed/explode, things catch on fire, a couple physical fights occur.
Disclaimer: All reviews are based solely on the opinions of the reviewer. Most reviews are rated on how the reviewer enjoyed the film overall, not exclusively on content. However, if the content really affects the reviewer's opinion and experience of the film, it will definitely affect the reviewer's overall rating.
To find out why we don't typically review R-rated movies,
click here