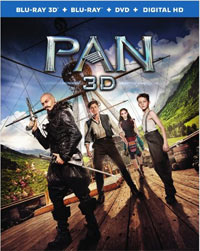 Pan


- for fantasy action violence, language and some thematic material.
Director:
Joe Wright
Starring:
Hugh Jackman, Garrett Hedlund, Rooney Mara, Levi Miller, Cara Delevingne, Adeel Akhtar
Running Time:
1 hour, 41 minutes
Theatrical Release Date:
October 9, 2015
Official Site
Blu-Ray Release Date:
December 22, 2015 (
Amazon.com
)
Plot Summary
12-year-old orphan Peter is spirited away to the magical world of Neverland, where he finds both fun and danger, and ultimately discovers his destiny -- to become the hero who will be forever known as Peter Pan. (from IMDB.com)
Film Review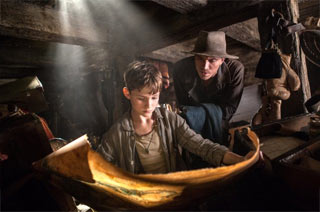 Peter Pan is a story that has lasted through the ages and has been retold many, many times. Probably the most popular version is Disney's animated 1953 classic film, but contemporary audiences may also find the 1991 film Hook quickly coming to mind as well. For 2015, director Joe Wright brings Peter back to the big screen in a way audiences have never seen before, offering an origin story for Peter that could potentially lead to further adventures for the boy who doesn't want to grow up.
Pan starts off with Peter in an orphanage. We learn that he'd been left there by his mother as a baby, but we don't know why right away. When Peter, now twelve years old, finds the letter his mother left for him when she dropped him off as an infant, he starts to believe he's destined for greater things. And when a flying pirate ship begins abducting the children from the orphanage, he soon finds himself on a wild adventure to Neverland. This version of the story takes plenty of liberties too. The villain, as you might be surprised to hear, is not Captain Hook. In fact, Hook is James Hook here and becomes a friend and ally to Peter, with the villain being Blackbeard. Blackbeard is touted as the most fearsome pirate and serves as a foil for Peter, being played flamboyantly by Hugh Jackman. I loved Hugh as Wolverine and in some of his other films, like The Prestige and Kate & Leopold, and it was a treat to see him do something completely different here. As Jackman has described his Blackbeard, he's a bit of a rockstar here in Pan. It doesn't always work, though, with the film having an uneven tone. From Blackbeard's appearance to the fact that he leads his pirates in singing Nirvana's "Smells Like Teen Spirit" (I kid you not), the movie takes things a bit over the top a time too many. Still, for the most part, the film works as a fantastical adventure film.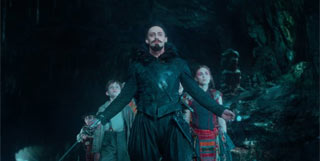 I was surprised when I revisited Disney's Peter Pan for its 2013 blu-ray release just how bizarre it got at times, like with the Lost Boys scenes. Overall, I wasn't too thrilled with the film and found it to be one that probably played out better for me when I was younger than as an adult. I found myself enjoying Pan a bit more, actually. Levi Miller--a newcomer in Hollywood--was perfect as Peter. And I loved Garrett Hedlund in Tron: Legacy and I thought he was an interesting choice for Hook here. You could tell Hedlund had a blast playing Hook, and he attempted to inject some of the flair that Captain Hook is known for into his performance as James. I think he works well as this version of Hook, but I had trouble visualizing him as the iconic Hook the character is known for (and who this Hook would eventually become). Rooney Mara plays Tiger Lily and I thought she did a pretty great job. Some of the pirates added to the campy nature of the film, aiding in the uneven tone of the film as well, but overall, Wright seemed determined to entertain and excite with Pan and I think the movie delivers for the most part.
The content for the film is definitely PG, but a few moments seemed to teeter on the edge just slightly. There are some potentially scary parts involving the appearance of some of the pirates, as well as some "visions" characters have of previous battles. One occurs underwater with an orange-eyed Blackbeard as part of the story and I can imagine it would scare some younger viewers. Also, swarms of fairies violently grab the pirates at one point and toss them around. And large beasts called Neverbirds are virtually skeletal birds that attack the film's characters. Language is mild with a couple uses of "h*ll" and "d*mn," but that's about it. Also, some viewers may be sensitive to the talk about Peter being "the one" in an almost messiah-like treatment. I believe Hook even makes a remark about Peter thinking he's the villagers' messiah. I don't believe there was any intent to offend (although the nuns at the orphanage are vilified horribly), but they kept focusing on the whole "chosen one" destiny of Peter. (It also brought to mind everything that's come before it from Star Wars to The Matrix and beyond...)
Overall, Pan is a decent fantasy adventure. It's a good mix of practical and CG effects and sets, and a bit more fun than some of Disney's recent CGI-fests like Oz the Great and Powerful and Alice In Wonderland. The modern musical choices (aside from a decent score from the reliable John Powell) are a bit odd and out of place, but other than that, Pan's fun enough to make the trip back to Neverland.
-
John DiBiase
(reviewed: 12/20/15)
3D Blu-Ray Special Features Review
Pan
arrives on Blu-Ray in a DVD/Digital HD combo pack, on DVD, in a combo pack that includes all of that plus a 3D Blu-Ray disc, and through the usual digital providers. I watched the film in 3D at home and the opening, celestial shot was incredible, but many of the scenes after that weren't all that extraordinary in 3D. However, once they get to Neverland, there are a few scenes that do really stand out, especially in the film's climax.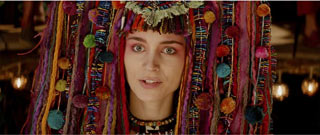 The special features on the 2D Blu-Ray disc--in addition to a director's commentary--include the following:
Never Grow Up: The Legend of Pan (10:50) - The cast and crew talk about the original story and what they tried to do with this movie. They focus on how Peter Pan is about keeping the sense of wonder alive. This featurette also delves into the building of some big sets for the film, in addition to the digital effects.
The Boy Who Would Be Pan (6:07) is all about finding Levi Miller to play Peter. Here, the cast and crew talk about him, his talent, and what it was like working with him.
The Scoundrels of Neverland (5:49) focuses on the legend of Blackbeard and how the part was written with Hugh Jackman in mind. Hugh also reflects on the character and how he's basically a rockstar in his day.
Wondrous Realms (5:01) is a narrated look at the locales in the movie. From Blackbeard's mines to the flying pirate ship, to the woods, then the native villages, the mermaid lagoon and finally, the fairy kingdom.
-
John DiBiase
,
(reviewed: 12/20/15)
Parental Guide: Content Summary

Sex/Nudity
: Hook makes a comment to Tiger Lily, "Your Highness, I was hoping to get you alone" with a smirk; We see pretty mermaids swimming in the sea with their hair covering any topless nudity;

Vulgarity/Language
: 1 "damnation" (used kind of as an obscenitiy); 2 "h*ll"

Alcohol/Drugs
: Maybe some miscellaneous drinking, but nothing focused on

Blood/Gore
: We see a close-up of Peter's blistered and bloody hands from working in the mine; The Neverbirds have their skull and bones exposed; Hook has a little blood coming from his nose after a fight; Pirates shoot people and they explode into bursts of color; Blackbeard has some blood on his bald head; Hook has some blood on his mouth and nose;

Violence
: Peter and his friend break a window; We see war planes flying over heard and firing. We then see one drop a bomb; Peter lunges at the nun who is antagonizing him. She then threatens to beat him and hits her desk to intimidate him; Kids are scooped up from their beds by scary pirates; A nun kicks Peter in the chest and he's then grabbed by a pirate. Peter's friend jumps off the pirate ship onto the roof of the orphanage; More war plans fire at the flying pirate ships and chase them. They shoot cannonballs back at them; Hook sharpens Peter's pick ax; Peter is elbowed in the stomach; Blackbeard kicks Peter off a plank and he falls; Blackbeard a sword at Peter's neck for a moment; Hook explodes a hole in a cell wall; Hook kicks a man in the head and Peter hits him in the head with a shovel. They hit and throw more guys as they escape the mine. They fall from an air tram and it almost crashes on them on the deck of a ship; A ship shoots cannonballs at their ship; Peter dangles from the pirate ship as it hangs upside down; Blackbeard angrily throws a knife at his door; Hook's ship crashes into trees and then down to the ground; "Neverbirds" chase them; Tiger Lily spears a Neverbird through the skull. She then punches Hook in the face; A warrior Tiger Lily calls Pan flips around and throws and kicks Hook while they fight on a trampoline. Peter then joins in on the fight; We see some flashbacks through the animated veins of a tree of wars being fought; Tiger Lily slaps Hook; Tiger throws an ax or something that hits a pirate in the back; Pirates shoot people and they explode into bursts of color; The pirates attack the boys who fight and shoot and punch back; Peter jumps on Neverbirds and then attacks the bad guys; A crocodile jumps out of the water at the screen. It then grabs Peter and takes him under; In the water, we see a memory of Mary fighting Blackbeard. He has scary orange eyes and they fight. He accidentally stabs and kills her; Blackbeard ties up Tiger and Peter; Blackbeard calls for his crew to burn the fairies and we see flames burning lots of sparkling fairies; Hook Rams the ship as Blackbeard is about to kill Peter; Tiger Lily fights the pirates and Blackbeard; Two men fall to their death but Peter saves one of them; Fairies violently grab and throw and drop and beat up a lot of pirates; A ship crashes into a wall and falls with a man on board.
Disclaimer: All reviews are based solely on the opinions of the reviewer. Most reviews are rated on how the reviewer enjoyed the film overall, not exclusively on content. However, if the content really affects the reviewer's opinion and experience of the film, it will definitely affect the reviewer's overall rating.
To find out why we don't typically review R-rated movies,
click here