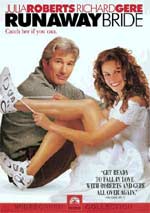 Runaway Bride


- for language and some suggestive dialogue.
Director:
Garry Marshall
Starring:
Julia Roberts, Richard Gere
Running Time:
1 hour, 56 minutes
Plot Summary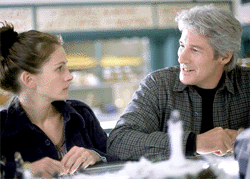 Ike Graham (Richard Gere) is a columnist for USA Today who is looking for a last minute article. While in a bar, he runs into a man who tells him about a woman named Maggie Carpenterwho is known for leaving the groom at the altar during a wedding. Ike covers the story and when Maggie reads it, writes a letter back to USA Today resulting in the paper firing him. Ike decides then to go to Maggie's small town to prove his story true and get his job back. While there, he runs into many conflicts and learns of Maggie's latest wedding, her fourth, which Ike anticipates to be another "runaway" for her. But as the two spend time together, their hate and disgust for each other starts to take a turn as it nears her fourth wedding date...
Film Review
I'm not a big romance, chick-flick fan. But every once in awhile, a good one rolls around that doesn't leave you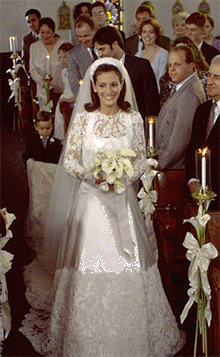 depressed and sitting there either bawling or on the verge of doing so. Runaway Bride successfully leaves the audience laughing and walking out of the theater with a good feeling.
Unlike Julia Roberts' previous movie, Notting Hill, Runaway... is a lot more funny and have less tearjerker moments to the point where the most sensitive of in-theater-tissue-users probably will not need their Kleenex for this one.
The acting is solid. I was never a fan of Richard Gere (and his massive support of the Dahli Lama doesn't exactly score too many points with me), but his character was rather likable and fun to watch. Julia delivered another fine performance, only the 3rd time I've seen her in a movie, but she plays mostly likable characters in her roles (even though she puts Hugh Grant's character through the ringer in Notting Hill). And even though she "stands up" three men at their weddings, her character of Maggie gains sympathy and enjoyment as the film progresses.
The supporting cast was good, as well. And although I was never a fan of Joan Cusack, either, she put on a great performance and strayed away from her annoying characters of the past and was also fun to watch in this film.
The language was suprisingly tame in this film. When characters had a chance to really cuss each other out or mumble obscenities under their breaths, they said silly insults like "pot-stirrer" and "slime ball." The language was only as bad as 2 "a" words (1 used with "hole"), and to "h" words. Sex and nudity were absent (thank God), but were reduced to a few "suggestive" comments and minor innuendo. Stuff, that if the film had excluded, would have warranted a higher rating than only 3 stars.
Overall it was great and much much better than I had expected! I laughed through the whole thing. So due to the innuendo and rather minor cussing, I couldn't give it 4 stars, but I have to give the movie 3 and a half stars. If you have any questions about the movie if you decide to see it, don't hesitate to contact me.
-
John DiBiase
,
(reviewed: 8/2/99)
Parental Guide: Content Summary

Sex/Nudity
: Only in speech. Although not too bad, there are a few minor comments qualifiable as innuendo or suggestive that are made.

Vulgarity/Language
: 1 "a" word, 1 "a-h*le"), 2 "h*ll," 5 "G-d"

Alcohol/Drugs
: Many characters drink during the course of the film. Maggie's father is known for getting drunk.

Blood/Gore
: None.

Violence
: A punch is pretty much the extent of it.
Disclaimer: All reviews are based solely on the opinions of the reviewer. Most reviews are rated on how the reviewer enjoyed the film overall, not exclusively on content. However, if the content really affects the reviewer's opinion and experience of the film, it will definitely affect the reviewer's overall rating.
To find out why we don't typically review R-rated movies,
click here