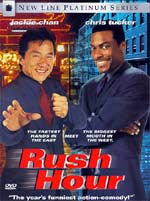 Rush Hour


- for sequences of action/violence and shootings, and for language.
Director:
Brett Ratner
Starring:
Jackie Chan, Chris Tucker
Running Time:
1 hour, 37 minutes
Plot Summary

When the Chinese Consul Han, visits the USA, an unknown group of terrorists capture his little daughter, Soo Yung, for a large sum of money. Han makes a request to the FBI to fly in his "own man" to help, Detective Inspector Lee (Jackie Chan). The FBI wants to keep the investigation to themselves without Lee's assistance, so they get reckless, fast-talking LAPD officer, James Carter (Chris Tucker) to keep Lee out of their way. Carter thinks he's actually working for the FBI until he is told the truth by one of the agents. As the story progresses, Carter & Lee become a team who work together to safely return Soo Yung to her father.
Film Review
Rush Hour is the best flick since Zorro, and before that, since Truman Show. It's funny, clever, action-packed, fun, and... typical? Well, like all Hollywood movies these days, they ruin "the perfect movie" with some unnecessary stuff. EXAMPLE: This would have been the perfect action comedy if there hadn't been almost forty uses of the "s" word, or over thirty uses of the "a" word, or if it had been less violent. The blood was kept to a minimum, but the scene where the drivers of Soo Yung's car are shot off-screen, the "thought" of how they're dying and the sight of some blood splattered on her clothes and face are rather gross. In a few scenes at the end, when people are shot, blood is briefly seen in the gunshot wounds, but although nothing terribly bad is shown, it will be disturbing for those who don't like blood or violence.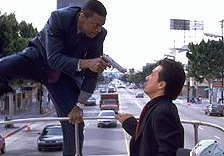 OK, time for the positives... Jackie Chan! Although this is the first movie I've heard him cuss in, Chan did an awesome performance with the stunts and even the comedy. Tucker started off by giving the impression that he would be considerably annoying, but after about fifteen minutes of his antics, it's easier to adjust to his high voice and incessant talking and find the humor in it. The plot was pretty good, there was no weak acting, and the story moved smoothly.
Thankfully, they refrained from including much sexual material. There's minor innuendo in two instances, and Tucker says the slang "t" term for the female chest, but besides that there is no nudity or sexual content - a thankful exception. Now, if we can just minimize the rest of the junk...
There are also references to drugs, however. In one scene, Tucker reprimands a man for smoking weed in a bar, and in another, a security guard accuses him of splitting a back of weed with him in the past. Also, another word of caution-- the "n" word is used by Tucker in a friendly way, and Chan repeats it naively, not knowing its meaning later and incites an unwanted (but funny) bar brawl.
Overall, I really enjoyed the film because of the light-hearted chemistry between Chan and Tucker that had a style to it all its own. Unfortunately it's plagued by the usual PG-13 muck which knocks my desired higher rating down to a decent 4 stars.
-
John DiBiase
,
(reviewed: 9/22/98)
Parental Guide: Content Summary

Sex/Nudity
: None, just two lines of minor innuendo.

Vulgarity/Language
: 38 "s" words, 32 "a" words, 14 "g*dd*mn," 1 "a-h*le", 4 "t*tties," 14 "h*ll," 6 "d*mn"

Alcohol/Drugs
: Some people drink in bars, & 2 different references to marijuana ("weed")

Blood/Gore
: Blood is on Soo Yung when her drivers are shot & killed. Sang has a cut on his eye. When a few people are shot, their wounds are a little bloody.

Violence
: Punching; kicking; shooting, etc...
Disclaimer: All reviews are based solely on the opinions of the reviewer. Most reviews are rated on how the reviewer enjoyed the film overall, not exclusively on content. However, if the content really affects the reviewer's opinion and experience of the film, it will definitely affect the reviewer's overall rating.
To find out why we don't typically review R-rated movies,
click here