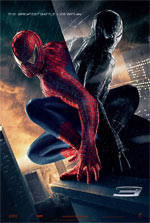 Spider-Man 3


- for sequences of intense action violence.
Director:
Sam Raimi
Starring:
Tobey Maguire, Kirsten Dunst, Topher Grace, Thomas Haden Church
Running Time:
2 hours, 20 minutes
Theatrical Release Date:
May 4, 2007
Official Site
Plot Summary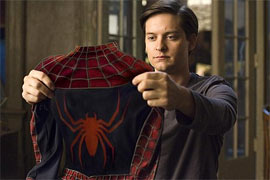 In "Spider-Man 3," based on the legendary Marvel Comics series, Peter Parker has finally managed to strike a balance between his devotion to M.J. and his duties as a superhero. But there is a storm brewing on the horizon. As Spider-Man basks in the public's adulation for his accomplishments and he is pursued by Gwen Stacy (Bryce Dallas Howard), who rivals M.J. for his affections, Peter becomes overconfident and starts to neglect the people who care about him most. His newfound self-assuredness is jeopardized when he faces the battle of his life against two of the most feared villains ever (Thomas Haden Church, Topher Grace), whose unparalleled power and thirst for retribution threaten Peter and everyone he loves. (from MovieWeb.com)
Film Review
Sam Raimi has himself in a tough spot even before going into a movie like Spider-Man 3. 2004's Spider-Man 2 was such a well-orchestrated piece of action filmmaking that it would be near impossible to top it. However, the premise of Spider-Man 3 - introducing the black suit, Sandman, and most intriguingly, such an adversary as Venom, raises expectations to unreachable heights, and despite all hopes and Raimi's established working formula, those heights are ultimately unattainable.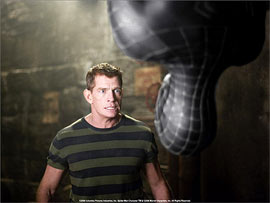 Spider-Man 3 picks up shortly after where Spider-Man 2 left off, and the pacing is the signature feel that the others thrived on. But as the story chugs forward and picks up speed, the Spidey locomotive starts sliding off track, particularly when Peter gets attached to the black suit. With his hair combed forward and donning mostly black (not that there's anything wrong with that), the film takes a sinister tone with a goofy approach - somehow scat and disco become the themes for Peter's bitter side. We, the audience, know bitterness doesn't look good on our hero Peter, but Raimi & Co. want you to see that in a literal sense. To see Tobey Maguire wearing "guyliner" and looking more like a goth dancing in the streets, showing off to predominently beautiful women passing by him, and making pelvic thrust guestures along to the music apparently in his head, you have to wonder what on Earth Raimi was thinking. Perhaps it's to contrast the "Raindrops Keep Falling On My Head" montage from Spidey 2, but while that sequence was genius, this one seemed more appropriate for an SNL spoof than a major blockbuster. It's amusing, but definitely over the top.
The other problem is there's at least one too many villains in 3. The attempt to flesh out Sandman in a similar way to Doc Ock is a tall task when they're also trying to build up Eddie Brock, Peter and the black suit, the romantic tension between Peter and MJ, the added sexual tension with Gwen Stacy, and the continuing drama between Peter and Harry. The film may have had more focus just centering on the romantic angles and the rivalry of Eddie and Peter (and ultimately Spidey and Venom). It's understandable why Sandman would come into play, but the less is more approach of the first two films is what made their outcomes so strong.
While the initial battle between Harry and Peter is exciting and in-line with the previous films, when Peter is under the influence of the symbiote, his characteristics are exaggerated in such a way that seem too extreme to the point of pulling any kind of believability or relativism to his character from the story, making a later confrontation between the friends seem more surreal than anything. What's been so successful with the Spider-Man films is Peter's humanity and his struggle with doing what he's called to do and doing what he wants to do. Raimi treats these two Parkers ("evil" and selfish black-suited Parker, and the good Parker) as sort of a Jekyll and Hyde and less like it's the same person just acting different and making bad decisions. The visible differences between the two versions of Peter take a bit away from the impact of it being the same man. And to keep the movie from being truly as dark as it should be given its subject matter (in the kind of serious-toned and tragic Star Wars: Episode III sort of way), Raimi inserts too much campy humor into the dark side of Peter's persona and it's slightly jarring. When we finally get to a sequence where Peter is dancing with Gwen in a jazz club, it feels more like something you'd see Ron Burgundy do in Anchorman than any character in a Spider-Man film. It's all intended to show how distasteful revenge and spite are, as well as the damage it can cause, and I suppose Raimi thought it was best approached from a somewhat comedic angle.
In the action sequences, Raimi opts for more grandeur than creativity, taking the problematic route and assumption that bigger is better that sequels like Ghostbusters 2 or The Mummy Returns haphazardly went for. The special effects range from breathtaking to somewhat cheesy, but it's moments like witnessing the birth of Marko as the Sandman that are especially amazing. And when Brock dons the Venom display, the effects are wonderfully creepy and well realized. It's just sad to watch the Sandman's character turn into a gigantic hulk-like creature in the climax, to the point of dumbing down the kind of character he is intended to be -- but in a way, it's also used to symbolize how lost in himself the troubled Flint Marko has become. Some of the film's brawls are fun to watch - as well as when Spidey rescues people from a large crane accident, but it seems later on that we predominently just see our hero get whipped around, thrown around, and pummelled more than he gets to shine with his classic web action. At times, it's also tempting to wonder just where did his "Spidey sense" go?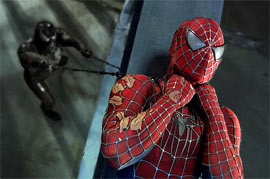 All nitpicks aside, the third installment actually gels pretty well with its two predecessors. 3 resolves every storyline that was established in the series and brings them to a satisfying conclusion, even if it's somewhat surreal in its execution. Maguire is still fantastic as Spidey and Parker, and it's tough to imagine anyone else in the role. It's also interesting to watch Parker's luck turn around a bit with Spider-Man's popularity having risen in New York City and to see MJ's usually successful career fall on harder times. And although they aren't given a whole lot to work with while all having to share ample screentime, Thomas Haden Church was an inspired choice for Sandman, while Topher Grace is a perfect blend of both snotty and pathetic as Eddie Brock, and Bryce Dallas Howard shines as Gwen Stacy. James Franco has a lot more screentime as Harry this time around, especially when it comes to action sequences, but still offers some of the weakest acting moments (although his ability to change moods rather convincingly a few times is noteworthy). Some of the scenes involving Harry weigh heavily on corniness, but it's mostly forgivable. Finally, the third consecutive cameo by Bruce Campbell is the best yet, with the actor given a bigger role and earning what just might be the film's biggest laughs.
It's important to note that this installment is pretty brutally violent at times. When Parker is affected by the black suit, he fights a lot dirtier, with one of the bloodiest fights in a Spidey film resulting from it. And while there isn't much profanity at all, it's a little jarring to hear Parker utter a "d*mn" and latter a possible "g*dd*mnit" in anger, as well as say and do other uncharacteristically and therefore unexpectedly cruel things. Raimi's injection of humor and camp into these moments is probably so we don't take this "new" and unlikable Peter too seriously, and ultimately so we can continue to feel for and root for him, but it makes the scenes a bit awkward and seemingly out of place from the mood of the rest of the series.
The struggle between wanting revenge when being wronged and coming to the humbling place of forgiveness is a strong theme of Spidey 3, and something that isn't foreign to many of us. The film places a strong importance on forgiveness that carries a lot of weight and is the story's most redeemable quality. We can understand certain choices Peter makes, especially out of selfishness, including the fleeting satisfaction of revenge. And it's especially meaningful and satisfying when Peter inevitably begins doing the right thing. We can also see through the examples of a few other characters what happens when unforgiveness and bitterness take hold in life.
As a fan of the franchise, I was expecting too much from the third film with high hopes for it to be the best. Spider-Man 3 may be a bit flawed or even seen as overzealous at times, but the potentially final installment in a truly great film series wraps things up quite nicely. It's darker, campier, more violent, and more grandiose, but most likely isn't the best of the trilogy. It's not one for the whole family either (Venom will be particularly frightening to younger viewers), but older fans will most likely enjoy it. I myself was still entertained, but if you have soaring expectations, you may want to lower them a bit before watching. - John DiBiase (reviewed: 5/4/07)
Parental Guide: Content Summary

Sex/Nudity
: Some women (including Gwen) show cleavage at different times; Under the influence of the black suit, Peter stands sensually close to Miss Brant and suggestively says he'd like to "shoot" her (pertaining to photography), but before they could kiss, Jameson walks in and makes a comment that that isn't the "position" she was hired for; After ripping off the black suit, Peter is apparently crouched nude in the bell tower, but due to the lighting, no nudity is seen; We see Gwen and Peter share a somewhat sensual dance in a jazz club; Venom makes a double-meaning comment about Spider-Man's "spidey sense tingling" and adds "if you know what I mean"

Vulgarity/Language
: 1 possible "g*dd*mnit," 1 "a" word, 1 "h*ll," 1 "d*mn" 2 "Oh my G-d," 1 "G-d" (and a French man pronounces Parker's name as "pecker" twice)

Alcohol/Drugs
: Harry takes a big swig of alcohol from a large bottle; there may be miscellaneous drinking in a restaurant setting; Peter readies champagne for a special occasion, but none of it is consumed; Harry pours a martini as Peter walks in; At the jazz club, Peter steals a martinin from someone's tray and quickly downs it

Blood/Gore
: We see a tiny bit of blood on Peter's shirt when Harry's arm blades slice his shirt; Harry has a little bit of blood on his head; We see Flint disintegrate slowly into a sandlike form; We see holes blown/punched through Sandman at different times; Spider-Man pushes Flint's face into a train as it goes by and we see his face wear down like sand and his teeth popping off one by one in the process; We see the slightly bloody faces of miscellaneous people on the news, Harry has blood coming from his mouth and on his face as he fights Peter; A person pulls a bloody knife out of another person; Harry has some bloody cuts all over his shirt and body; We see a person who half of their face is burned and scarred from an explosion; We see little bloody cuts all over Spider-Man through his torn suit; A blade briefly slices Venom's forearms and we quickly see a splash of blood, but the symbiote covers the wound (or heals it); A person is impaled by two blades and we see the blades sticking out of them with blood on the ends (briefly seen)

Violence
: See Blood/Gore above for more specifics; lots of comic-related action violence with plenty of brutality with kicking, hitting, punching, being beaten with objects like poles, etc; A character stabs another; A character is impaled by spikes and later dies; A person falls a great distance, hitting things on the way down, and is hospitalized; Several fights involve quite a bit of beating; A crane accidentally destroys part of a building, causing people to fall out; A man accidentally punches a woman, throwing her to the floor; A character is disintegrated in an explosion, and lots more comic violence
Disclaimer: All reviews are based solely on the opinions of the reviewer. Most reviews are rated on how the reviewer enjoyed the film overall, not exclusively on content. However, if the content really affects the reviewer's opinion and experience of the film, it will definitely affect the reviewer's overall rating.
To find out why we don't typically review R-rated movies,
click here