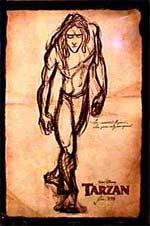 Tarzan


- for not containing material to warrant a higher rating.
Director:
Chris Buck (II), Kevin Lima
Starring:
voices of Tony Goldwyn, Minnie Driver, Glenn Close
Running Time:
1 hour, 28 minutes
Plot Summary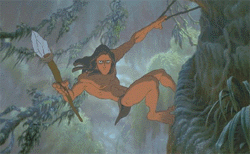 When a couple and their baby are ship-wrecked on an island, they are forced to build a tree house and live in the rough. But when a leopard kills the baby's parents, a female gorilla, Kala (who lost her baby also to the leopard), finds the baby and adopts him, naming him Tarzan. As Tarzan grows under the care of the gorillas, he tries to fit in, realizing he is different. When Tarzan is older, a team or archeologists visits the island to study the gorillas. Through this, Tarzan meets Jane Porter, her father, and their hired bodyguard/great white hunter, Clayton, people who he realizes are of his "kind." As the story progresses, Tarzan comes to learn of who he is while still trying to fit in with the gorillas and later learning of Clayton's hidden motives for being on the island.
Film Review
I never know what to expect with animated movies these days. When I saw Prince of Egypt, I was blown away with its production and animation. But when I learned of Tarzan's release, I had very little desire to see it, except for maybe my artists' interest in the animation.
But when I got to chance to see the movie with some friends, I decided to give the movie a shot and see what Disney's newest animated flick was all about. Well, I didn't go home disappointed to say the least. The movie started off right away with cute humor mixed with a little action to peak the viewers' interest.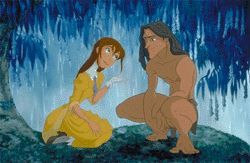 The animation was captivating-- a mix of 3D computer effects and traditional hand-drawn animation. One neat thing about the movie was instead of the characters breaking out in song during the film (something I always disliked about animated kids films), the sung portion of the soundtrack is done by solo artist Phil Collins. Although he does a great job, at times Collins' voice doesn't seem to fit within the context of the film. However, as I noted before, the music is much better than if Tarzan decided to break out in song in the middle of the scene where he meets Jane or something...
The content of the film is pretty good. No cursing, no sex/nudity, minimal blood and violence (mainly what's expected of an animated Disney film), etc... One theme that's evident in the film is "fitting in" and acceptance. Also, the whole "we're all equal" argument is used as well.
Overall, the movie is pretty good, I don't really have any complaints and didn't see much of anything wrong with the film. It's good family entertainment and I recommend it to most all families.
Yet, if you have any questions about the film before you see it, feel free to contact me.
-
John DiBiase
(reviewed: 6/22/99)
Parental Guide: Content Summary

Sex/Nudity
: None.

Vulgarity/Language
: None.

Alcohol/Drugs
: Clayton tries to give Tarzan some wine, but he doesn't drink it.

Blood/Gore
: We see bloody paw prints on the floor of a tree house from a leopard. From fighting, a leopard has a bloody scratch on its shoulder, Tarzan has scratch marks on his chest. Tarzan has a tiny bloody scrape on his arm when he is grazed by a bullet.

Violence
: Shootings, Fights, brawls, a man is hung, a gorilla is shot, resulting in its death, etc...
Disclaimer: All reviews are based solely on the opinions of the reviewer. Most reviews are rated on how the reviewer enjoyed the film overall, not exclusively on content. However, if the content really affects the reviewer's opinion and experience of the film, it will definitely affect the reviewer's overall rating.
To find out why we don't typically review R-rated movies,
click here