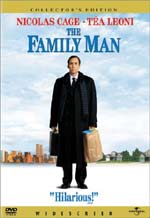 The Family Man


- for sensuality and some language.
Director:
Brett Ratner
Starring:
Nicholas Cage, Téa Leoni
Running Time:
2 hours, 5 minutes
Plot Summary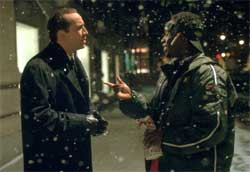 Jack Campbell (Nicholas Cage) is a self-absorbed, extremely wealthy businessman who lives a life he thinks is a great as it could get. 13 years prior, he had left his girlfriend Kate (Téa Leoni) to get a job in England which would lead to his wealthy career. On Christmas eve, present day, Jack does a good deed that an angel just so happened to see and be a part of. As a result, Jack then gets to see a "glimpse" of what life could have been like if he had married Kate. The rest is a moving story about how he dealt with the change and how it resolves.
Film Review
Let me just warn you that despite the fact that there were a few objectionable inclusions in the film, I walked out of the theater with a lot to ponder. Although Nic Cage's character is basically a spoiled jerk, one can feel for his confusion and mislead life. Although I couldn't possibly relate to him literally, for some reason I felt myself in his shoes and became wrapped up in the tale. The movie is indeed a reversed 2000 version of It's a Wonderful Life or basically It COULD have been a Wonderful Life. Although I don't think it fair to compare the classic It's a Wonderful Life to this modern film, the similarities are there and the comparison is inevitable. What boggles my mind is why director Brett Ratner couldn't drop a few unnecessary scenes or words to make this a PG film to become a classic for years to come.
One of the opening scenes shows Cage in bed and a woman's bare back across the room who's dressing, apparently after a sexual encounter. Later in the movie we see Kate's nude body through a distorted, translucent glass shower pane a couple times. Also, a woman tries to get Jack to have an affair behind Kate's back (but he doesn't, although he almost does). Also, while he changes one of his kids' diapers, we briefly see the babie's male genitalia. Along the lines of language, 1 "f" word is present, to my disappointment, in which a friend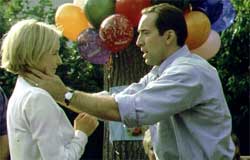 of Jack's in the "fantasy" life tries to convince him that the idea of an affair would be ludicrous. Also, 3 "s" words are present with the addition of 1 "G-d*mn" and a few other uses of blasphemy as exclamations. With most of that material being rare or very brief, the overall powerful story and likable setup overshadows the content flaws and I want to forget them, however they're present and thus disappoint me that they're even there in such a potentially wholesome film. Although a couple supporting characters tend to come and go without much explanation of their disappearance or no explanation of their existence (like the angel who grants him this "glimpse"), those points can be easily overlooked and this comedy/drama can be easily enjoyed. I suggest not listening to the critics who nit-pick to no end the minor plot complications that really are not complicated unless you're especially looking for faults.
The film is a great date movie and has an really touching story. I found myself pondering life's choices and how 1 decision can change the course of your entire life (showing me the severity of following God's perfect Will for my life). Again, I just wish the tainted content wasn't as such and this could have been an annual Christmas classic like it could have so easily been. Perhaps a more polished version will be on TV in several years that could be viewed that way.
In summary, I'm torn about how to rate this movie. I really was moved and really enjoyed, but again, the PG-13 material tainted it enough. It's all stuff that could have been excluded from the movie, too. I want to give it more than 4 stars, but couldn't possibly give it more due to content, so I give it a rating of 4 out of 5 because it could have been so great.
-
John DiBiase
(reviewed: 12/22/00)
Parental Guide: Content Summary

Sex/Nudity
: We see that Jack had had a one-night stand with a woman and as she comments on the experience, we see her bare back as she gets dressed (no activity is seen). We see Jack in his underwear a couple times. Several suggestive comments are made in the movie, but nothing really vulgar or explicit. Jack finds Kate in the shower, and he ends up watching her through the translucent door as she's dancing and singing. With that, we see a distorted view of her nude body as she dances. She then opens the door to talk to Jack, but he looks away from her (because she's naked), and we only see her head and shoulders. When the kids have gone to bed, Kate takes off her shirt, leaving her only in a tank top, and stradles Jack. She then changes into something more intimate, but Jack had fallen asleep before anything else could happen. Evelyn suggests that she and Jack have an affair and he considers it (but doesn't go through with it). Towards the end, the woman from the one-night stand shows up and reveals she's wearing lingerie and suggests herself as a Christmas present to Jack but he quickly leaves. When Jack changes baby Josh's diaper, we briefly see the baby's genitals as it pees (for comical 'parent's nightmare' humor). A few "adult" comments are made.

Vulgarity/Language
: 1 "f" word, 3 "s" words, 1 "g*dd*mn," 1 "pr*ck," 5 "h*ll," 4 "d*mn," 1 "a" word, 1 "cr*p," 6 "For G-d's sake," 10 "G-d," 3 "J-sus," 3 "Oh my G-d," 1 "For Chr-st's sake," "Good L-rd," 1"G-d Forsaken"

Alcohol/Drugs
: Jack tends to drink a lot (often used comically) to try to deal with his new, unexpected life.

Blood/Gore
: None.

Violence
: A person holds up a general store at gun point.
Disclaimer: All reviews are based solely on the opinions of the reviewer. Most reviews are rated on how the reviewer enjoyed the film overall, not exclusively on content. However, if the content really affects the reviewer's opinion and experience of the film, it will definitely affect the reviewer's overall rating.
To find out why we don't typically review R-rated movies,
click here