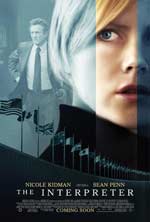 The Interpreter


- for violence, some sexual content and brief strong language.
Director:
Sydney Pollack
Starring:
Nicole Kidman, Sean Penn
Running Time:
2 hours, 8 minutes
Theatrical Release Date:
April 22, 2005
Official Site
Plot Summary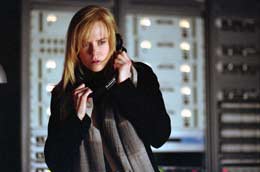 Directed by Oscar® winner Sydney Pollack, The Interpreter stars Academy Award® winners Nicole Kidman and Sean Penn in a suspenseful thriller of international intrigue set inside the political corridors of the United Nations and on the streets of New York. Nichole Kidman stars as African-born U.N. interpreter Silvia Broome, who inadvertently overhears a death threat against an African head of state scheduled to address the United Nations General Assembly. Realizing she's become a target of the assassins as well, Silvia's desperate to thwart the plot…if only she can survive long enough to get someone to believe her. Sean Penn is Tobin Keller, the federal agent charged with protecting the interpreter, who nonetheless suspects she may not be telling the whole truth... (from TheInterpreterMovie.com)
Film Review
I've never been much of a Sean Penn fan to the point where I probably couldn't name the last movie I saw him in. Kidman is also more of the acquired taste, but there was something about Pollack's latest directing effort The Interpreter that drew me to it. And while it's written as almost a commercial for the UN, with plenty of political material to sit around and discuss for awhile after the flick's end, Pollack has created a tense and intriguing thriller.
Politics and movies don't usually make the best recipe for a great movie outing, but luckily there's plenty more to The Interpreter than just political messages. Penn turned in a believable performance as the tired, no-nonsense secret service agent Tobin Keller. Penn displayed an unusually reserved demeanor for the dryer personality of Keller, but gave his character the right amount of sensitivity and humanity to let the audience care for him. Kidman's Silvia was a little more mysterious and complex of a character. And because both leads were considerably troubled characters, and in a lot of ways broken-spirited, they were realistically drawn to each other (and not necessarily romantically). Story-wise, the mystery behind the assassination plot on a dictator's life at the UN made for some tense scenes that helped really carry the film forward. However, some of the character name-dropping throughout the film was a bit hard to follow at times, but the writers did a pretty fine job leaving you guessing exactly what was going on up until the final scenes.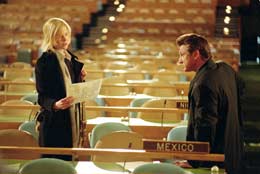 Violence is the film's biggest strike against it. The opening scene shows a room full of dead bodies with varying amounts of blood on their clothing, which is quickly followed by a scene where two people are gunned down (and we briefly see the bullet impacts). Later, in a key scene involving an explosion, we see some characters and dead bodies with varying amounts of blood on them. Language was surprisingly mild, with just a handful of "s" words and a few other colorful ones. In fact, it was so infrequent that when profanity was used, it felt out of place and unnecessary. Finally, we see a brief glimpse of the secret service escorting a political figure in a strip club and we see side-views of a topless dancer trying to touch the foreign dignitary (we very briefly see partial views of the sides of her breasts), as well as a few scantily clad dancers around the bar. It's an unnecessary scene that only feels more pointless due to its brevity.
While the story and the acting was first rate, I actually found the film's editing to be a hindrance at times. Several times throughout the first half of the film, careless editing and even overlooked details were rather noticeable. Whether it was Kidman's hair changing positions each time the camera flashed back to her (indoors in a non-windy environment, mind you) or ending a shot in what felt like the middle of a character's conversation (and not intentionally), it just stood out that the editing seemed rather choppy and sloppy for such a film. And with a strong instrumental score and a quality production, you'd think the filmmakers would spend a little more time on cutting the film together properly, not to mention the little details.
In the end, I found The Interpreter to be a pretty solid and engaging thriller. The violence was significantly intense to warrant a hard PG-13 rating. I was a little surprised at how heavy some of the content was when it didn't really need to be. Overall, it was a gripping thriller, but could have been tamed down a little further.
-
John DiBiase
,
(reviewed: 5/5/05)
Parental Guide: Content Summary

Sex/Nudity
: We see a brief glimpse of the secret service escorting a political figure in a strip club and we see side-views of a topless dancer trying to touch the foreign dignitary (we very briefly see partial views of the sides of her breasts) as well as a few scantily clad dancers in the bar; We see a photo that shows the side view of a naked African boy jumping off a cliff (presumably into a river)

Vulgarity/Language
: 6 "s" words, 2 "J-sus," 2 "g*dd*mn," 7 "h*ll," 1 "G-d"

Alcohol/Drugs
: Tobin drinks some during the film. Some others have some drinks during the film.

Blood/Gore
: Two men enter a stadium and find a room of dead bodies with varying degrees of blood on them (it's disturbing but not especially graphic); We see two men gunned down with blood squirting out as their shot; We see a number of people with some blood on them following a terrorist bombing. Silvia has some blood on her face and neck (which we then see Tobin wiping some off), and later see some dried cuts remain on her face; A dead man is found in a closet with a bruise/slightly blood cut on his eye (we later see a photo of it); A man is found dead in his bathtub filled with water red from blood (briefly seen from a distance). Later we see Tobin looking at a photo of this; A man who's been shot has some blood on his shirt.

Violence
: Throughout the course of the film, we see a room of dead bodies lined on the ground; two men gunned down; a car try to run a scooter off the road (or intimidate the driver of it); a terrorist bombing kill and injur many; a man suffocated presumably to death with a pillow; a dead man in a bathtub; a man shot to death; and brief examples of how people have died written out in a notebook
Disclaimer: All reviews are based solely on the opinions of the reviewer. Most reviews are rated on how the reviewer enjoyed the film overall, not exclusively on content. However, if the content really affects the reviewer's opinion and experience of the film, it will definitely affect the reviewer's overall rating.
To find out why we don't typically review R-rated movies,
click here