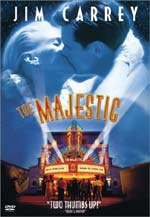 The Majestic


- for language and mild thematic elements.
Director:
Frank Darabont
Starring:
Jim Carrey, Martin Landau
Running Time:
2 hours, 32 minutes
Plot Summary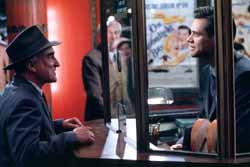 Pete Appleton is a screenwriter in 1951 who has just had his script made into a film featuring his girlfriend. Just as life seems to be looking up for him, he is accused of being a communist and is soon blacklisted and out of a job. Leaving the town that night drunk and in despair, he accidentally runs his car off a bridge and into a river, losing his memory. He awakes to find himself near a small Californian town where he is immediately mistaken for war veteran Luke Trimble who had thought to be lost in the war. He's introduced to Adele, Luke's former love, and the return of Luke's presence brings about a revival to the town that inspires Luke's dad Harry to reopen The Majestic movie theater, a symbol of life to the town. But what will happen if Pete remembers who he is? Or is Pete really Luke who had merely lost his memory? Things only get stickier when the government tries to track down the suddenly missing communist they believe Pete to be.
Whoa. Complicated plot, huh? For those of you who don't know my likes and dislikes, I admit I'm a big Jim Carrey fan. As an actor, the man tends to portray rolls that of the more outcast and underdog types. The Majestic isn't too much different with his character being down on his luck, then forgetting who he is, and trying just to figure out exactly who that may be. Most people know Jim Carrey from his days on the comedy show "In Living Color" and in such hit films as The Mask, Ace Ventura, Batman Forever, Liar Liar, Dumb and Dumber, and The Grinch. He gave fans a taste of his serious side in 1998's The Truman Show and the following year with Man on the Moon. The Majestic takes this avenue again, portraying Carrey in a more everyday kind of role, playing a guy thrusted into an unsual situation and trying to make the best out of it and figure things out. At times he may have seemed a little over-dramatic (Jim Carrey?! Over-dramatic?! No!) Yes. But a different kind. While he doesn't exaggerate his expressions or make a scene ridiculous, he occasionally will lay the seriousness on thick. Of course I didn't really find a problem with it being a Carrey fan, but I wouldn't doubt critics will pick that apart.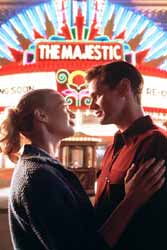 What critics did tear apart is the film's light-hearted sentimental, sometimes sappy, and patriotic film. Why should this be bad? It's not really. I found it refreshing actually. How often do you get to see a rather wholesome movie these days with a feel-good wholesome message that makes you appreciate life or certain aspects of it? The film is well-made and while it may delve into some corny territory on occasion, nowhere does it lose its audience. I left the theater feeling "Wow, that was really good" and just left me with a good overall feeling. Detectable just from the premise, the film is obviously going to be sentimental, but how that could be an issue, I don't know. Perhaps those folks don't think it's chock-full enough with sex, violence, and vulgarities.
Speaking of which the greatest offense in the film is the language. Pete uses the "s" word 3 times (and that is the extent of that for the film), as well as "G-dd*mn" twice. It's easy to say a film like this doesn't fit with vulgarities. It's like watching a black and white old film where all of a sudden Jimmy Stewart tosses out an "s" word or so. Would it seem odd? Of course. Due to the elements of surprise and shock obviously existing in the film, several uses of God's and "Oh my G-d" as exclamations, again easily avoidable as one character even used the more acceptable subsitute "Oh my gosh." If you're going to have an old-time film feel, go all the way.
Violence is minor with Pete being punched by a character and also his car going off the bridge. We then later see him with a bloody cut on his forehead. Sex/nudity is thankfully kept to just one comment. This is minor as well, as Pete tries to explain to those bring accusations on him for attending a communist club in college that the reason was he went just because of a girl. While trying to explain why he'd go just to pursue a girl, he half-jokingly stated it was because he was a "horny young man."
Overall, I really enjoyed this film. It could have been much better if they had cleaned up the language even more, unfortunately did not. As always, please read all the content details carefully. - John DiBiase (reviewed: 12/22/01)
Parental Guide: Content Summary

Sex/Nudity
: As Pete tries to explain to those bringing accusations on him for attending a communist club in college that the reason was he went just because of a girl. While trying to explain why he'd go just to pursue a girl, he half-jokingly stated it was because he was a "horny young man."

Vulgarity/Language
: 3 "s" words, 3 "g*dd*mn," 9 "d*mn," 9 "h*ll," 2 "cr*p," 2 "J-sus," 1 "Chr-st," 8 "G-d," 6 "Oh my G-d," "For G-d's sake"

Alcohol/Drugs
: We see some people drink in the film. In one scene Pete gets drunk at a bar and proceeds to drive around drunk, which helps lead to his accident.

Blood/Gore
: We see a bloody scrape on Pete's forehead. We see a tiny bit of blood on Pete's lip after being punched.

Violence
: Pete's car goes off a bridge into a river where he hits his head. A man punches Pete.
Disclaimer: All reviews are based solely on the opinions of the reviewer. Most reviews are rated on how the reviewer enjoyed the film overall, not exclusively on content. However, if the content really affects the reviewer's opinion and experience of the film, it will definitely affect the reviewer's overall rating.
To find out why we don't typically review R-rated movies,
click here