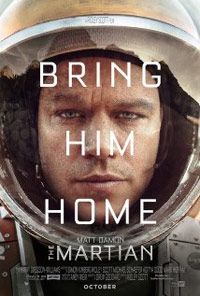 The Martian


- for some strong language, injury images, and brief nudity.
Director:
Ridley Scott
Starring:
Matt Damon, Jessica Chastain, Chiwetel Ejiofor, Jeff Daniels, Kristen Wiig, Sean Bean, Michael Peņa, Kate Mara, Sebastian Stan, Donald Glover, Aksel Hennie
Running Time:
2 hours, 24 minutes
Theatrical Release Date:
October 2, 2015
Official Site
Plot Summary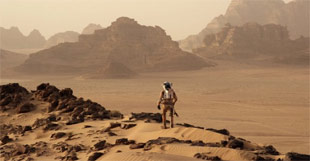 During a manned mission to Mars, Astronaut Mark Watney is presumed dead after a fierce storm and left behind by his crew. But Watney has survived and finds himself stranded and alone on the hostile planet. With only meager supplies, he must draw upon his ingenuity, wit and spirit to subsist and find a way to signal to Earth that he is alive. (from IMDB.com)
Film Review
The mass popularity of space-themed sci-fi films as of late has been rather surprising. It seemed to start with 2013's Gravity, the story of a pair of marooned astronauts that turned into a one-man (err... woman) acting tour de force that earned Sandra Bullock an Oscar nomination. Then, rather unrelated to the success of the aforementioned film, 2014 saw the release of Christopher Nolan's big space odyssey, Interstellar, which hadn't garnered quite as big a reception but was a sight to behold nonetheless. This year, we have The Martian, a film about a scientist marooned on Mars who must find a way to survive before hopefully getting rescued, and it--in a similar way to Gravity--has been quite the hit at the box office already.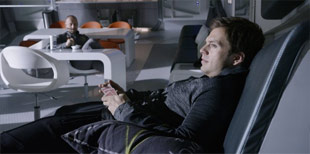 Although Matt Damon carries the bulk of The Martian as the titular character leading many scenes on his own, unlike Bullock and Gravity, there's a whole parallelled story occuring on the Earth's surface as NASA tries to figure out how to bring Mark Watney home safely. Personally, Damon won me over with his Ocean's 11 role and cemented my appreciation for him as an actor with the Jason Bourne series (of which he's currently filming a fourth entry for his filmography). His portrayal of Watney is ridiculously likeable and Damon injects plenty of humor into his scenes (something that was missing from Gravity, in contrast, as they went for a much more dramatic tone). But Damon's charm and humor didn't manage to jeopardize the drama of the story; yet, it's the story happening down on Earth that helps fuel the drama, with the humor being needed relief from the tension coming from both planets. Ridley Scott (Alien, Blade Runner, Prometheus, Black Hawk Down) strikes an incredible balance and also brings fantastic production values to the table. While he does tend to push the PG-13 rating envelope to its limits, he also crafts an interest human story about survival, compassion and loyalty, as well as a rather deep appreciation for science and scientific advancements.
The cast assembled here alone is almost worth the ticket price, and Scott brings out great performances all around (save for maybe Donald Glover's awkward Rich Purnell). It's great to see Jeff Daniels, Chiwetel Ejiofor and Sean Bean verbally sparring and trying to conceive of ways to rescue Watney, while Mark's crew of the Hermes is a likeable bunch of summer blockbuster faces in Jessica Chastain (Interstellar), Michael Peņa (Ant-Man), Kate Mara (Fantastic Four), Sebastian Stan (Captain America: Winter Soldier)and Aksel Hennie (Hercules). And the weirdest thing about The Martian is that there's a warmth to it; even in its loneliest and most desolate moments, there's this inviting sense of camaraderie, and it helps draw us in. But, like most Hollywood productions of this kind, there isn't really any kind of deep spiritual content. A friend who saw the film complained that it was a bit too much like a commercial for science and the study of science, as well as the reliance on mankind's own intelligence and know-how to survive and get the job done. I didn't really see it as quite that arrogant (although Damon plays Watney as playfully over-confident, but I interpreted that as more of him rising to the challenge in order to not succumb to discouragement and hopelessness). One really surprising moment, however, sees Watney carving off pieces from a wooden crucifix as he records a data log and addresses his absent crew. The cross is one of the few sources of wood (if not the only one) that the astronaut has access to on Mars, and he looks at the metallic image of the Savior hanging there and says, "I really don't think you'll mind given my present situation. I'm counting on you." It was a nice little moment, albeit playful, that I think it's a realistic example of the human spirit given such a circumstance. And Damon plays it with sincerity.
Otherwise, the visual effects in the film are truly topnotch and you shouldn't have any trouble believing Watney is actually stranded on Mars throughout this ordeal. The film isn't a spectacle for spectacle's sake (like a lot of summer blockbusters are), but the effects help tell the story, and it makes it a stronger product because of it. The film is also, overall, surprisingly upbeat. Sure there's plenty of tension and suspense, but the humor and end results are not what you probably would expect. Some will most likely find aspects of it wrapped up too neatly in a proverbial bow or even find it predictable at times (and those times are there, sometimes on purpose), but it's one of those movies where the overall production is done so well, the more upbeat vibe does the film more good than anything else. I myself kept waiting for there to be an extraterrestrial twist or for a crew member to go bad for some reason, but the film keeps it surprisingly grounded and it feels more realistic because of it.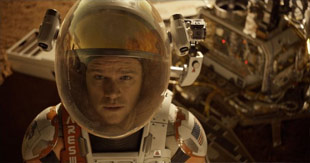 The content for the film is a very hard PG-13. If anything, it feels a lot like it had been a light R at one point and cut down to make it under the PG-13 banner, but just barely. After Watney is impaled by a piece of antenna, the camera lingers on his removal of it and the surgery he perfoms on himself. It feels gratuitously long for us to be watching him take surgical tweezers and pull out shrapnel from the injury. He then ends up stapling the wound in his abdomen shut too. It really didn't need to be so graphic (I definitely got queasy and had to look away, but I'm admittedly still a wuss when it comes to this stuff). That's the extend of the gore or blood in the movie for the most part, and it happens early on, so if you can make it past that scene, the sailing is much smoother, so to speak. Damon audibly says the infamous "F" word twice early on and visibly mouths it in anger twice later without audio. When he starts transmitting with Earth and they type back-and-forth, we see the word written out but edited as "f***ing" quite a few times. There are other uses of language as well, including some blasphemy and several uses of the "S" word. There's one scene of rear nudity when we see Watney exit a shower naked and see his really thin, emaciated frame and his bare butt as he walks away from the camera. It looks like they may have digitally thinned Damon to look a bit starved, but the nudity is still there (albeit not in a sexual manner).
The Martian is one of those post-summer surprises that has a lot to offer while also just being really, really entertaining. Some might find the length of the film to be a bit too much, but Ridley Scott keeps it engaging from start to finish, and the cast just brings it home. Matt Damon is fantastic and a perfect choice for this role. Fans of Damon and the genre will especially not want to miss this one on the big screen!
-
John DiBiase
(reviewed: 10/14/15)
Parental Guide: Content Summary

Sex/Nudity
: Some minor crude comments are made; We see Mark's bare butt and back as he exits a shower while drying off.

Vulgarity/Language
: 2 spoken "F" words, 2 more mouthed "F" words and quite a few written as "f---ing" on a computer screen; At least 8 "S" words, 1 "g*dd*mn," 1 "J-sus Chr-st," 3 "J-sus," 2 "d*mn," 7 "h*ll," 1 "*ssh*le," 7 "G-d," 2 "Oh G-d," 8 "Oh my G-d"

Alcohol/Drugs
: None.

Blood/Gore
: Mark finds a thin rod sticking out of his abdomen when he awakens. We see it sticking out of his suit with some blood soaked through. In the next scene, he pulls out part of the rod and removes his suit and we see a lot of blood soaked through his shirt and on his abdomen. He then sits down, shirtless with the gruesome wound in plain view, and grabs tweezers and proceeds to dig into the wound and pull out a remaining piece of metal. He holds up the small round shard soaked in blood. He then takes a stapler and staples the wound shut. It's focused on, very long, and will likely make some viewers queasy. (Incidentally, after he finishes the surgery, he sits back and simply says the "F" word.); We see Mark talking to a camera and he holds up a couple fingers with blood on them and says a staple fell out (we don't see anything else); Mark has some blood on his chin in a later scene; We see some sores and abrasions on Mark's face and body;

Violence
: While on Mars, the crew of the Hermes are prepping their ship during a rough sandstorm. A satellite dish knocks Mark off his feet and out of sight. With the crew thinking he's dead, they leave him behind; Mark wakes to find an antenna rod sticking out of his abdomen. He then surgically removes it and staples up the hole; Mark tries to make fire inside his homebase and accidentally blows himself across the room. We then see him with singed hair in the next scene; We see a shuttle explode on a NASA monitor; An air leak ruptures part of the Mars base and Mark is tossed around inside of the entrance as it rolls around; The crew of the Hermes deliberately blow up part of their ship to get it to move in space without using fuel.
Disclaimer: All reviews are based solely on the opinions of the reviewer. Most reviews are rated on how the reviewer enjoyed the film overall, not exclusively on content. However, if the content really affects the reviewer's opinion and experience of the film, it will definitely affect the reviewer's overall rating.
To find out why we don't typically review R-rated movies,
click here