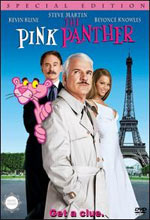 The Pink Panther


- for occasional crude and suggestive humor and language.
Director:
Shawn Levy
Starring:
Steve Martin, Kevin Kline, Beyonce Knowles, Jean Reno
Running Time:
1 hour, 32 minutes
Theatrical Release Date:
February 10, 2006
Official Site
Plot Summary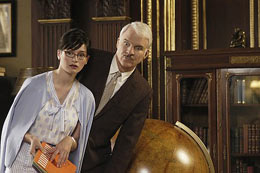 A world-famous soccer coach has been murdered and his priceless ring has been stolen - a ring set with the stunning diamond known as the Pink Panther. The French government needs a master detective to solve the crime and recover the gem... but he's not available, so they recruit Inspector Jacques Clouseau. Comic superstar Steve Martin stars as Clouseau in an all-new adventure of The Pink Panther. A stunning pop star (Beyoncé), a soccer player, a Chinese assassin - who committed the crime? And can anyone solve the case? Clouseau and his partner, Ponton (Reno), must unmask the murderer and keep their boss, Dreyfus (Kline), from taking credit for the victory, all without bringing the French legal system to a screeching halt... (from MovieWeb.com)
Film Review
Casting comedic legend Steven Martin in the role of Inspector Clouseau, made famous by Peter Sellers years ago, seemed strange yet brilliant when announced. The Pink Panther films were classic, somewhat off-color silly murder mysteries about a bumbling French inspector who solves crimes almost accidentally. The films were an acquired taste but popular nonetheless. Martin's modern reinvention of the character takes Clouseau's incompetence to a new level, allowing for plenty of hilarity to ensue as well. Sellers fans may find Martin's take a hard pill to swallow, however, Martin fans will most definitely find the most to like about his rendition. One thing Steve Martin has going for him with this role is his fantastically ridiculous put-on French accent. Nearly every line he speaks comes off much funnier just because of his clever delivery. The slapstick humor of his bumbling schtick as Clouseau is sort of hit and miss, however, but still manages to garner some pretty good laughs throughout the film's duration. It is important to note that this film never takes itself seriously and that much of the humor is over-the-top silly, so those expecting more wit and less goofiness will undoubtedly be disappointed. The Pink Panther was originally slated for a Summer 2005 release and was then postponed to February, 2006, hinting that the film either didn't test well or just didn't turn out with quite the blockbuster flare the studio was aiming for. Does that add up to a February flop? Not necessarily.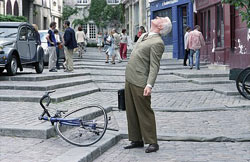 This PG-rated comedy is not without its flaws, though. The film's biggest strike against it is some highly unnecessary suggestive content that might (and probably should) make parents rather uncomfortable to see with their kids. Although the original films contained even more sexual content, this 2006 update skates around some sensitive material. Two sequences involve Clouseau trying to help Nicole with both situations resulting in mistaken sexual encounters by a third party who happens to walk in on them at the wrong moment. While neither are particularly graphic or especially vulgar, the third party's reactions of taking them as sexual make it all the more inappropriate. The worst occurrence of sexual content, however, involves Beyoncé's character Xania mildly coming on to Clouseau, which leads him to escape to the bathroom and break out a lone Viagra pill. The film crosses the line by being so obvious about Clouseau's sexual intentions by going as far as having the aging actor suggest such a performance-enhancing pill for Clouseau. It didn't fit in the film and was just plain inappropriate for the targeted younger audience.
While the silliness of the film and the clumsy antics of Clouseau are undoubtedly over-the-top and even too much at times, I couldn't help but laugh at quite a few of the jokes. Martin brings just enough lovable charm to Clouseau to let you feel for him despite his relentless ignorance. However, when Clouseau finally does get a clue (pun intended), it's almost hard to believe given his oblivious state through much of the rest of the film.
Overall, I must admit I enjoyed Steve Martin's Pink Panther. Fans of Martin's work should enjoy his latest, albeit silly, offering. Those looking for a comedy for the whole family will want to hit the breaks before taking the young ones to this one. There's enough sexual innuendo and suggestive content present to warrant caution.
-
John DiBiase
,
(reviewed: 2/10/06)
Parental Guide: Content Summary

Sex/Nudity
: In the opening animated title sequence, we see a naked cartoon man walk out from a doorway and then a censor blurring appears over his crotch when he realizes he's naked; When Clouseau tries to help Nicole down from standing on a desk, she ends up with her legs around his head and his face in her crotch as he fumbles to put her down. A man walks in and thinks they are doing something sexual (but never verbalizes his assumption); Xania wears a shirt that's open and reveals cleavage and a bra. We also see her wearing dresses that dip low in the front; After she offers to stay and help him work, Clouseau asks Nicole to leave his office because it is late at night and he wouldn't want any of their interactions to be confused as sexual harrassment. When she agrees, he cheerfully replies "Let's seal it with a kiss!" before kissing her and smacking her on the butt as she leaves (played for laughs); After putting an electrical box on his crotch to show how torturous it can be (which we don't see), we see smoke coming from Clouseau's crotch afterwards; When Clouseau asks to see a club owners "big brass bowls," he thinks he's saying "balls," and as he confusedly begins reaching to undo his pants, Clouseau picks up a brass bowl (clueless that the man thought he was saying "balls"); Ponton walks in on Clouseau giving Nicole the Heimlich maneuver from behind and he assumes they are doing some kind of sexual act (they are not); Xania and Clouseau sit in her hotel room talking and she comments that she's heard he knows how to treat a woman. He takes this as a cue to make an advance and heads to her bathroom. Inside, he takes out a Viagra pill but accidentally drops it in the sink. Nothing else sexual happens; Clouseau and Ponton share a bed together (played for laughs) and talk about romance with women; Clouseau states that his email address is "Dr. Knockers."

Vulgarity/Language
: 3 possible muffled "f" words (said as grunts), 2 "h*ll," 1 "b*stard," 3 "G-d"

Alcohol/Drugs
: Some characters have drinks during the film.

Blood/Gore
: We see the Dreyfus's eye is red and swollen after being hit; We see a man in a body cast with some scrapes on his face after an accident

Violence
: Mostly comedic, with the exception of a man being killed by a poisonous dart and another man being shot in the head (but the impact is not seen, however we do see the dead body lying on the ground without graphic detail)
Disclaimer: All reviews are based solely on the opinions of the reviewer. Most reviews are rated on how the reviewer enjoyed the film overall, not exclusively on content. However, if the content really affects the reviewer's opinion and experience of the film, it will definitely affect the reviewer's overall rating.
To find out why we don't typically review R-rated movies,
click here