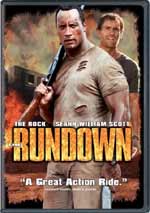 The Rundown


- for thematic elements, violence, some sexual content and language.
Director:
Peter Berg
Starring:
The Rock, Sean William Scott, Christopher Walken
Running Time:
1 hour, 44 minutes
Theatrical Release Date:
September 26, 2003
Plot Summary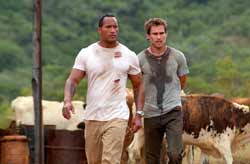 In the always rough, have-to-be-tough urban jungle of Los Angeles, there are men like Beck (The Rock) - well, not exactly like Beck - a man who uses whatever means are necessary to retrieve whatever he is paid to bring back. Beck doesn't go looking for trouble, and he doesn't like making any for anyone, either. Unfortunately, trouble is what he's hired to clean up, and there's one final mess he's got to get out of before he can leave it all behind. And this one keeps getting more tangled, like the Amazon jungle he's been sent to in "The Rundown".
Film Review
The action hero is a person Hollywood has had many of but few successful ones. The two bigger and badder of our heroes that come to mind are clearly Sylvester Stallone and Arnold Swartzenegger. But who these days could possibly ever fill their shoes. Only one man seems big enough to do it, and The Rundown says that it just might be Dwayne Johnson -- known to most as "The Rock".
The Rock was first seen on film in the 2001 sequel The Mummy Returns. His acting job wasn't exactly memorable, but it was enough to make producers believer he could carry his own film in 2002 when they offered him the lead in a prequel to the sequel of a remake, The Scorpion King. The Rock has admitted to taking acting lessons which have payed off as evident in his latest starring role, The Rundown in which he teams with funnyman Sean William Scott. A reviewer I read made a really interesting observation... At the opening of the film, The Rock's character Beck is walking through a party when (literally) Arnold Swartzenegger walks by him, look right at him and in passing says "Have fun". The reviewer commented that it seemed almost as if Arnold was passing the baton from one action hero to the next. And while fans of Arnold wouldn't want to, and in a way can't, compare the two, there really are similarities and The Rundown will make The Rock a movie star.
I'm not really a Sean William Scott fan. I refuse to ever watch those vile American Pie films and I've only ever really seen him in the letdown Evolution. Here Scott plays his signature obnoxious and arrogant character but appropriately. He plays off The Rock very well and they often make a surprisingly fantastic pair-up. Christopher Walken turns in a small but memorable stint as the film's villain while Rosario Dawson who did anything but impress me in Men In Black II does a great job playing the female lead.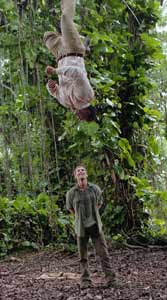 Where this film slips up, however, is in its excessive "Omigosh that's REALLY gotta hurt!" violence. While it's all pretty much action-for-action's-sake and none of it is really for realism or to be taken seriously (for example, there's plenty of wire-work where characters fly through the air when kicked or punched), it's some pretty rough violence with a lot of it being lethal. In a scene where a group of people are raided, the bullets fly in a pretty intense non-graphic scene where several are gunned down (to make the bad guys seem even worse). While blood is used very sparingly, punches, kicks, shots, and explosions are not. So The Rundown adds up to a large testosterone-fueled end product.
I must send many thanks out to the filmmakers for refraining from throwing in any sex or nudity moments or including the typical PG-13 1 f-word along with a barrage of other vile phrases. However, the language still isn't the best while including roughly 11 "s" words and a handful of other offensive words or phrases.
Bottom line is The Rundown is all about The Rock and it's a fun outting at the movies. Unfortunately the film is way too violent for younger audiences and has enough mix of bad language and rough violence to keep them away. While it's not perfect, it's a good addition to the action comedy genre.
-
John DiBiase
(reviewed: 9/28/03)
Parental Guide: Content Summary

Sex/Nudity
: None. We see Travis from behind and handcuffed as he tries to go pee in the jungle and get his genitals out of his pants to go to the bathroom. We see nothing explicit, but we do see him jumping around and wiggling in his attempt; A reference is made to the male genitals; A monkey jumps on Beck and starts humping Beck's clothed body. When stuck in a bad situation later on, Beck makes a lewd joke about longing for a monkey like that (rather than being in their situation).

Vulgarity/Language
: 11 "s" words (1 mouthed), 2 uses of "g*dd*mn", 1 "Christ", 4 "d*ck," 6 "a" words, 4 "a-h*le", 6 "h*ll", 2 "S.O.B.", 1 "d*mn", and 2 "G-d"

Alcohol/Drugs
: We see some people drink or smoke; Some characters eat a fruit that causes hallucinations.

Blood/Gore
: Beck has some blood on his lip after a fight; We see the close-up of a man's hand as he's stealing money and when he's caught we briefly see a whip tear the skin on his knuckles; Travis has some blood on his face after a fight. Beck has some small bloody cuts on his chest and shirt from that fight; We briefly see a wounded soldier who has some blood on his arm; Travis and Beck have blood on their faces after a fight.

Violence
: A lot. An amazing amount of punches, kicks, and other hand-to-hand violence. There are also many lethal deaths caused by fire arms; some explosions.
Disclaimer: All reviews are based solely on the opinions of the reviewer. Most reviews are rated on how the reviewer enjoyed the film overall, not exclusively on content. However, if the content really affects the reviewer's opinion and experience of the film, it will definitely affect the reviewer's overall rating.
To find out why we don't typically review R-rated movies,
click here