Film Review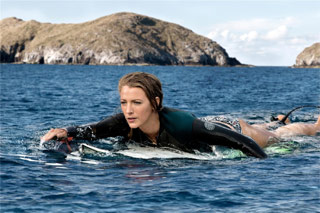 When you think of a "shark movie," chances are your thoughts immediately go to Steven Spielberg's 1975 groundbreaker Jaws (but I suppose it's forgivable that in this day in age, you might think of the Sharknado films first). For the past 40 years since Jaws, there have been all kinds of shark-centric films--big and small--and the latest thriller, titled The Shallows takes a minimalistic and personal approach.
In the same way that Gravity was largely a one-person show for Sandra Bullock, The Shallows finds actress Blake Lively spending most of the film all by herself trying to survive. In fact, the struggles and survivalist aspects of Gravity would be a great parallel to what you can expect from The Shallows.
The story finds Nancy, a med student, taking a trip to a remote beach by herself, trying to find the "secret beach" her mom visited when she was pregnant with her. Along the way, she meets a few surfers and generally has nothing to fear out on the waters. However, much to her surprise, she discovers a whale floating nearby, half-dead and partially eaten while being pecked at by birds. And before she can make it back to shore, a shark attacks her, leaving a gash in her leg. She then seeks refuge on a large rock to keep herself out of the shark's range, and the fight for survival begins.
For a movie that's really just about a woman trying to survive a life-threatening shark attack, the plot offers enough backstory about Nancy and even her occupation that gives her reason to fight. Through calls and texts with her family (which are represented as floating displays on the screen so we're not just staring at her phone for long segments at a time), we learn about how she and her sister had lost their mother in a fight against cancer, which inspired Nancy to take this trip and even question whether it was still worth completing her med school degree. It's enough fuel to give her valid motivations, and it also gives her the knowledge she needs to nurse her own wounds (which has her talking to herself as if she were practicing on a patient and it feels like a natural thing for someone in her situation to do). The only thing that didn't really work as well as the filmmakers probably hoped is an excessive use of slow motion filming. It dragged the movie out probably a few minutes longer in an attempt to just lengthen what is already a rather short film (it's a few minutes shy of an hour and a half). The slow motion was great in certain moments, but after a while, it felt like it was just a weak attempt at building tension when it wasn't always necessary. Otherwise, the scenery is beautiful and some cool edits and shots make it a visually appealing film.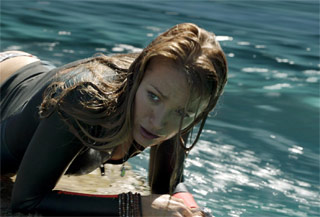 The content is fair for the PG-13 rating. There's hardly any language, but Nancy does utter an oddly utilized "F--- you!" to the shark later in the film. There's plenty of shark-attack-themed tension and violence, but it's seldom directly graphic. The worst moments are when we see some close-ups of the wound on Nancy's leg and then her attempting to close the wound by using sharp earrings through the skin (yeah, it's as gross as it sounds). Another shark victim is also shown clawing up the sand on the beach with bloody bites taken out of them. We then notice the body of the victim is split into two pieces at the waist as they continue to crawl away from the lower half. Otherwise, there are some other shark attacks, but they're not gory or bloody.

If Jaws is too graphic for you, The Shallows is probably a little tamer, but there are still some pretty intense and bloody moments to endure. Blake Lively is wonderful in this one-person show that really gives her a chance to show off her acting chops. It's certainly not a perfect film, with some film techniques being questionable and some of the finale feeling slightly too big for the movie that preceded it, but overall, it's a great thriller that should appease the appetites of hungry shark film fans.

- John DiBiase (reviewed: 6/29/16)

Parental Guide: Brief Summary of Content

Sex/Nudity: We see Nancy in a two-piece bikini through most of the film, so we see a great deal of cleavage and briefly see the top of her butt crack when she pulls down her pants to reveal the bikini underneath.


Vulgarity/Language: 1 "F" word, 2 "S" words, 2 "Oh G-d," 1 "Oh my G-d"


Alcohol/Drugs: We see a man lying on the beach who appears to maybe dead. But then he stands up and drops a half-empty bottle of liquor. It's then obvious that the man is heavily intoxicated.


Blood/Gore: We see a dying whale floating in the water with birds pecking at it. We see large, bloody gaping wounds on it. Later when Nancy tries to climb onto it, she is forced to grip some of the wounds to pull herself onto it; A shark bites Nancy's leg and pulls her into the water. We see her descend through a cloud of her own blood in the water; We see close up shots of the shark bite wound on her leg. When she pulls herself to safety, she removes her pointed earrings and pushes them through the skin in the wound to try to close it. She also makes a tourniquet around her leg; Later, we see the wound again as she cuts her wet suit and uses it as a pressure bandage around it; Nancy's feet and leg turn purple from the tourniquet and gangrene; Little crabs crawl around and then on Nancy. She smashes one, tries to eat it but gags and spits it out; An intoxicated man goes into the water and we hear him screaming. Despite her trying to warn him, Nancy is forced to watch from a distance as he's attacked by the shark (we don't see her perspective, just her reactions). Later we see the man trying to pull himself onto the shore and we see bloody bites on his torso as his torso pulls away from his severed lower half which is also missing parts of his legs; A bird on the rocks near Nancy has a little blood on its wing and appears injured. At one point, Nancy sets the bird's broken wing; We see some red sting marks on Nancy's shoulder from jellyfish; Nancy's wounded leg is discolored for much of the latter half of the film.


Violence: A boy finds a broken helmet with a GoPro camera attached washed up on shore. He watches the footage which shows a shark attacking two swimmers; Nancy finds a dying whale floating in the water with birds pecking at it; Little crabs crawl around and then on Nancy. She smashes one, tries to eat it but gags and spits it out; Despite her trying to warn him, Nancy is forced to watch from a distance as he's attacked by the shark (we don't see her perspective, just her reactions). Later we see the man trying to pull himself onto the shore and we see bloody bites on his torso as his torso pulls away from his severed lower half which is also missing parts of his legs; Two surfers head out into the water the morning after Nancy's attack. We see one get taken down by the shark while the other swims away and then disappears under the water. We then see him pop out of the water, trying to climb onto the rocks with Nancy, but he's pulled back under; A bird on the rocks near Nancy has a little blood on its wing and appears injured. At one point, Nancy sets the bird's broken wing; Nancy fires flares at the shark and ignites whale oil that has leaked into the water, causing fire to appear on the water's surface; The shark tries to get Nancy as she seeks refuge on a bouey as the shark viciously attacks it.

Disclaimer: All reviews are based solely on the opinions of the reviewer. Most reviews are rated on how the reviewer enjoyed the film overall, not exclusively on content. However, if the content really affects the reviewer's opinion and experience of the film, it will definitely affect the reviewer's overall rating.

To find out why we don't review R-rated movies, click here