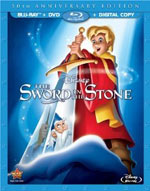 The Sword in the Stone


Director:
Wolfgang Reitherman
Starring:
voices of Sebastian Cabot, Karl Swenson, Rickie Sorensen
Running Time:
1 hour, 19 minutes
Theatrical Release Date:
December 25, 1963
Blu-Ray Release Date:
August 6, 2013 (
Amazon.com
)
Plot Summary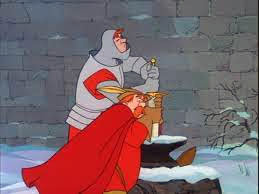 Disney proudly presents the 50th anniversary edition of a spellbinding and beloved animated classic. Conjure up magical family fun with the humor, adventure and Academy AwardŽ-nominated music (Best Score - Adaptation or Treatment, 1963) of The Sword In The Stone - now on Blu-ray Combo Pack for the first time ever! (from Click Communications)
Film Review
When I think of Disney animated classics I grew up on, it's films like The Sword in the Stone that encapsulate my view of what a Disney animated classic looks, feels, and sounds like. The Sword in the Stone is a magical spin on the legend of King Arthur that follows the iconic character from his days as a preteen when he first meets Merlin. Merlin knows that the scrawny little Arthur--who is called Wart by his family--is destined for greatness, even if no one else seems to. The legend goes that the future king of England would be revealed as the one who can pull out a magical sword that's embedded in an anvil. Merlin knows Arthur is that future king and decides to take him under his wing to get him prepared for his destiny.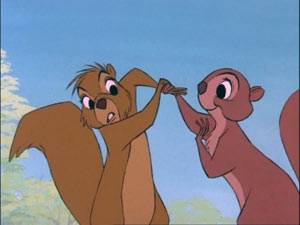 It's been so long since I've seen The Sword in the Stone; I only remembered little moments in the story--mostly from the film's finale. What I didn't realize is how much The Sword in the Stone is about Merlin training Arthur to grow from a boy into a young man, instilling him with good values and life lessons. To do so, he uses his magical powers for good and actually changes Arthur and himself into different animals at different times to give him a variety of challenges--some even life-threatening. While this makes for some entertaining segments, like Arthur and Merlin as fish, squirrels and birds, the movie tends to feel like not much is really happening. There's almost an aimlessness to the story because you might feel like an hour has gone by without much having actually happened to progress the story. You know the sword in the stone will come into play in the story at some point, but you may be disappointed when you realize that it's not until the film's final moments, and Arthur doesn't have any climactic battle as the newfound king of England. In the meantime, the movie really is primarily just Merlin schooling Arthur, so to speak. But don't get me wrong; this story is a fun one, and it has a far more upbeat tone than other Disney classics I've rewatched recently, like Robin Hood and Oliver & Company. The main concern for some parents, however, might be the magical elements. But the story portrays the magic as far from realistic, and the story is so "out there" that it never feels tangible or anything more than entirely fantastical. The songs in the movie, however, which were written by the legendary Sherman Brothers, are fun ones and memorable as well. The overall experience of The Sword in the Stone is a delightful one, and one most families should be able to freely enjoy.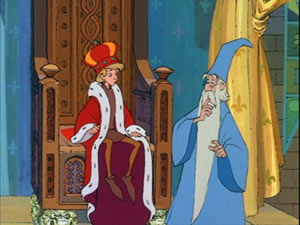 The finale involves Merlin and a witch duking it out using their magical powers. It ends up being a barrage of animals and creatures that they turn themselves into to "fight" one another, and it's more amusing than menacing or scary. Still, some aspects of the witch, Madam Mim, may be a little creepy to some young viewers (I'd imagine), but she's far less sinister than most other animated villains. Still, throughout the movie, there are wolves and other predators chasing our heroes, so it's not without its share of life-threatening moments, but, again, the tone of The Sword in the Stone is kept fun and light. The wolf that keeps trying to get Arthur (unbeknownst to Arthur) is often painted more goofy than menacing. In, The Sword in the Stone, you'll root for the underdog with Arthur's potential for becoming the heroic King Arthur, and the story is even a bit inspirational as a character calls Arthur's success in removing the sword from the stone as "a miracle ordained by Heaven." It's just pure Disney fun.
It's been 50 years since Disney brought The Sword in the Stone to the big screen, and the movie still holds up nicely in 2013. It's certainly not for everyone, and some kids may find it a bit slow at times, but the fun, magical moments and the furry animal-filled storyline is a Disney treat that's well worth experiencing [again] half a century later.
-
John DiBiase
(reviewed: 8/5/13)
Blu-Ray Special Features Review
The Blu-Ray debut of
The Sword in the Stone
offers a DVD along with it and a digital copy to download. Along with the beautifully remastered picture on the Blu-Ray disc are the following bonus features...
Music Magic: The Sherman Brothers (8:00) - The Sherman's talk about writing the music we hear in The Sword in the Stone. In addition, we get to hear deleted songs from the movie! The first is an anthem for the dumb knights who sing "The Blue Oak Tree," while the second is called "The Magic Key." It's neat to hear some song ideas that these musical geniuses otherwise would never have been able to share with audiences.
Alternate Opening Where Wart Meets Merlin (4:02) - This is shown in animated storyboard form. The alternate opening establishes a different kind of villain with Madam Mim and a pet raven she uses as a minion of sorts. It's actually a pretty different opening concept and I'm glad they didn't use it.
All About Magic (Excerpt) (7:19) - This is a piece of a black-and-white classic TV special where Walt Disney hosts a tongue-in-cheek look at magic and tricks. It's pretty silly and a treat to see this old footage included here.
Brave Little Tailor (9:01) - There are two classic Disney cartoons included on here as well. This fan favorite tale features Mickey as a tailor who is mistaken as a giant killer. It's awesome that they included it here.
A Knight for a Day (7:06) is a Goofy cartoon where the character plays Cedric, who is a servant to a knight. When the knight is hurt, however, Cedric fills in for his master in hopes of winning the hand of the princess.
-
John DiBiase
,
(reviewed: 8/5/13)
Parental Guide: Content Summary

Sex/Nudity
: A female squirrels flirt with Arthur as a squirrel and Merlin says he doesn't have time to explain it (love and the reasons why the girl likes him); A female squirrel gets frisky with Merlin when he's squirrel. She wraps her tail around him and tries wooing him, much to Merlin's dismay.

Vulgarity/Language
: None.

Alcohol/Drugs
: We see characters toasting glasses with pink liquid in them.

Blood/Gore
: None.

Violence
: Kay tries to shoot an arrow at a deer but Wart falls off a tree branch and causes him to miss; Wart falls in the woods and a wolf follows him in hopes to eat him; Wart falls off a tree into a chair in Merlin's house; The wolf keeps trying to bite Arthur's legs but he moves just in time. The wolf then falls into a stream and slides into a rock. A boulder then narrowly misses him. He follows them up a hill and then passes out from exhaustion; Merlin hits Archimedes on the head with his staff; Arthur drops a pile of dishes and they crash on the ground; Kay practices jousting and goes flying into the castle tower; Kay has a black eye; Merlin Arthur on the head again twice; A huge fish tries to eat Arthur, who's a fish, and chases him. It then gets its jaws caught in a chain loop; Arthur picks up an arrow off the sea floor and jabs it into the creatures open mouth; The fish chases Arthur and Archimedes intervenes and gets bitten on the toe. They continue to struggle and chase, and Archimedes hits a tree and Arthur flops onto land; A bird pecks squirrel Arthur's head twice; A female squirrel slams squirrel Merlin into a tree; As a squirrel, Arthur falls off a tree limb and the branch lands on the wolf's head; The girl squirrel bites the wolf when he tries to get Arthur. She causes the wolf to roll down the hill into the pond and he's hit on the head by a log; Merlin falls out of the tree into brush; Ector and Kay spar swords. He accidentally hits Kay on the head with his sword and attacks the magical self-cleaning dishes that Merlin cast a spell on. Ector shatters dishes and even breaks his sword. Magical brushes roughly scrub his face; Kay slices a broom handle in half; Archimedes (an owl) stomps on Arthur's head while he's standing on it; A hawk chases Arthur as a bird. Archimedes pulls a tail feather out of the hawk. Arthur falls down a chimney; Madam Mim chases Arthur as a sparrow and throws him into a dartboard. He pokes her in the nose with his beak; Mim slaps Merlin's face repeatedly; Mim as a crocodile bites Merlin's hat and he, as a turtle, bites her finger. She then bites off his bunny tail; As a chicken, she bites him when he's a caterpillar. Merlin turns into an elephant and lands on top of her; While she's a snake, he causes her to bite her own tail and then he hits her on the head with a rock. As a crab, he tries to nip her neck. As a rhino, she charges him and ends up in a tree. He turns into a goat and punches her into the ground. She surfaces as a dragon and tries to burn him while he's a mouse with her flames. She thinks she's killed him when Merlin infects her as a virus; Arthur drops his plates again; Merlin angrily kicks a table in his room; Two horses and knights collide while jousting; We see two knights sword fighting; Kay chases after Arthur and swings at him and he trips as he runs.
Disclaimer: All reviews are based solely on the opinions of the reviewer. Most reviews are rated on how the reviewer enjoyed the film overall, not exclusively on content. However, if the content really affects the reviewer's opinion and experience of the film, it will definitely affect the reviewer's overall rating.
To find out why we don't typically review R-rated movies,
click here