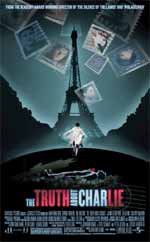 The Truth About Charlie


- for some violence and sexual content/nudity.
Director:
Jonathan Demme
Starring:
Thandie Newton, Mark Wahlberg, Tim Robbins
Running Time:
2 hours, 4 minutes
Plot Summary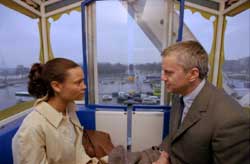 Regina Lambert is the young wife of art dealer Charlie Lambert... or so she thought. When Charlie turns up dead and with a past as confusing as the ending of Wahlberg's film Planet of the Apes, Regina finds herself heir to a long list of enemies who want a small fortune she supposedly has. After running into a stranger named Joshua Peters, who incidently continues to show up at usually just the right times, she soon learns she can trust no one as her life becomes further jeopardized and the world around her becomes less certain.
Film Review
It wasn't too long after I caught most of the 1963 film Charade on TV late one night before I learned of a remake in the works. Now as most people know, remake films usually aren't anywhere near as decent or wonderful as their predecessors. This held true for The Time Machine and the ridiculously stupid Mr. Deeds, while the Ocean's 11 proceeded to exceed all expectations. However, in 2002, confused and misguided director Jonathan Demme decided it was time to remake the Cary Grant / Audrey Hepburn classic Charade with none other than the frightened yet decent Thandie Newton and the stale and wasted Mark Wahlberg. While no single actor today could pull off the charisma and charm of Grant's characters, there aren't many who can create as memorable a roll in this film either. And while Newton did a decent job in Hepburn's shoes, she completely lacked the sweet and lovable spirit that Hepburn possessed. With that, let's take a look at this cinematic mess, shall we?
What better way to kick off a 1963 Grant/Hepburn remake than with senseless nudity? The film opens in a baggage car where the audience is immediately greeted by a woman's nearly completely bare rear end and a side-view of her bare chest as she dresses apparently following a liaison with Charlie. Completely pointless and ridiculously unnecessary, the film gets off to this rocky start and never really recovers. From hand-held and nausea-inducing camera movements to misguided camera tricks in a pathetically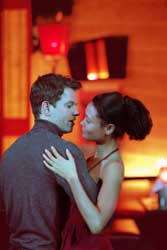 and pointless attempt at making it artsy, Demme doesn't just ruin the film he's tributing, he's desecrating it! What made Charade work so well was the chemistry between Grant and Hepburn as well as a "who done it?" plot and intriguing characters. What's offered in this remake some 39 years later is an assortment of mediocre actors trying to make due with a poorly written script and a butchered rendition of the original story. Demme took Charade, tossed out the slow character-building scenes, humor, and anything that made sense at all, and haphazardly threw in a few characters and story changes that did nothing but hurt the outcome. For instance, the flashback scenes were some of the most poorly produced pieces of film I've seen to hit the big screen yet. Although I haven't seen it, from what I do know about it, it makes the Blair Witch Project look like big budget filmmaking. To make matters worse, as if part of a bad dream, a French vocalist suddenly appears IN the film while the music is playing as part of the soundtrack and sings to the screen as if we were watching a music video. If you think that's bad, well... it happens twice! As if it matters at this point, the violence in the film is moderate. We see a prolonged shot of a person with blood on their face after being hit by a car in what unfolds as a pretty stupid sequence. We later see some blood on a person's head as they lie in an elevator and Joshua has some blood on his face that drips down the side of his head in the rain. Language is thankfully mild with just 2 "s" words which when finally uttered feel sorely misplaced. More senseless partial nudity occurs when we see Regina disrobe through a translucent bathroom drape and we see the outline of her nude body briefly.
There's no sense going on any further as if you choose to see this film, you're in for a complete waste of time. Please rent Charade instead of this film, but be warned that there is some mild violence in that film, but that's all.
-
John DiBiase
,
(reviewed: 11/1/02)
Parental Guide: Content Summary

Sex/Nudity
: The film opens in a train car and we see a woman dressing apparently after having sex and we see her pulling pantyhose up onto her mostly bare butt. As the camera pans up we see a brief glimpse of a side-view of her bare chest. Regina wears revealing outfits almost exclusively throughout the movie including a tight-fitting shirt and panties in one scene. In another scene we watch Regina getting into the shower through a thin curtain and as she disrobes we see the shape of her nude body. We see Jeanne in bed with a man when she gets a phone call that disrupts them, but we don't know if they were sleeping or doing something else.

Vulgarity/Language
: 2 "s" words, 1 "G-d," 1 "h*ll"

Alcohol/Drugs
: Some characters have wine during the film.

Blood/Gore
: We see a prolonged shot of a person's bloody face after they've been hit by a car. Regina finds a body in an elevator with blood on the sides of their head. We see blood on the side of Joshua's head which later runs down his face as he stands in the rain.

Violence
: A person is killed on a train (not seen), a person is hit by a car (the impact is not seen), A man fights another man, some people are held at gun point.
Disclaimer: All reviews are based solely on the opinions of the reviewer. Most reviews are rated on how the reviewer enjoyed the film overall, not exclusively on content. However, if the content really affects the reviewer's opinion and experience of the film, it will definitely affect the reviewer's overall rating.
To find out why we don't typically review R-rated movies,
click here