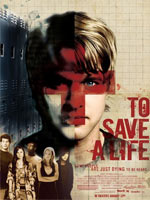 To Save A Life


- for mature thematic elements involving teen suicide, teen drinking, some drug content, disturbing images and sexuality.
Director:
Brian Baugh
Starring:
Randy Wayne, Deja Kreutzberg, Joshua Weigel
Running Time:
2 hours, 0 minutes
Theatrical Release Date:
January 22, 2010
Official Site
Christian Film Database Page
Plot Summary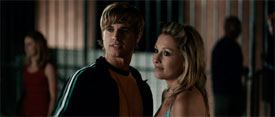 Jake Taylor has it all: friends, fame, a basketball scholarship and the hottest girl in school. What could be better? Enter Roger Dawson. Roger has nothing. No friends. No hope. Nothing but putdowns and getting pushed aside. Things couldn't get worse...could they? Jake and Roger were best friends when they were kids. But the politics of high school quickly pulled them apart. Now Roger doesn't fit in Jake's—or anyone's circle—and he's had enough. He walks onto campus with a gun in his pocket and pain in his heart and makes a tragic move. Jake's last-ditch effort can't stop Roger, and the sudden tragedy rocks Jake's world. Something breaks loose inside and sends him questioning everything. Most of all, he can't shake the question, Could I have saved Roger? In a quest for answers, Jake finds himself looking for the next Roger and reaching out to the outcasts and lonely. But he quickly finds that crossing class castes threatens all his world is built on. And it could cost him his own friends, his girl, his dreams and even his reputation. Is it worth the price to find the answer to his ultimate question: What do I want my life to be about? (from ToSaveALifemovie.com)
Film Review
Longtime cinematographer Brian Baugh takes a crack at the director's seat for the first time with the inspirational teen drama, To Save A Life. The film takes a deep look into the social scene of the teenage years as a successful basketball player with a shot at a scholarship to the school of his dreams has his world turned upside down when a childhood friend brings a gun to school one day and takes his own life. Randy Wayne stars as the film's central character, Jake Taylor, who starts questioning the world around him after his friend's death.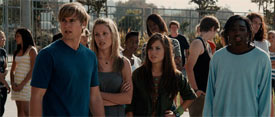 With all of the school shootings in recent years, the plot of To Save A Life is undoubtedly a timely one. Peer harassment and cruelty is something that has been around seemingly forever, and To Save A Life dedicates its story to facing the matter head-on. But the focus of the story doesn't end there. A youth pastor, named Chris, who had conducted the suicide victim's funeral tracks Jake down and encourages the teen to contact him if he needed someone to talk to. After a big teen party goes awry, Jake reluctantly decides to call the pastor to get him out of a jam, and the youth's exploration of faith begins. The way To Save A Life handles faith is done really well too. Taylor doesn't buy into all of it right away, but he becomes intrigued by the fact that Chris took the time to reach out to him... and shares similar regrets about not being able to help the boy who killed himself. To Save A Life never feels preachy, and it takes great measures to even expose how two-faced many Christians can be. There isn't a perfect person in the bunch, but even the film reinforces the truth that Christianity is an individual, personal relationship with God as Father, and not based on other's representation of it.
But because the film shows the ugly side of both the popular/party scene as well as the imperfect Christian community, To Save A Life rightfully earns its PG-13 rating, but it doesn't go any farther than it has to. The film's edgiest moments are mainly within its first quarter, when Jake is rooted in the party scene, and we see him and his friends get trashed at a big party with underage drinking. This then leads to him and his girlfriend slipping into another room to sleep together. In a darkly lit scene, Jake removes his shirt and the two lay down on the bed together, but the scene ends just about as quickly as it begins. It's long enough to get the idea and isn't intended to be romantic or erotic. There's some minor scuffles in the film as well, but the worst of the violence is a brief scene where we partially see a kid cutting himself with a razor blade and there is a little bit of blood along his wrist.
But that brings to mind what is probably the biggest problem with To Save A Life. The film's story tries to fit just about every teen issue into the mix to make sure everyone can relate somehow. References to teen suicide (which is the biggest topic), parental divorce, teen pregnancy, cutting, underage drinking, peer acceptance, and even drugs are covered within the two-hour running time. These are all relevant and realistic topics, but it feels a bit like we're getting the kitchen sink thrown at us. By the end of the film, the focus of the story seems to be derailed a bit, but director Brian Baugh is careful to keep the focus in the right place right before the credits roll. Peer harassment and teasing is one of the biggest issues, and the film might border a little too much on viewing it idealistically when it comes to how it can be helped and prevented, but it remains an encouraging story to remind kids how important it is to reach out to each other - and especially as believers. It might not take much to change, or even save, a peer's life.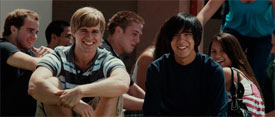 The edgy nature of To Save A Life will certainly offend some, but it's clear this is not the intension. The objectionable content (i.e. the kind of material that wins the film its PG-13 rating) isn't there for shock value or even just to be more realistic, but it does help the film feel more grounded in reality. Some of it was probably still not necessary (Including some of the music used. One of the background party hip hop tracks appeared to use "b*tch" several times), but if it were really going for realism, the film would have had to be R instead. As it is, as a PG-13 film, To Save A Life is suitable for most teens and will be a great discussion starter for its target audience.
Before watching it, I had been pretty prepared to write off To Save A Life as yet another poorly done, poorly acted, and overly preachy "Christian film," but I was surprised by how well done I found it to be. The acting is some of the best you'll find in a Christian film today, with Wayne doing a solid job of carrying the film as the lead, while Joshua Weigel plays the youth pastor, Chris, as one of the more honest, real, and likeable pastors I've seen played on screen. To Save A Life isn't a fluffy film, but it asks some really tough questions and targets some really big and serious issues. While it might bite off more than it can chew, it still manages to get the job done.
-
John DiBiase
,
(reviewed: 1/21/10)
Parental Guide: Content Summary

Sex/Nudity: While busting on each other, Doug makes a joke to another kid that his mom "got him" and she's an attractive woman; At a party, Jake and Amy move to a bedroom and start making out. Jake takes off his shirt, and the two fall down on a bed. The scene cuts from there and then back to her tying the back of her shirt up and Jake lying shirtless in bed. She tells him the cops have arrived to bust the party and he tells her they should "do it again" and that she knows she wants it; We then see him putting his clothes back on before he leaves; Amy makes a remark to Jake about making love to her on Saturdays and confessing on Sundays; Doug makes a comment to Jake that he will be "banging" a girl that night; We find out that a girl is pregnant; We find out a married man is having an affair; We see a drawing that calls a girl the "ho-comeing queen" because she is pregnant; Doug calls a girl a "slut" several times


Vulgarity/Language: 1 "a" word, 5 "h*ll," 2 "d*mn," at least 3 "b*tch" (in a song); 3 "suck," 2 "cr*p," 1 "banging" (sex)


Alcohol/Drugs: Jake and Amy (who are teens) drink wine at a picnic; We see a post-game party with a keg and mass teen drinking; We see a preacher's kid smoking pot with his friends; We see Jake and Amy with friends at another big teen drinking party. Jake plays beer pong with a guy at the party; We see a kid with a bottle of pills, but he doesn't use them


Blood/Gore: A kid throws up in the garbage from drinking too much at a party; We see cutting scars on a boy's wrist; We see a boy dragging a razor across his wrist and some bloody cuts on his arm


Violence: We see a young boy push another young boy out of the way of a car, causing him to be hit. The accident gives him a limp for the rest of his life; A boy brings a gun to school and fires it in the air, causing everyone to run out; The person with the gun then shoots himself; A boy punches another and throws him against a locker; We hear that there's a bomb threat against the school, but learn that it was fake
Disclaimer: All reviews are based solely on the opinions of the reviewer. Most reviews are rated on how the reviewer enjoyed the film overall, not exclusively on content. However, if the content really affects the reviewer's opinion and experience of the film, it will definitely affect the reviewer's overall rating.
To find out why we don't typically review R-rated movies,
click here