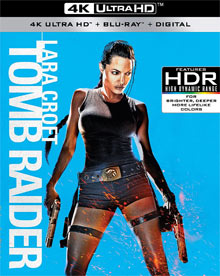 Lara Croft: Tomb Raider


- for action violence and some sensuality.
Director:
Simon West
Starring:
Angelina Jolie, Daniel Craig, Jon Voight
Running Time:
1 hour, 40 minutes
Plot Summary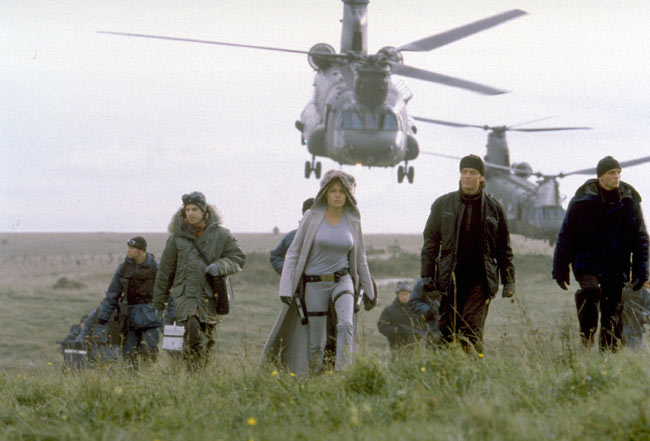 Lara Croft is an adventurous heiress who resides in a mansion in London with her butler and techno-geek friend. A fearless tomb raider, Lara discovers a mysterious clock which appears to be a key to unlock powers that if fallen into the wrong hands could mean devastation to the world. When Manfred Powell, a so-called 'lawyer' learns of Lara's discovery of the key, it soon becomes a battle between good and evil over who will gain the powers...
Film Review
You have to wonder why they keep insisting on making full-length feature films out of popular video games. Sure it may sound like a good idea at first, but it never turns out well on screen. The Mario Brothers was awful. Wing Commander flopped big time. The Mortal Kombat films were laughable. But why does Hollywood get this idea that video games would make great films? Games are meant to be an interactive experience, not a feature-length film. They're usually thinly-written basic plots that merely serves as a platform for the player to become the main character and guide them through an adventure. When the game becomes a movie, it's more or less like watching someone else play the game.
With that said, here's my take on Lara Croft: Tomb Raider... the movie based on the computer game, Tomb Raider. Academy Award Winner Angelina Jolie fills in the shoes, or should I say boots of the treasure-hunting beauty Lara Croft. The script Angelina is given to work with is flat, weak, and overtly simple. The outcome is basically a simple-minded action/adventure film. In actuality, this is fine if you like this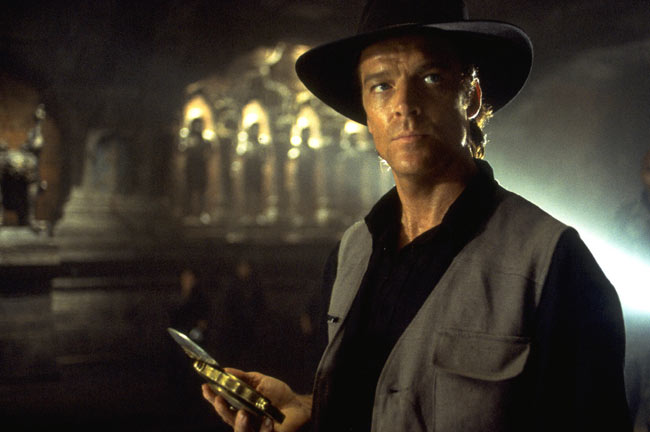 kind of movie. In essence, The Mummy Returns is pretty much such a film, but Tomb Raider has the desire to be a whole lot more. As you watch it, you can't help but wonder how much better it would be with smoother directing, better script, better plot, and more engaging action sequences. Your villian is typical. What some would probably deem the "cookie cutter bad guy." Nothing like putting Lara Croft up against a man completely set on world domination, eh?
But something saved this film from complete ruin for me... I have no clue what it is, unfortunately. It certainly wasn't boring. It was a mindless fun film for the adventure-loving kid in us. Maybe it has something to do with the fact that I had read countless reviews for the film, prior to seeing it, that completely tore apart and rendered the movie worthless and gut-wrenchingly unwatchable in my mind, so by the time the film ended for me, I wondered exactly why it was guillotined in the way it was. Of course, I agree the plot was weak, the dialog seemed written by a 7 year old (no offense to any 7-year-olds), and the directing made some intense scenes seem a little "ho-hum" at times. Another thing that hurt this film, was a lot of seemingly borrowed aspects in the film. For instance, Jolie jumps from a waterfall to escape capture as Harrison Ford did in The Fugitive. And one action sequence looks as though it was composed after the author had just watched the 1999 version of The Mummy. Although a lot of critics frowned upon this, it didn't bother me as much as it did them. But I could still see their point.
As far as content goes, the film wasn't all too bad for a PG-13-- especially with how 'sensual' the overall presence of Lara Croft is supposed to be. With that said, we see her taking a shower (mainly from the shoulders up), and after she gets out and wraps a towel around herself, she throws it off, and we see parts of the sides of her bare chest, but nothing further (and it's brief). There is also a scene where a man steps out of the shower nude to check to see if someone had invaded his home, and we see him from the navel up, but also see other people's reactions to his nudity (with no explicit nudity shown). Language was pretty mild with only about 4 "s" words, and blood and gore was limited to blood dripping down Lara's arms and hands as she catches a knife. Violence is high but not too graphic as people are shot, kicked, punched, stabbed, and are affected by other assorted random acts of violence.
Overall, I thought the movie was OK. It should have and could have been a whole heck of a lot better... but it's not. It's good brainless fun entertainment if you don't expect much and are in the mood for improbable action/adventure. But with all taken into consideration, I grant Lara Croft: Tomb Raider 1 and a half stars. Please read all the content details carefully.
-
John DiBiase
(reviewed: 6/17/01)
Parental Guide: Content Summary

Sex/Nudity
: Lara is shown taking a shower, with water pouring over her in a head and shoulders view, but filmed in a sort-of sensual way. Afterwards, we see her in just a towel, which she drops while talking to the butler. As she turns and looks back at him, we see the sides of her bare chest. In another scene, we briefly see Alex in the shower, with no explicit nudity. Still nude, he walks into a room, with a table blocking a view of his crotch.

Vulgarity/Language
: 4 "s" words, 2 "h*ll," 1 "a" word, 1 "Oh my G-d," 1 "My G-d," 1 "For G-d's sake"

Alcohol/Drugs
: A man has a drink. 2 men in a photo appear to have drinks.

Blood/Gore
: A dog jumps through what is called a "time storm" portal, and as it goes through, we see it change from a normal dog to a skinned, muscular layer, and then just bones, before returning to a normal dog as it comes out. We see Alex's face has a little scrape on it. In slow motion, a knife travels through the air. In real-time, Lara grips the blade end of the knife and struggles to turn it as it moves in slow motion, thus slicing up the insides of her hands, resulting in quite a bit of blood running from her hands and down her arms. Powell has a bloody nose from a fight. A knife has some blood on its end. We see Lara putting her finger into a bloody wound on a man's chest as she is fighting him. Lara has some blood on her face after a fight.

Violence
: Lots of shooting, punching, kicking, stabbing, a man is crushed, some stone creatures attack people and are destroyed, some people die through the movie, etc.
Disclaimer: All reviews are based solely on the opinions of the reviewer. Most reviews are rated on how the reviewer enjoyed the film overall, not exclusively on content. However, if the content really affects the reviewer's opinion and experience of the film, it will definitely affect the reviewer's overall rating.
To find out why we don't typically review R-rated movies,
click here