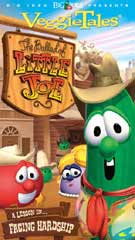 VeggieTales: The Ballad Of Little Joe

Company:
Big Idea Productions
Release Date:
August 5, 2003
Running Time:
35 minutes
Buy It:
ChristianBook.com
Official Site
Plot Summary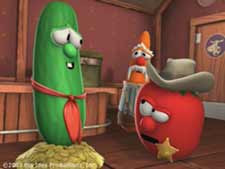 Now, y'all have heard the story of Joseph and his coat of many colors before, but I reckon you've never heard it told as a Western... until now! Join Little Joe (played by Larry the Cucumber) and his rootin' tootin' French pea brothers on an adventure that will take them from an abandoned mineshaft all the way to Dodge Ball City -- with Little Joe's faith being tested every step of the way!
Film Review
Even if, for some bizarre reason, you didn't like VeggieTales, you can't deny the creativity and cleverness poured into each episode. In the case with The Ballad Of Little Joe, the masterminds behind the show have taken the familiar and timeless Biblical tale of Joseph and have retold it unlike any other way it's ever been told! To teach kids about facing hardships and persevering through them with God's help, they've taken a more tangible approach to the story and have set in the Wild West. Bizarre? Perhaps, but oh so effective.
All elements to the story were pulled off beautifully. Even when Joseph rejects a pass from his master's wife in the Biblical story, the Veggie minds work in an angle where Little Joe is setup and betrayed by Madame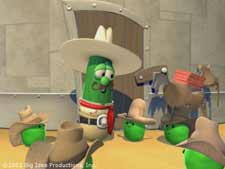 Blueberry's character while he's working at a saloon. And instead of Joseph becoming a high official of Pharoah, Little Joe becomes in charge of the town.
Traditionally, the video includes an intermission that pauses for the infamous Silly Songs With Larry segment. This time around, the guys parody *NSync and pretty much any ridiculous boy band as a new group called Boyz In The Sink. Although it might seem a little late as it's now a couple years after the style had peaked in popularity, the song is still a joy to watch as the memory of these groups are still fresh in our minds and solo remnants such as Justin Timberlake still exist.
With the right mix of humor, seriousness, and a touching message are blended make The Ballad Of Little Joe easily one of the best VeggieTales episodes to date. Keep them coming guys, they never cease to amaze.
-
John DiBiase
,
(reviewed: 9/20/03)
DVD Features
Audio Commentary - Watch the show along with creators Phil Vischer and Mike Nawrocki
Behind the Scenes - Featurette on the creation of Little Joe
Art Gallery - View concept art from the production
How to Draw - Learn to draw Little Joe and Mr. McPotiphar!
Progression Reel - Check out a scene from the final show alongside early concept sketches
Trivia - Challenge your brain with trivia questions from the show
Tummy Ache Dreams - Choose Jude's dinner, and see what crazy dreams he has!
Interactive Storybook - Read along with the story of "Bob Lends a Helping Hand"
Karaoke - Sing along to songs from the show!
Family Fun Activity - Play "Minefield" with your family!
DVD-ROM Fun - Use your DVD-ROM drive to find coloring pages, the script from the show, and links to Big Idea's Web sites
Previews - See what's coming soon from Big Idea, including sneak peeks at An Easter Carol and A Snoodle's Tale!
Hidden Easter Eggs - More hidden goodies for persistent hunters
5.1 Dolby Digital Surround - For the ultimate VeggieTales sound experience!

Disclaimer: All reviews are based solely on the opinions of the reviewer. Most reviews are rated on how the reviewer enjoyed the film overall, not exclusively on content. However, if the content really affects the reviewer's opinion and experience of the film, it will definitely affect the reviewer's overall rating.

To find out why we don't typically review R-rated movies, click here