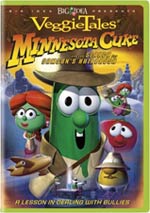 VeggieTales: Minnesota Cuke and the Search for Samson's Hairbrush

Company:
Big Idea Productions
Release Date:
June 25, 2005
Running Time:
43 minutes
Buy It:
Jesusfreakhideout Store
Official Site
Plot Summary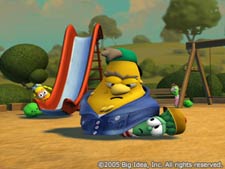 Larry the Cucumber stars at Minnesota Cuke -- peaceful children's museum curator by trade, daring explorer in a fedora at heart! When Cuke learns of the legendary hairbrush of Samson, he ponders using its powers to defeat his life-long nemesis, Professor Rattan. Rattan has bullied Cuke since the second grade, leaving him tempted to retaliate. Will Minnesota hold the hairbrush for selfish gain, or will he find the power to forgive his enemy? Also find out what's going on with Junior Asparagus as he faces a bully on the playground! (from BigIdea.com)
Film Review
I remember being a kid and seeing my first Indiana Jones film. While I'll be the first to admit it was far from a family-friendly film, the adventure and excitement of the film is what drew me in. Needless to say, I was quite thrilled to learn the latest VeggieTales episode would be inspired by the famous archaeological hero. Minnesota Cuke and the Search for Samson's Hairbrush continues the series' long string of creative and fun adventures that are thread together by a strong Biblical lesson. The Search for Samson's Hairbrush illustrates a message of what a child should do when tormented by a bully. And I don't know about anyone else, but I can say for sure I've had plenty of my own personal experiences growing up. If I were a parent, I'd really appreciate the VeggieTales team's choice at tackling such a vital subject. So many parents and children just feel so helpless and unsure of how to handle this sadly common dilemma. How do we deal with a bully? Do we stand up? Do we lie down? What do we do?
The latest VT episode opens with a cartoon featuring Junior Asparagus and his struggles with a playground bully. I enjoyed the way the short started out as a day dream of Junior's that transitions into real life where we see a bully holding Junior to the ground. The episode continues with him getting scriptural advice and encouragement from his Dad who tells him to stand up to the bully and turn the other cheek. A clever and cute Silly Song featuring Larry lamenting over lost pizza called "Pizza Angel" breaks up the lessons, with the title cartoon following.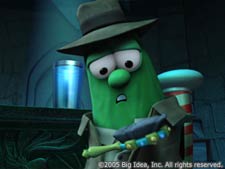 Minnesota Cuke and the Search for Samson's Hairbrush explores a spoofed world of Indiana Jones. From his contact with a local museum while out searching for artifacts, to facing his fears of creatures (here it's worms, while for Indiana it was snakes), to battling a bully of his own who tries to always one-up him on his quests. The Big Idea crew work a Biblical message of relying on God for the strength to forgive our enemies into this modern-day pop parable and it's flat-out brilliant. And you gotta hand it to the guys for the subtle Last Crusade, Temple Of Doom, and Raiders Of The Lost Ark references all tossed into one little family-friendly tale. I also tip my hat (err... I mean fedora) to the Canadians replacing the Nazis as the film's bad guys.
Did I mention the visuals are as dazzling as ever? The locations are so detailed and vivid. In older VeggieTales episodes, the animation was a lot rougher and pixelated while the newer ones have only gotten more impressive. I also really liked their more creative use of backdrops. In Junior's daydream fantasies, hand-drawn style art was used soley for the backgrounds (i.e. in space and on a football field), mixing with the usual detailed animation in the foreground. And it's nice to see the veggies venturing out further from their usual kitchen or simple outdoor backdrops. There's a lot more to the Minnesota Cuke world than many of the previous Veggie adventures.
And, to be honest, what child needs Indiana Jones when there's Minnesota Cuke? The Big Idea team excels most at their spoofs and parodies and I hope to continue to see more episodes like these. I really hope they bring back Minnesota Cuke in the future. It's already been announced that LarryBoy is making his return to 3D animation in 2006 (heavy Spider-Man references can be seen in a teaser trailer at BigIdea.com), and I can only look on to this next installment with great anticipation. Big Idea doesn't disappoint with Minnesota Cuke and the Search for Samson's Hairbrush, creating one of their finest episodes yet!
-
John DiBiase
(reviewed: 6/25/05)
Disclaimer: All reviews are based solely on the opinions of the reviewer. Most reviews are rated on how the reviewer enjoyed the film overall, not exclusively on content. However, if the content really affects the reviewer's opinion and experience of the film, it will definitely affect the reviewer's overall rating.
To find out why we don't typically review R-rated movies,
click here