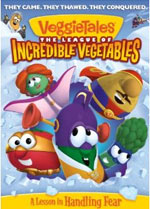 VeggieTales: The League of Incredible Vegetables

Company:
Big Idea Entertainment
Release Date:
October 16, 2012
Running Time:
45 minutes
Buy It:
Amazon.com
Official Site
Christian Film Database Page
Plot Summary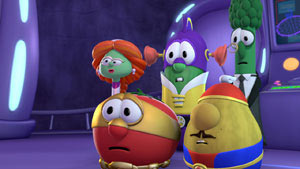 It was a bright and sunny day in Bumblyburg until Dr. Flurry came to town. This chillin' villain wants to freeze the entire city in fear! This job is too big for LarryBoy to handle alone, so he turns to "The League of Incredible Vegetables" for help! Thingamabob (Bob the Tomato), S-Cape (Mr. Lunt), Vogue (Petunia Rhubarb) and Ricochet (Junior Asparagus) are up for the task, but find that their own fears could land them in Dr. Flurry's deep freeze! Will they remember to turn to the One who is bigger than all their fears before the whole town ends up on ice? Find out in this heroic new VeggieTales episode with a lesson in handling fear! (from VeggieTales.com)
Film Review
With the film fans of America being very much in the midst of a superhero craze, and a movie like The Avengers being the top grossing movie of 2012 so far, it's really no surprise for Big Idea Entertainment to return with a new superhero-themed story that unites their beloved Larry Boy hero with a host of new characters. In fact, it's a 'big idea' that really makes you wonder, Why have they not thought of this before?!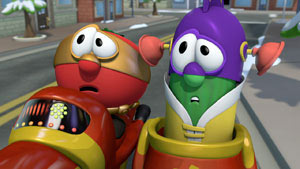 The League of Incredible Vegetables clearly borrows elements from various superhero franchises and names to become one massive superhero spoof. Following in the footsteps of The Avengers, but borrowing its name from a merger of The League of Extraordinary Gentlemen and Pixar's The Incredibles, this league of super veggies finds Larry Boy (who in and of himself is a spoof of Batman and Spider-Man) in need of assistance when a mad scientist decides to use fear to cripple Bumblyburg. This causes characters like Bob, Mr. Lunt and Petunia to suit up as superheroes for the very first time. And with it, a wealth of familiar superhero gags are made, along with plenty of fun character moments to be had when everyone unites to defeat the evil Dr. Flurry (not to be confused Mr. Freeze, of course). But when the league find that even they aren't enough to defeat Flurry's fear-dar weapon, Junior Asparagus must suit up to become the latest addition to The League of Incredible Vegetables!
Directed by co-creator (and voice of Larry The Cucumber) Mike Nawrocki, The League of Incredible Vegetables is pure VeggieTales spoofing at its finest. If you've been itching for a new Larry Boy adventure, this isn't entirely Larry Boy-centric, but teaming him with the likes of Thingamabob (Bob), Vogue (Petunia), and S-cape (Mr. Lunt), brings a whole new level of excitement and humor to the Larry Boy dynamic. Larry's faithful butler Alfred (real subtle there on the reference, guys) also gets ample screen time this time around, fulfilling the role of characters like Q from 007, Edna Mole from The Incredibles and Nick Furry from Avengers to be the tech wiz and inspiration behind The League. When Junior steps in and explores what his new identity can be -- which ultimately becomes "Ricochet" -- the league is officially complete. But the episode plays out so naturally as a superhero tale that it almost seems unexpected when the lesson on trusting God over fear is introduced. Still, it works well, and when Junior puts aside his fear to trust God for victory in what is ultimately a modernized version of the David and Goliath story, the theme of tackling fear is driven home successfully.
It's also neat to note that not one of the superheroes have a true super power. Much like how Batman just has his strength, detective skills and gadgets, and Tony Stark just has his Iron Man suit and loads of money to fund his research and technology, The League of Incredible Vegetables each merely don super suits. Vogue's suit can change shape; S-Cape has a super cape that can do things; Ricochet can bounce around like a super ball; and Bob has robotic arms and such, much like Inspector Gadget. And of course, there's Larry Boy with his "super suction ears." It's neat because these veggies need to rely on God for their victory, with only the aid of super suits and each other (both of which they cannot rely on).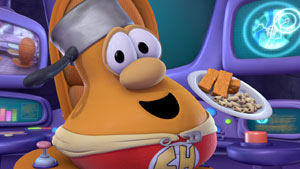 The silly song of this episode is even given a superhero theme. One of the gourds comes to The League and wishes to join them as a "supper" hero, and proceeds to eat all of their food. It's zany, it's silly, and it's the perfect addition to the silly song catalog. As far as music goes, Newsboys return (for the first time since Michael Tait replaced Peter Furler as vocalist) to provide a pop theme for The League of Incredible Vegetables, and it works quite nicely for the vibe of this particular show. They even use the song instrumentally during a scene to tie it all together.
Finally, the episode is given one of the most humorous and satisfying outros that I have seen in recent years. Not only does it satisfy the need for finally bringing Bob the Tomato into the superhero realm, but Big Idea references the tomato's longtime struggle with the "What We Have Learned" theme song with a fantastic and unexpected reaction from Bob. It's truly priceless. I won't spoil any more details here, but I must add that the very sight of Bob starting to freak out Larry for being too over-the-top is fantastic and rewarding.
All in all, the superhero fans in your family will probably adore this latest entry into the VeggieTales collection. Finally, parents won't have to worry about rough content for their kids who just want a cool superhero to love or look up to. With The League of Incredible Vegetables, just about everyone's favorite veggies join in to the superhero fun (and take well-placed jabs at familiar superhero trademarks from Christopher Nolan's Batman's unusually growly voice to Thor's hammer) and even the girls will have a character in Vogue to cling to. After all these years, the VeggieTales team is still producing great entertainment and The League of Incredible Vegetables is easily one of their best yet.
- Review date: 8/31/12; Written by John DiBiase of Jesusfreakhideout.com
Disclaimer: All reviews are based solely on the opinions of the reviewer. Most reviews are rated on how the reviewer enjoyed the film overall, not exclusively on content. However, if the content really affects the reviewer's opinion and experience of the film, it will definitely affect the reviewer's overall rating.
To find out why we don't typically review R-rated movies,
click here