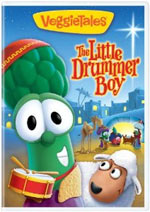 VeggieTales: The Little Drummer Boy

Company:
Big Idea Entertainment
Release Date:
October 1, 2011 / October 4, 2011
Running Time:
50 minutes
Buy It:
Amazon.com
Official Site
Plot Summary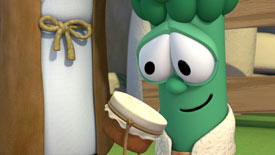 In this Veggie-version of a holiday classic, Junior Asparagus stars as The Little Drummer Boy, a lonely child who finds the true meaning of Christmas when he stumbles upon the birth of the baby Jesus. A story of generosity, hope, and love, this timeless tale will warm the hearts of children everywhere! Includes the new Silly Song "The Polish Foods for Christmas" and an all new recording of "The Little Drummer Boy" by Grammy and Dove Award Winning artists BeBe and CeCe Winans! (from VeggieTales.com)
Film Review
As the weather starts getting colder outside, and my mind begins to think on the upcoming holidays, I can't help but wonder what new Christmas DVD the creators of VeggieTales might have waiting to be released for the 2011 Christmas season. The latest episode is titled Little Drummer Boy and uses the popular seasonal story (and song) to present a unique new tale for families. I was surprised to see that both Pa Grape and Junior Asparagus were chosen to be the focus of the plot, instead of Bob and Larry being the usual hosts and main characters of this new DVD. Through Junior's story, Big Idea introduces an important lesson to children about how to still trust in God and have faith in him, even when circumstances in life can be difficult and seem unfair. This theme for young children is often challenging to understand, and even invokes older adults to ask the familiar question, "why do bad things happen to good people?"
I was immediately drawn to the opening segment of the episode, when Junior Asparagus is introduced as a blossoming young drummer, excited to go out caroling with his friends. Maybe it is the catchy sound of Christmas carols playing in the background of the scene, but my 1-year-old son also seems to be captivated by the start of the show every time we watch it together. Unfortunately, the happy mood and anxious anticipation of Junior comes to an abrupt halt when the plans for his night unexpectedly change. Almost as if the Big Idea creators borrowed the format of a grandfather reading a story book to his grandson, I couldn't help but to think of the movie The Princess Bride as the episode continued. However, in a much different way from the Mel Brooks version's grandfather/grandson relationship, here Junior finds himself being compared to the Biblical character Aaron by Pa Grape. Also just a little boy in the story, Aaron was learning how to play the drums during the days surrounding the birth of Jesus. This, of course, was the perfect story for Pa Grape to read to Junior, knowing that the similarities between the two boys would really help Junior to identify with Aaron's challenges as the Little Drummer Boy.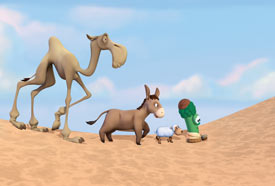 I definitely thought the disclaimer was nicely delivered that, although the story of The Little Drummer Boy is not actually in the Bible, the lessons that can be learned from it are extremely valuable when discussing how hard it can be to deal with people when you have been hurt by them. I believe it goes without question that this is a message that is quite relevant to VeggieTales lovers of all ages. Even though Aaron must go through some painful circumstances throughout the story that might be initially upsetting to younger viewers, it is for this reason that Aaron chooses to travel into the desert where he hopes he will be safe. When he decides to try and rid his life from people entirely and only associate with his animal friends, he thinks that he might be able to protect himself from getting hurt again by people. However, even Aaron cannot escape the fate of a chance meeting with Mr. Lunt, the French peas, and their ringleader, Mr. Nezzer. If you thought that the episode was lacking with its inclusion of musical hits, this is where the first adorable tune makes its debut. Through some convincing and cunning persuasion, Aaron decides to join the group of traveling performers, attempting to give the people in his life another chance.
Little did Aaron realize that he would wind up having drumming performances for more than just crowds of unknown people in the desert. This of course leads to the meeting with Bob and Larry, who are none other than two of the three wise men, or as the story explains, Magi, who are traveling through the desert while following a star. Although it seems like our usual hosts are taking such a minor role in this VeggieTales episode, they do get the opportunity for more center stage screen time with the silly song that has quickly become my new all-time favorite! The story of the Little Drummer Boy takes a brief hiatus for the traditional silly song when Oscar the Polish caterer sings to the audience at a Christmas party about the many Polish dishes of food he has brought for the guests to enjoy. This part of the show definitely has the capabilities of becoming a sing-a-long for Veggie fans, as the silly song borrows the melody from the caroling classic, "12 Days of Christmas." This colorful number includes many of the familiar VeggieTales characters singing along with Oscar, as he describes the traditional Polish food he brought to the party. I was a huge fan of this silly song because it allowed for many characters to take part in the episode who are not included in the storytelling of Aaron's adventures in the desert or Junior's situation with missing the caroling fun.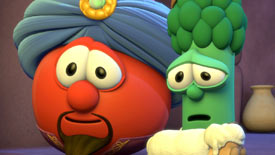 Because of all the hurt in Aaron's life, it was going to take a miracle for him to find love in his heart for people again. The idea of forgiveness was so foreign to him, he never thought that he would ever be able to trust anyone after being wronged so many times. He had become so hurt by the actions of other people who directly affected him by causing pain to other people and even animals in his life. It was at this time that I found one scene in particular rather difficult to watch and fear that it has the potential to upset younger viewers. When one of the innocent animals traveling in the desert with Aaron gets hurt during an unforeseen accident, Aaron exclaims, "you must not die!" Perhaps I might be overreacting to the hard reality of this dramatic scene, but if any viewers can relate to having a pet who was hit by a car (or seriously injured in some form), this part of the episode might bring back these painful memories for him or her. In addition, viewers who may be sensitive to seeing an animal get hurt, even if it is only an animated character, might be disturbed by the scene when Aaron desperately seeks help from the Magi to save the life of his beloved animal friend. Knowing that my toddling son (who is already a rabid VeggieTales fanatic) has no concept of death leaves me some time before I have to worry about explaining that reality to him one day. However, I do think that it could be an issue parents should be prepared to discuss with their older children who might ask about what death is and what happens to us when we die. Perhaps this might even give parents an opportunity to talk with their children about salvation, if the whole concept of death is something new to them.
After watching the newest Christmas DVD offering from Big Idea, I can honestly say that this episode is an excellent addition to the collection of VeggieTales episodes that I think could be a favorite in many homes this 2011 holiday season. Those lovable VeggieTales characters have succeeded again with teaching lessons of forgiving others, having faith in Jesus even when life can seem unfair, and learning the importance of treating others how you would like to be treated, while keeping the animation looking great and the songs sounding wonderful with meaningful lyrics. If any viewers find themselves having similar challenges like Aaron, this episode will most definitely speak to them and hopefully also help kids to learn at a young age the importance of forgiving others. Who better to help Aaron and VeggieTales viewers learn the beauty and miracle of forgiveness, than the baby Jesus!
- Review date: 10/5/11; Written by Amy DiBiase of Jesusfreakhideout.com
Disclaimer: All reviews are based solely on the opinions of the reviewer. Most reviews are rated on how the reviewer enjoyed the film overall, not exclusively on content. However, if the content really affects the reviewer's opinion and experience of the film, it will definitely affect the reviewer's overall rating.
To find out why we don't typically review R-rated movies,
click here