FACEDOWN RECORDS SIGN WRENCH IN THE WORKS
NEWS SOURCE: Facedown Records
December 13, 2007

Here's a press release from Facedown Records about their latest signing...
"We are very happy to announce the signing of Connecticut's Wrench In the Works. After hearing their songs, meeting them and seeing them live, we knew that we had to work with this band and we are excited to spread the word about them through Facedown. These guys have been booking their own shows all over the East Coast and nationwide for the past few years; their work ethic is very strong and the music is undeniably heavy and creative. Make sure to head over to their myspace page (http://myspace.com/wrenchintheworks) to check out some songs and send them a message. They are currently finishing the writing for their Facedown debut that will be engineered and produced this spring by Mike Schleibaum of Darkest Hour for a summer 2008 release. After the album is recorded the band will be hitting the road continuously with stops planned at Facedown Fest in Pomona, CA (March 28-29) and then on to the summer festivals."
BIO:
Taking the innovation of a "contempo-noise" alternative genre and joining it with the fundamental excellence of bands like Converge, Deadguy and Zao, Wrench In The Works has honed a style of progressive music that is genuinely unique and savagely majestic. A sound which is brutally aggressive joins with well-written metal-influenced-hardcore to show its unabashed rebellion against the genre's restricting conventions. As experimental metal begins to flow with the mainstream, Wrench In The Works desists from the gimmicks that plague the stage during so many metal-hardcore hybrid shows, allowing the unconventionality of their writing to shine through.
Wrench In The Works' accomplishments have exceeded the status quo of the average underground band. The release of their 2005 full-length, Prodigal Transmission, took the band on their first self promoted national tour as well as an eastern Canadian tour and countless weekend shows, continuously teaming up with a broad range of bands including P.O.D., Maylene and the Sons of Disaster, Hatebreed, The Red Chord and Pig Destroyer. With seemingly limitless ingenuity and passion, members Andy Nelson, Justin Mehl and Darrell Tauro will continue shattering eardrums as well as genre barriers as they write and record for their debut Facedown release. Spring of 2008 will find them in the studio with Mike Schleibaum of Darkest Hour producing and engineering the album.
# # #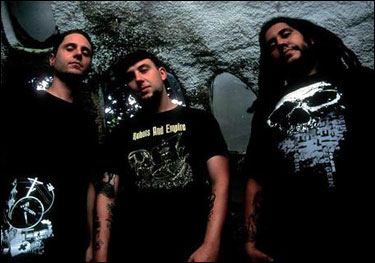 [2020]
Jan. | Feb. | March | April | May | June | July | Aug. | Sept. | Oct. | Nov. | Dec.
[2019]
Jan. | Feb. | March | April | May | June | July | Aug. | Sept. | Oct. | Nov. | Dec.
[2001 - 2018]
Visit our complete MUSIC NEWS ARCHIVE