DREW CLINE AND INTERNATIONAL MISSION BOARD PARTNER TO PRODUCE MUSIC VIDEOS AND IMPACT LIVES
Videos Shot On Location In Argentina And Moscow Will Debut Early This Spring
NEWS SOURCE: Springboard Entertainment
January 10, 2008
Nashville, TN (January 10, 2008) – Worship artist, DREW CLINE, and the International Mission Board (IMB) have partnered together to produce music videos for two of Cline's songs, which will be used to help promote involvement in missions and, more specifically, to inspire young people to participate in international missions.
"The guys at the IMB heard my album and called our marketing team with an interest to shoot these videos and raise awareness for missions among high school and college students. I absolutely support this mission—and the great folks I've been working with—with all of my heart," explains Cline. "They are passionate about making Christ known to the world and the idea that one or more of my songs could be used to inspire people to take the gospel of Jesus around the world is a complete privilege for me. I'm so humbled and honored that God would use me and these songs for His glory and to minister to people all over the planet."
After hearing Cline's Undone Recordings debut, Way of Life, the IMB felt two songs on the disc were perfect for promoting their cause and approached him about partnering to produce the videos. Both music videos were shot on location oversees last fall. Filmed in Argentina and Uruguay "Here Am I, Send Me", taken from Isaiah 6 to share Isaiah's heartfelt commitment of going and telling the world about God's love and holiness, will promote the humility required TO GO. "To The Ends Of The Earth", communicating the urgency we should have in seeing people come to know Jesus, was filmed throughout Moscow and was created to build excitement about taking the next step and ACTUALLY GOING.
"The purpose of these videos is to promote missions among youth and collegiate Christians that they might begin to sense the tremendous opportunity they have to be used by God on the international mission field," explains Craig Martin, director of the eMedia Department for the IMB. "The task of reaching every tribe, tongue and nation is left to this next generation of believers. Allowing them to see people like Drew Cline, as a musician, taking on that challenge will give them some inspiration to check it out for themselves."
In addition to shooting the video in Moscow, Cline also lead worship for the 'Developing Leaders for a Post Modern World' Conference. The speaker for the four-day conference was Michael Frost, the founding director for the Centre for Evangelism and Global Mission at Morling Baptist Seminary in Sydney Australia. The conference also included four to five additional days of interaction with the very post-modern citizens of Moscow. The group conducted campus surveys, visited local churches, and met with students at local hangouts throughout the city.
"Ministering to post-moderns is something we do at my home church (Journey Ecclesia in Franklin, TN) everyday," says Cline. "These are our people. Sharing our story as a church and how we try and reach post-moderns with relevance and authenticity at this Conference was an honor. We met great church leaders and missionaries from around the world struggling with how to best approach this group of folks and our worship together was honest and profound. It was amazing to sing songs of worship in Moscow and lead men and women in the middle of the battle to make Christ known. They are my heroes, I was privileged to be with them."
The International Mission Board (formerly Foreign Mission Board) is an entity of the Southern Baptist Convention, the nation's largest evangelical denomination, claiming more than 40,000 churches with nearly 16 million members. The board's main objective is presenting the Gospel of Jesus Christ in order to lead individuals to saving faith in Him and result in church-planting movements among all the peoples of the world. Almost 5,000 people groups - 1.6 billion people - still live with little or no access to the Gospel.
Having recently filled the role of lead vocalist for award-winning group NewSong, Drew Cline has actually been writing, performing and producing for many years. In 2000, his vocal group AS IS won the GMA's Academy of Gospel Music Arts International Spotlight in Estes Park, CO. From there he went on to do session vocals for many of CCM's top producers, including Brown Bannister, Michael Omartian, Phil Naish and others, and recorded commercial projects for NBC's "Today Show", CMT, HGTV, Chevrolet, Ford, Yamaha and Kohls. In addition, Drew has traveled the country leading worship in churches such as Saddleback, Willow Creek and Charles Stanley's First Baptist in Atlanta, as well as serving as worship pastor at his home church in Franklin, TN and teaching seminars at some of the country's biggest Worship Conferences, including GMA In the Rockies this past summer. Drew teamed with three-time Grammy award winning producer Phil Naish to record his solo worship debut, Way of Life, released in July and featuring guest vocals from Russ Taff and Christy Nockels.
Cline is in the process of finalizing details for a tour this Spring to churches around the country and is also scheduled to be a part of the National Worship Leaders Conference in Austin this Summer.
For more information about Drew Cline or Way of Life, please visit www.drewcline.com.
# # #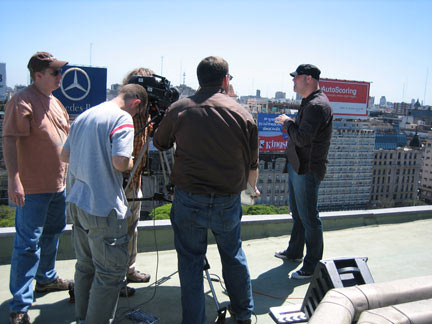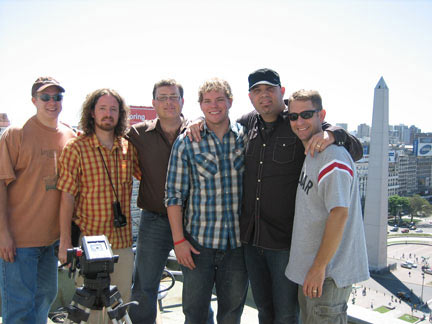 CAPTION:
Drew and the IMB crew are in Argentina filming the song "Here Am I, Send Me".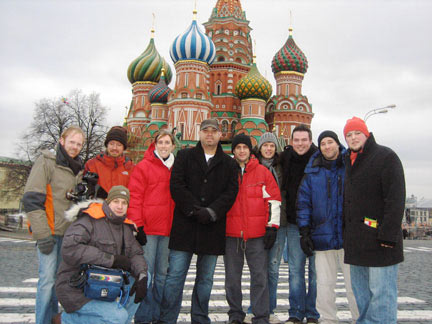 CAPTION:
Drew and the IMB crew are standing in front of St. Basil's Cathedral in the famous Red Square in Moscow, Russia, where they filmed the video for "To The Ends Of The Earth". While also in the city, Drew led worship for the "Developing Leaders for a Post Modern World" Conference.

[2019]
Jan. | Feb. | March | April | May | June | July | Aug. | Sept. | Oct. | Nov. | Dec.
[2018]
Jan. | Feb. | March | April | May | June | July | Aug. | Sept. | Oct. | Nov. | Dec.
[2001 - 2017]
Visit our complete MUSIC NEWS ARCHIVE