2008 OFF TO A GREAT START FOR REBECCA ST JAMES
REBECCA—ON GMC-TV THIS WEEKEND!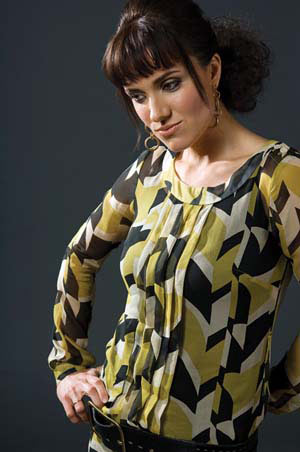 NEWS SOURCE: Rebecca St. James, a Jesusfreakhideout.com report
January 12, 2008
Check your local listings—the Gospel Music TV Channel—airing in more than 100 markets nationally—will feature Rebecca St. James this weekend on their great, fun new magazine show, "Kitchen Sink." The program will feature a behind-the-scenes 'all access pass' to the 'lights, camera action!' of Rebecca's lastest Nashville photo session for CCM Magazine's announcement of her as "Best Female Vocalist" in the -08 Reader's Choice Awards.
"Kitchen Sink" will premiere with the Rebecca segment tomorrow night—Saturday, January 12th at 8:00 P.M. Eastern—tune in! Repeat times—all times Eastern—will include: Saturday (12th) 11:00 P.M. Sunday (13th): 12:00 P.M., 6:00 P.M.. 11:00 P.M. Monday (14th): 10:00 A.M. Tuesday (15th) 2:00 P.M.
Tune in! Check out all the fun on GMC —Rebecca is featured on their homepage right now!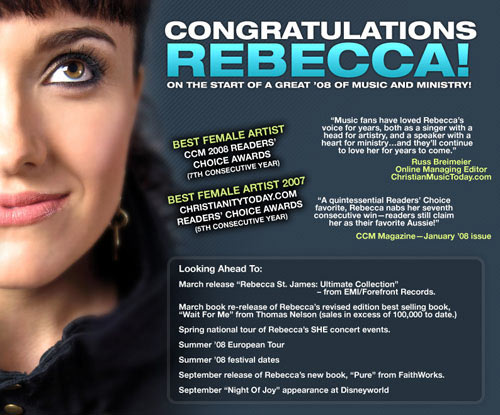 LOOKING AHEAD WITH REBECCA TO THE START OF A GREAT '08!
March 11th Release – New CD Release-- "Rebecca St. James: Ultimate Collection" –from EMI/Forefont.
March—Book Release –Rebecca's best selling "Wait For Me" book releases from Thomas Nelson in new, revised format. Over 100,000 have already reached readers around the world!
Spring '08 –National tour of Rebecca's SHE concert event. Dates coming!
Summer '08 –European Tour –more information coming!
Summer '08 –Festival/concert schedule –dates coming!
September Release: Rebecca's new book, "Pure" –coming from FaithWorks publishers!
September –Disneyworld—"Night of Joy" RSJ super concert –more information coming!
A MESSAGE FROM REBECCA: The Center of God's Will
"While sitting in my backyard a number of years ago, I wrote out my life mission statement. I am a woman who loves God very much; He is my best friend and is the center of my life. I want to share Him with everyone who will listen, whether through music, by testimony before an audience, talking one on one, or through the way in which I live. I desire to be passionate about God and have everything else in my life flow from that passion. I have been given the opportunity through ministry to encourage families to live sold out for God, and to live His way. If He leads me somewhere else in the future, I'll willingly follow because my biggest goal in life is to be in the center of His will.
The sixth chapter of Galatians has been very helpful to me in thinking about my life's goal and my ministry. In verse three the apostle Paul says that we should not be impressed with ourselves. "If anyone thinks he is something when he is nothing, he deceives himself." One way to guard against thinking too much about yourself is to have major accountability in your life. My family has had the biggest responsibility in keeping me accountable because they know me best and have always been honest with me. A huge priority for me is spending time with God in prayer and in the Bible. That certainly helps keep me from being too impressed with myself. I don't ever want to give off the impression to others through the way that I behave that I think more of myself than I should. I just want to be someone who is real, down-to-earth, and serious about God.
In verse four we are admonished, "Each one should test his own actions.... without comparing himself to somebody else." I think this means that we should not copy, or follow, others' precedents, that we shouldn't just do things because "everyone else does it that way!" God desires that we be ourselves by being creative and fresh in our approach to life, rather than simply following the crowd. He wants us to depend on Him through prayer for everything we do (whether big or small), and not rush into things ahead of His will. When we seek His peace about a certain direction or life decision, He will answer and respond with what is best for us.
Have you ever written out a life mission statement? It really helps define who you want to be in the way that you interact with God and others. My friend, as we're here together in the first days of a new year—I encourage you to carve out some time this week to talk to God about it, read His Word, and then write it out. It can become something by which you evaluate decisions in your life—in this new year and for years to come!
Run for Jesus!
Rebecca"
###

[2019]
Jan. | Feb. | March | April | May | June | July | Aug. | Sept. | Oct. | Nov. | Dec.
[2018]
Jan. | Feb. | March | April | May | June | July | Aug. | Sept. | Oct. | Nov. | Dec.
[2001 - 2017]
Visit our complete MUSIC NEWS ARCHIVE