WORSHIP ARTIST, CARMEN D'ARCY, SIGNS WITH BRICKSTREET RECORDS AND MARTINGALE MUSIC
D'ARCY'S DEBUT CD, A PLACE CALLED GRACE, RELEASES APRIL 15, 2008
NEWS SOURCE: Bozeman Media
January 22, 2008
Indianapolis, IN (January 22, 2008) ----- Christian music's newest Worship artist, Carmen D'Arcy, has signed with Brick Street Records that is based in Indianapolis, Indiana and Martingale Music out of Nashville, Tennessee. Her debut project, A Place Called Grace, streets April 15 and was produced by Bryan Lenox (Michael W. Smith, Amy Grant, tobyMac, Sonic Flood, Sixpence None The Richer). The CD will be worked at Christian radio by one of the industry's most respected promoters, Linda Meyers, who is the President of Legacy Promotions Inc. with the retail and marketing side being handled by the one of the premiere music executives, Eric Wyse, who is President of Martingale Music. A Place Called Grace will be distributed by Martingale Music and Koch Distribution.
"I've been very blessed to have the privilege to work on Carmen D'Arcy's record," says Lenox. "She's not only a great writer, she has a deep desire to lead people to the throne room of God. Carmen is a modern day leader in worship."
D'Arcy is a talented singer/songwriter who wrote or co-wrote ten of the eleven songs on the album. "You Are Everything" is the first song to be serviced to radio in January and it's an invitation to go before God and passionately tell him that we commit to putting Him front and center in our lives. D'Arcy is also a collector of old hymn books so she got the inspiration for a new song from "The Spacious Firmament" that became a powerful ballad called, "We Adore Thee God Of Glory." A first-time collaboration with Tony Wood resulted in "Hallelujah, We Sing to You" that features the choir of Grace Community Church near Indianapolis. "Fade" was written by D'Arcy while driving to Nashville to begin recording A Place Called Grace, and the song is a challenge to be brave enough to let God use us, and humble enough to figure out that when He does, it's not about us. And one of the songs D'Arcy didn't write is "You're Beautiful" that was co-written by Dwight Liles and Audrey Hatcher.
"Bryan had several songs that he was listening to for the project and he said he didn't want me to add anything unless there was something that I felt like was a gem and just had to have it on there," explains D'Arcy. "I loved this song right away and wanted to cut it."
D'Arcy grew up in Eaton Rapids, Michigan where her dad was a pastor and her mom was the Sunday School Superintendent. However, her parents and maternal grandfather were musical which led D'Arcy to performing and songwriting at an early age. She got to further hone her music skills while attending Anderson University where Gloria Gaither was her songwriting professor.
"To this day, I hear many of her admonitions and encouragements from that class in the back of my mind," says D'Arcy. "She talked about not settling for the obvious metaphor and digging deeper, writing out of experience, writing out of an authentic place. It's definitely shaped me as a songwriter, especially the lyric side of what I do."
D'Arcy lives in the Indianapolis area and is currently a Worship Leader for the 6,000-member Grace Community Church. She is married with four children with the youngest being an adopted son from Guatemala.
For information on D'Arcy please visit online after February 1, 2008 at www.carmendarcy.com.
###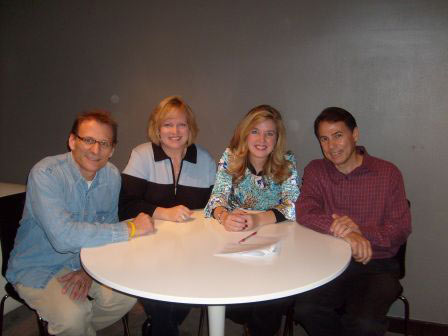 Photo (left to right): Eric Wyse, President, Martingale Music; Linda Meyers, President, Legacy Promotions; Carmen D'Arcy; John Bontreger, President, Brick Street Records

[2019]
Jan. | Feb. | March | April | May | June | July | Aug. | Sept. | Oct. | Nov. | Dec.
[2018]
Jan. | Feb. | March | April | May | June | July | Aug. | Sept. | Oct. | Nov. | Dec.
[2001 - 2017]
Visit our complete MUSIC NEWS ARCHIVE