STEVEN CURTIS CHAPMAN TO RELEASE NEW VERSION OF SINGLE, "YOURS"

CHAPMAN TO CO-HEADLINE ICONIC TOUR THIS FALL WITH MICHAEL W. SMITH

NEWS SOURCE: SCC / Jim Houser, a Jesusfreakhideout.com report
July 16, 2008

There's been a little buzz coming from the Chapman camp this week. Steven Curtis Chapman's manager released news of a new single hitting radio for the song "Yours" from Steven's latest release, This Moment. The radio version of the song also features a new fourth verse that was inspired by the recent tragic accidental death of Steven's five year old adopted daughter. In addition to the news about the single, it appears that Chapman will be teaming with fellow Christian music legend Michael W. Smith this fall for the "United Tour." According to SCC's manager, Jim Houser's blog, the tour's poster was released to SCC's fans on July 8th, but no official announcement has been made just yet. iTickets.com lists upcoming dates in Clarkston, MI, Paducah, KY, Cincinnati, OH, Birmingham, AL, and Omaha, NE, but at this early in the game, we'd consider these tentative and subject to change.
Below is the tour poster as well as Jim's blog about the "Yours" single...
"After much discussion...

Sparrow Records/EMICMG and StevenCurtisChapman.com announce today that the next radio single from Steven's THIS MOMENT album, available to radio for airplay on August 1st, will be "Yours." Additional breaking news! A new version of the song will be released. "Yours" (new verse) includes a new 4th verse that Steven has written since the loss of his daughter Maria in a tragic accident on May 21, 2008.

Steven felt it was important to acknowledge what the family has been going through over these past 8 weeks, and "Yours" has taken on new meaning in recent weeks to many who work alongside Steven. Already a very special song, Steven's reflections since Maria's loss in the 4th verse only make the song even more challenging, compelling, and passionate. Concertgoers this past weekend had a chance to take in the new lyric, and on each of the 3 occasions rose to their feet in a standing ovation as Steven sang the closing line in the new verse.

Here's the new verse lyric...

Iíve walked the valley of deathís shadow
So deep and dark that I could barely breathe
Iíve had to let go of more than I could bear
And questioned everything that I believe
But still even here
in this great darkness
A comfort and hope come breaking through
As I can say in life or death
God we belong to you.


Special thanks to some folks who have dropped everything to help make this new recording happen. The new 4th verse was recorded last night in Nashville with the album's original producer, Matt Bronleewe. (heroic editing, producing, and voice matching 9p - 3a) Also, thanks to Reid Shippen, epic mastering engineer, and Jeremy Camp and Brown Bannister who allowed Reid to stop and do this for Steven in the middle of their deadline packed album schedule. At the label, we're grateful to Grant, Peter, Brad, Leisa, Sly, Jan, Tim, David and David.

(If you're wondering... no final word yet regarding questions on the song's new version being available for purchase.)"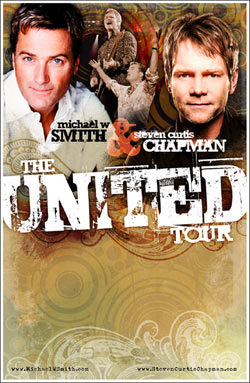 # # #

[2019]
Jan. | Feb. | March | April | May | June | July | Aug. | Sept. | Oct. | Nov. | Dec.
[2018]
Jan. | Feb. | March | April | May | June | July | Aug. | Sept. | Oct. | Nov. | Dec.
[2001 - 2017]
Visit our complete MUSIC NEWS ARCHIVE